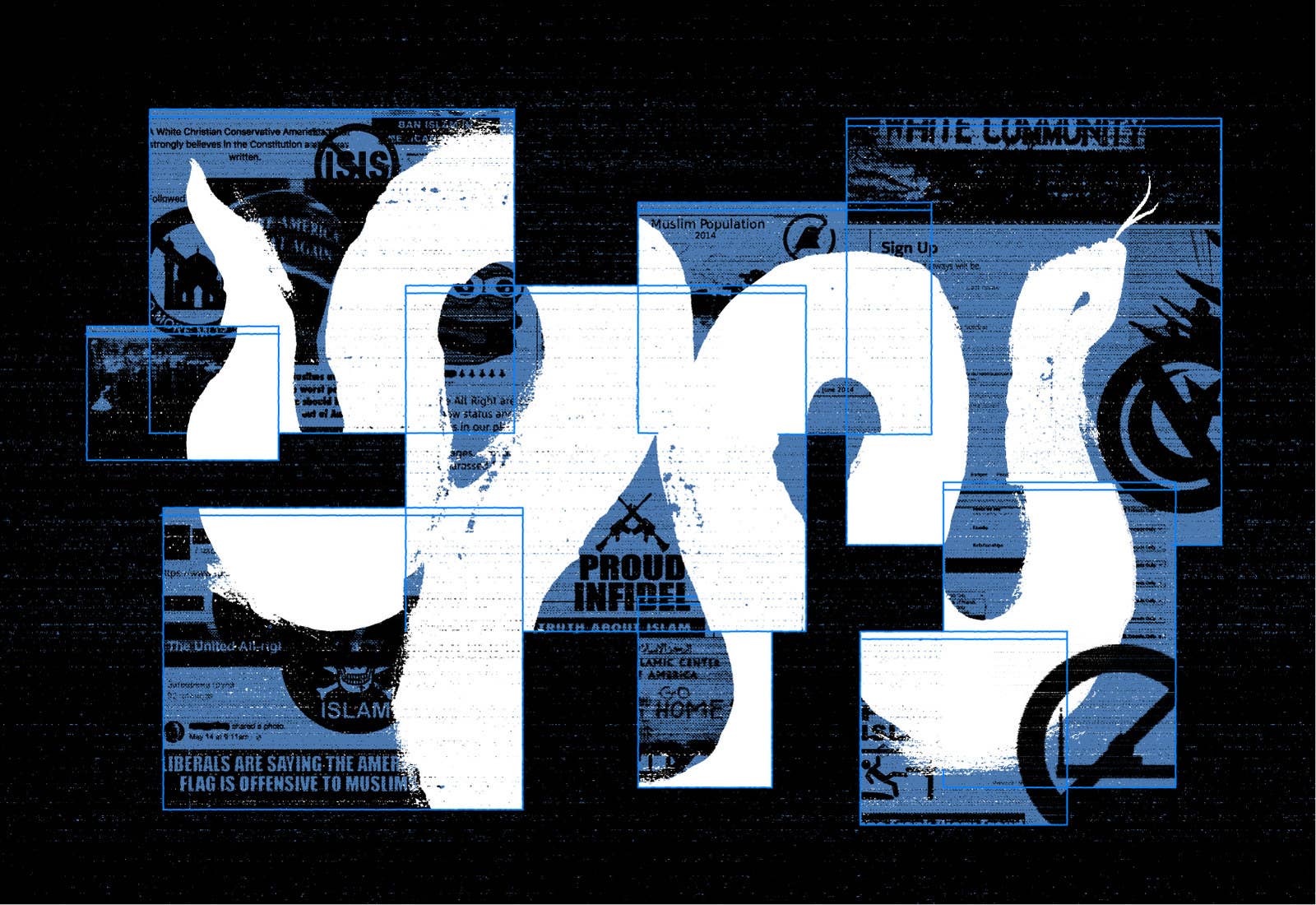 Megan Squire knew she would find plenty of disturbing content when she set out to study anti-Muslim hate on Facebook, but she still wasn't fully prepared for the intensity of the vitriol: A closed Facebook group named "Death to Murdering Islamic Muslim Cult Members" warned it's time to "wipe out all traces" of Muslims and Islam from the planet. In another group, an image of a B-52 bomber dropping its payload appears under a caption that reads "Islam is the cancer." Yet another anti-Muslim Facebook group has a header image of the charred, lifeless body of a child lying face down on the ground. The group's name declares that Islamophobia "saves lives."

Squire, an Elon University computer science professor, analyzed hundreds of far-right Facebook groups over a 10-month period to map their connections for a research paper, "Network Analysis of Anti-Muslim Groups on Facebook," that she will present at the Social Informatics conference in St. Petersburg in September. While she is no stranger to online vitriol, she said the anti-Muslim rhetoric on Facebook particularly "alarmed" her.
"I'm looking at these and I'm just thinking, if you substituted any other religion, it's so bad no one would think that this is OK," Squire told BuzzFeed News. "Why is this still up? What is going on?"
Squire found that anti-Muslim attitudes are not only flourishing on the platform but also acting as a "common denominator" for a range of other extremist ideologies, including xenophobic anti-immigrant groups, pro-Confederate groups, militant anti-government conspiracy theorists, and white nationalists.
"Anti-Muslim groups are way worse, in every way, than what I would have guessed coming in," she said. "Some of the anti-Muslim groups are central players in the hate network as a whole. And the anti-Muslim groups show more membership crossover with other ideologies than I expected."
Squire used Facebook's Graph API to compile a data set of more than 700,000 members of 1,870 closed and public Facebook groups spanning various far-right ideologies. Relying on definitions from the Southern Poverty Law Center, the Alabama-based nonprofit that monitors hate groups, she narrowed her search to five of the most popular categories: neo-Confederate, white nationalist, anti-government/militia, anti-immigrant, and anti-Muslim.
Among Facebook users who were members of multiple extremist Facebook groups, Squire found that 61% of "multi-issue" users who were in anti-immigrant groups had also joined anti-Muslim groups; the same was true for 44% of anti-government, 37% of white nationalist, and 35% of neo-Confederate groups.
The anti-Muslim groups in Squire's data set include some with thousands of members, and names such as "Americans Against Mosques" and "Burn a Quran Stop Islam."
Many of these groups have thrived despite appearing to be in clear violation of Facebook's community standards. Referring to a group of people as "filth," for example, is explicitly listed by Facebook as an example of hate speech and grounds for removal. But until last week, the group Veterans Against Islamic Filth was still running and had more than 2,700 members. Facebook removed the group after BuzzFeed News inquired about it.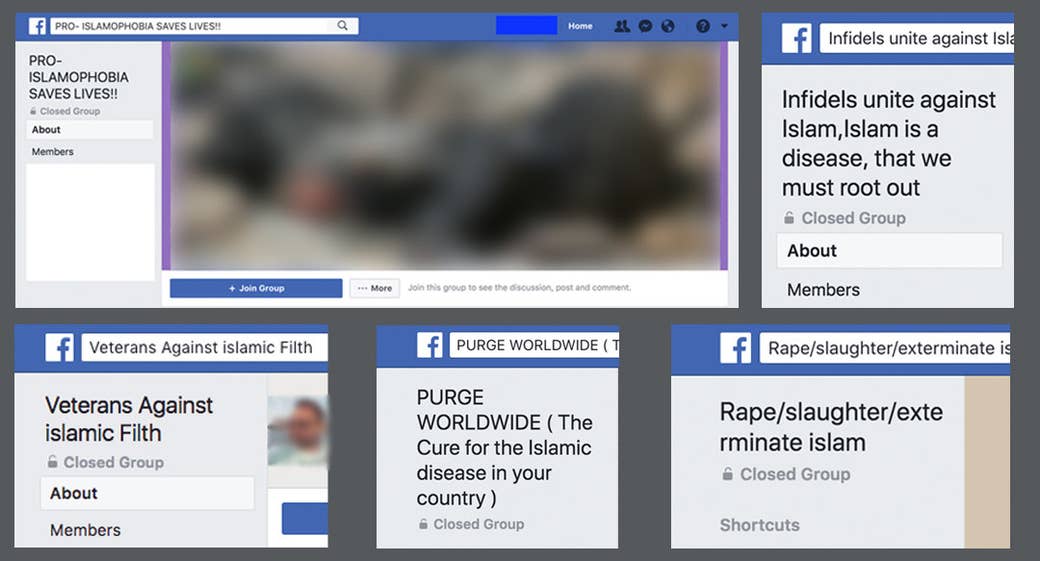 Squire said that she did not have the kind of granular personal information that was revealed to have been accessed by Cambridge Analytica, the shadowy UK firm that harvested Facebook user data. She said her data was publicly available and did not require any "privacy shenanigans."
Squire's findings underline Facebook's struggles to tamp down on hate speech, with pressure mounting on the tech company to better police the content on its sprawling platform. CEO Mark Zuckerberg recently said in an interview with Recode that he would not kick Holocaust deniers off Facebook, despite how personally offensive he finds such statements. Facebook has also been criticized for keeping Infowars on the platform, despite the media outlet's history of spreading unfounded conspiracy theories about 9/11 and the Sandy Hook massacre, and founder Alex Jones' recent accusation that Robert Mueller, the special counsel investigating Russian election interference in the 2016 election, is a pedophile.
Critics say the widespread anti-Muslim content on Facebook is something the company hasn't taken seriously. Madihha Ahussain, who monitors anti-Muslim bigotry for the civil rights group Muslim Advocates, said her organization and many others have been raising the alarm for years.
"We've attended meetings, and the general sense that we've had all this time is Facebook has been completely open to hearing our concerns — whether it's in-person meetings, over email," Ahussain told BuzzFeed News. "They would be engaging with us but we felt like nothing was actually changing."
"It felt as though we were just having conversations but not seeing anything, in concrete ways, shift."
Facebook says it's developing new ways to automatically filter out the most blatant examples of hate speech, but that technology is still not good enough to decide more complex or nuanced cases, which still require human intervention. That's why the company still relies heavily on users to report offending content.
In the first quarter of 2018, Facebook says it removed 2.5 million pieces of hate speech.
"There is no place for hate speech on Facebook. If someone reports hate speech on Facebook, we remove it if it violates our Community Standards," a Facebook spokesperson told BuzzFeed News in a statement.
Facebook says it recently updated its enforcement policies to take more factors into account when deciding what constitutes hate speech, which includes holding group administrators more directly accountable for hateful content.
Facebook also committed to an independent civil rights audit earlier this year in response to criticism over discriminatory practices, such as allowing advertisers to exclude users by race. The audit was announced at the same time as a review into alleged "anti-conservative bias" on the platform, and the company could not say when results would be published.
Ahussain said she is hopeful the civil rights audit will provide a clearer picture of anti-Muslim hate speech on Facebook and that it will lead to firmer action on the part of the company.
"It's not so much [that] all of the content needs to be removed. It's more that we feel there's inconsistent application of the policies they already have in place, and we want to understand why that's happening," Ahussain said.
Squire said the company has no excuse not to address this ongoing issue.
"I don't know how they can have their head in the sand about it. They have all the data. This isn't hard," she said.
"You know how I find these groups? A Facebook search. Nobody's doing anything funky, we're just typing in stuff like 'Death to Islam.'"