When President Donald Trump falsely tweeted last month that Germany's acceptance of millions of refugees had led to a dramatic rise in crime, he was not only defending his administration from criticism over its immigration policies, but also echoing a common anti-Muslim and anti-immigrant trope that paints Europe as a continent plagued by crime and dysfunction due to an influx of Muslim newcomers.
"The people of Germany are turning against their leadership as migration is rocking the already tenuous Berlin coalition. Crime in Germany is way up," Trump tweeted. "Big mistake made all over Europe in allowing millions of people in who have so strongly and violently changed their culture!"
As numerous news outlets, including BuzzFeed News, reported, crime in Germany has actually fallen to its lowest level in decades, and despite persistent rumors of her imminent political demise, German Chancellor Angela Merkel still has the highest approval ratings of any politician in the country.
It was also not the first time that Trump spread misinformation while juxtaposing his own hardline immigration policies against those of European countries. Shortly after taking office, Trump famously referenced what had happened "last night in Sweden" when speaking about immigration during a rally. As it turned out, there had been no incident in Sweden, and Trump was instead talking about a Fox News program he'd seen about the supposed chaos caused by that country's welcoming of large numbers of primarily Muslim refugees.
In pro-Trump corners of the internet, however, the specifics did not matter as much as the overall message.
"America has a muslim problem, too," read one of hundreds of supportive comments on Reddit's main pro-Trump forum following Trump's tweets about Germany. "If we don't want to end up like Europe and the UK, we need swift, pragmatic, non-violent solutions. We need to get Islam and the muslims out of America."
"They support one another, they share each other's conspiracy theories and fake news. They really bolster one another across the Atlantic."
Trump's repeated invocations of mayhem in Europe, as well the reactions from some supporters, reflect how central such stories have become in right-wing circles. False claims about so-called "no-go zones," inflated statistics about rapes committed by asylum-seekers, and warnings about the high birth rates of Muslims compared with those within white families are all staples of the genre, which paints Muslims and people fleeing the Middle East and Africa as an invading army. The prominence of such stories is no accident. Many sensationalized, misleading, or outright false reports about Muslim communities routinely jump geographic and language barriers from Europe to North America with help from a handful of websites that translate and help disseminate such stories across the English-speaking internet. In the first five months of 2018, more than half of Breitbart London's 50 most shared articles on Facebook about mainland Europe were primarily about Muslims and migrants; 23 of the articles cited non-English local news sources in countries such as Germany and Sweden.
Breitbart and other websites that contribute to this flow of information form key nodes in what experts have dubbed the international "Islamophobia network," hardening attitudes about Muslims and immigration on both continents.
Ibrahim Hooper, a spokesperson for the Council on American-Islamic Relations, called it "an eight-lane freeway" of anti-Muslim propaganda traveling both ways.
"They support one another, they share each other's conspiracy theories and fake news," Hooper told BuzzFeed News. "They really bolster one another across the Atlantic."
For the past year, online articles have warned about the rise of a "Muslim biker gang" in Germany. It started in July 2017 with a spate of news articles in Germany that announced the formation of an alarming new group in the city of Mönchengladbach.

The group called itself "Germanys Muslims" (stylized this way because there is no possessive apostrophe in German) and it was described in news reports as similar to a biker gang, complete with jackets in the style of Hells Angels members. One member was considered a possible security threat by the authorities, the newspaper Die Welt reported. A post on the group's sparsely populated Facebook page featured a pledge to protect German Muslims from religious persecution, which led police to issue a stern warning against vigilantism.
That likely would have been the end of it, but the tale of the "Muslim biker gang" got a second life when it was translated into English by the Gatestone Institute, an influential anti-Muslim think tank based in New York City. The Gatestone article repackaged the German news coverage, but included warnings about the country's supposed slide into Islamic fundamentalism. Its story equated the alleged biker gang with violent Muslim groups accused of flouting the law and wanting to establish "a parallel Islamic legal system in Germany." The article was then cited or republished by dozens of other websites, including the Daily Caller, Zero Hedge, GlennBeck.com, and the Alex Jones–owned Prison Planet.
The only problem: the Muslim biker gang barely existed, if at all. The group's Facebook page was deleted just a few months after it launched, its erstwhile leader has disappeared, and police in Germany say the group never had any public presence beyond social media. And yet, as recently as two weeks ago, Germanys Muslims was still being written about online, and the story was shared by pro-Trump Facebook pages with tens of thousands of followers.
Before it was deleted, the Facebook page for Germanys Muslims included photos of a man named Marcel Knust wearing a branded leather biker jacket identifying him as the "president" of the group. Knust, who also went by Mahmud Salam, was the only member shown, and he has since deleted his personal Facebook account. The rest of his online footprint consists of a defunct Instagram account, a Twitter page with two tweets, and a SoundCloud account featuring a years-old rap song about medical marijuana.

BuzzFeed News sent interview requests to Knust's social media accounts but did not receive a response. Messages sent to email addresses Knust formerly used bounced back as undelivered.
Isabella Hannen, a spokesperson for the Mönchengladbach police, told BuzzFeed News that law enforcement never recorded any activity from Germanys Muslims. Members made no public appearances, and there have been no "criminally relevant incidents" related to the group. According to Hannen, the whole enterprise may have involved as few as four people, and while the leather jackets fit with Germany's "rocker" culture of biker gangs and motorcycle clubs, "they were not bikers," she said.
Citing the German Die Welt article, the Gatestone Institute identified Germanys Muslims as a "Muslim biker gang" that was part of a larger epidemic of vigilante Muslim groups "enforcing Islamic justice" in the streets. The Daily Caller, citing Gatestone, ran a story with the headline "Muslims form fundamentalist biker gang in Germany." Pamela Geller, one of America's most prominent anti-Muslim activists, published a post on her website, in which she called the group "jihadis."
Before long, some publishers latched on to the Gatestone story and appended unrelated images of a boxing club to their posts, as well as a line taken from a rap song sung by a member of the boxing club. One particularly popular version published on ProjectRepublicToday.com ran with the headline "'We Are Coming And We Will Take Your Country' Muslim Biker Gangs And Boxing Clubs Training To Take Over Germany." It got more than 100,000 Facebook shares, reactions, and comments — a big, viral hit.

"The stories you have in the States, they get [reposted] here, and the other way around. The exchange is very strong."
In a statement to BuzzFeed News, the Gatestone Institute said that it does not consider itself an anti-Muslim organization, that it employs many Muslims, and that it seeks to educate the public about Islam. Gatestone said researchers fact-check its articles before they are published but would not commit to updating, correcting, or clarifying any information in the Muslim biker story.
"The article [is] well sourced and based on a report by Die Welt, one of the top newspapers in Germany," the organization said in its statement.
Farid Hafez, an Austrian political scientist who studies anti-Muslim sentiment in Europe, said he was "not at all surprised" that the dubious biker gang proved so popular and lucrative for anti-Muslim websites. He said that a sophisticated "Islamophobia network" has spent years promoting anti-Muslim misinformation and conspiracy theories between Europe and North America.
As BuzzFeed News reported last year, there is a virtual cottage industry of hyperpartisan websites and Facebook pages in Germany devoted to publishing negative stories about immigrants, Islam, and Merkel's government. The anti-Merkel rhetoric is frequently picked up by English outlets in the UK and the US.
"The stories you have in the States, they get [reposted] here, and the other way around," Hafez told BuzzFeed News. "The exchange is very strong."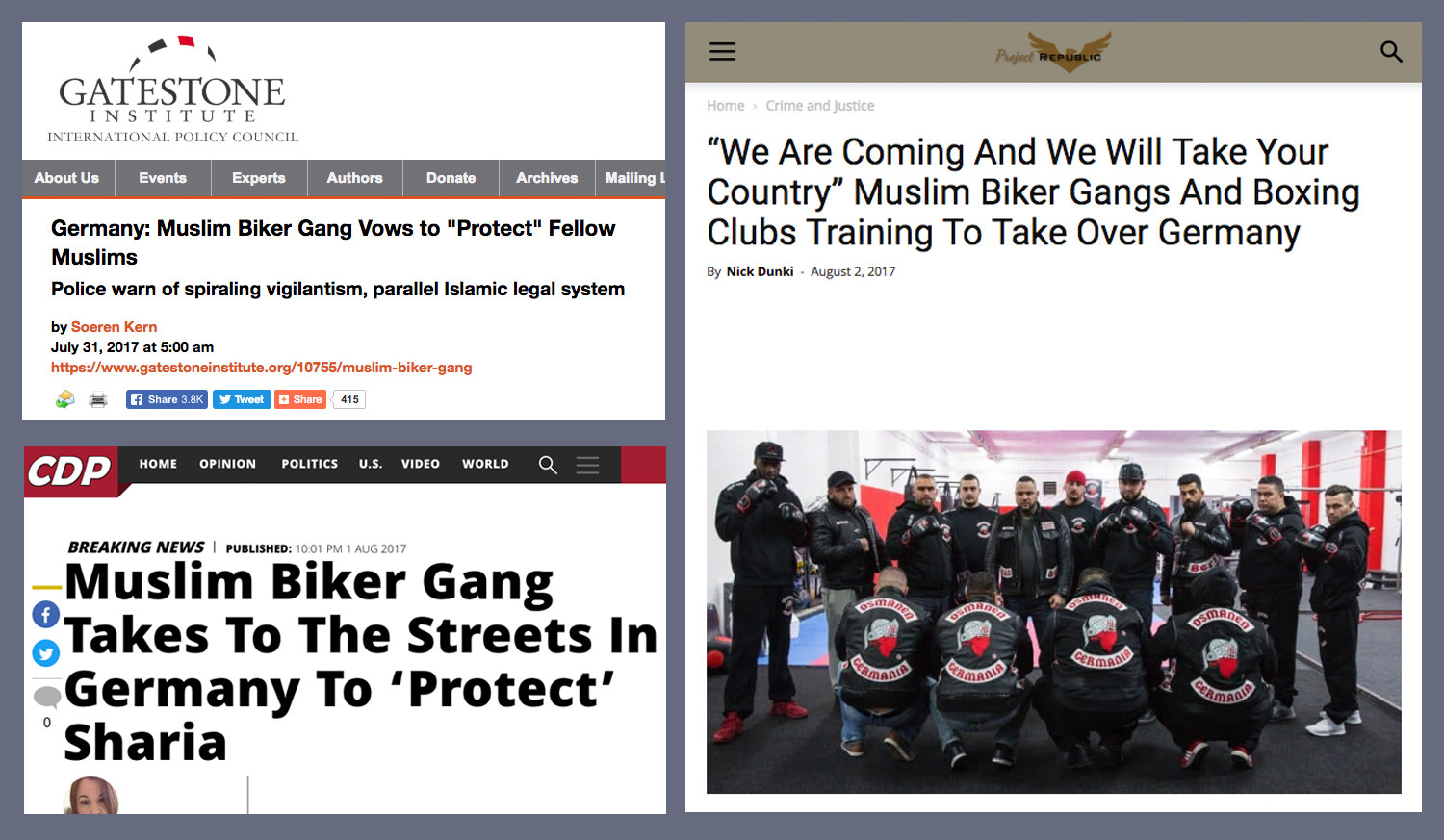 Negative stories about Muslim communities or immigrants from Africa and the Middle East wreaking havoc in European countries are increasingly common in conservative English language media. But many of those stories travel along common routes, often originating in local or tabloid news outlets before being repackaged into English by one of several key sites, such as the Gatestone Institute. The well-funded organization was, until recently, chaired by John Bolton, the foreign policy hawk who left to join the Trump administration as national security adviser.

Other major sources bringing reports from Europe into English include Breitbart London, the right-wing news outlet's European bureau; RT, the Russian government-backed media outlet; Voice of Europe, a blog that disseminates anti-Muslim information in 18 different languages; and a number of smaller websites with names like the European Post and Gates of Vienna. From there, stories can travel quickly throughout the wider conservative media ecosystem.
To track the spread of anti-Muslim and anti-immigrant stories, BuzzFeed News analyzed the top 50 most shared articles about continental Europe published in the first five months of 2018 by Breitbart London. Of those 50 articles, 33 focused primarily on Muslims and immigrants, often depicting them in a negative light, with 23 originating from a non-English local news source in places like Sweden, Germany, and Italy. Many of the Breitbart articles were subsequently cited or shared by other conservative outlets, as well as prominent anti-Muslim figures.
For example, in January Breitbart published an article about the increasing popularity of Mohammed as a baby name in Germany based on a report in the German newspaper Die Welt. "The rise of the popularity of the name Mohammed is coupled with the population growth in many Western European countries due to mass migration," Breitbart reported.
The article received more than 10,000 Facebook shares, reactions, and comments, and led to a follow-up piece in the Daily Mail, as well as posts on anti-Muslim platforms like Creeping Sharia and Geller's blog. The Creeping Sharia post described the popularity of the baby name as a "Muslim invasion," and Geller's post included an illustration of a sword-wielding Arab man celebrating his "victory" over a blood-drenched map of the world.
In March, Breitbart wrote about survey results in Germany that showed a majority of respondents do not believe that Islam "belongs" in the country, based on a report in the German magazine Focus. The article highlighted the apparent tension between European identity and Islam, claiming that Europe has historically been defined "by its Christian identity in opposition to Islam." The Breitbart article received nearly 10,000 Facebook shares, reactions, and comments, and it was cited by right-wing media outlets like the Rebel.
BuzzFeed News reached out to Breitbart for comment but did not receive a response to multiple requests.
It's not just Breitbart. Gatestone, another key source of these types of stories, published an article on European demographic trends in August 2017 with the headline "Muslims Tell Europe: 'One Day This Will All Be Ours.'" The post was based on an article in French weekly news magazine Valeurs Actuelles. It warned about high Muslim fertility rates and an apparent plot to "replace" native-born Europeans through demographic change. But no Muslim actually spoke the quote in the Gatestone headline. In fact, the line came from a French Catholic bishop who claimed, without any apparent evidence, that "one day this will all be ours" is something Muslims say openly about their plans for conquest.
The misleadingly headlined article received more than 10,000 Facebook shares, reactions, and comments, and was cited by large conservative publishers including ZeroHedge, WorldNetDaily, and the Federalist.
"It has a tremendously negative impact here because these fake stories and conspiracy theories are shopped around endlessly by the Islamophobia machine in America."
A Voice of Europe article from earlier this year warned about a German program that would train asylum-seekers to become truck drivers due to an acute labor shortage. The Voice of Europe article, which was translated from an Austrian tabloid story, raised the specter of a wave of truck attacks on civilians. It received over 35,000 Facebook engagements and led to several more articles on conservative and anti-Muslim websites, including PJ Media and Dangerous.com, owned by disgraced right-wing troll Milo Yiannopoulos.
Hafez, the Austrian political scientist, said that misleading media narratives about Muslims in Europe play a major role in public distrust of Islam and its adherents. Common themes such as schools allegedly banning pork products to appease militant Muslims are so ubiquitous that even some of his colleagues in academia have repeated them to him. (There is no evidence of any widespread campaign against pork, according to Hafez, and different versions of this claim have been debunked by Snopes.)
"If these people, who are at the forefront of interreligious dialog — if they start believing this kind of fake news, you can imagine what that means for the common people on the street," he said.
The flow of sensational and often false news out of Europe ends up impacting Muslims in the US as well, according to CAIR's Hooper.
He said the portrayal of Europe as a continent in flames due to Muslim criminality hardens attitudes about American Muslims. Hooper also feels it likely played a part in Trump's travel ban on people from Muslim-majority countries.
"It has a tremendously negative impact here because these fake stories and conspiracy theories are shopped around endlessly by the Islamophobia machine in America, and it just becomes part of the background noise that we have to deal with where everyone assumes there's Muslim biker gangs roaming Europe terrorizing people," Hooper said.
"Everyone just assumes all these things are happening when it just isn't the case." ●
Karsten Schmehl contributed reporting to this story.