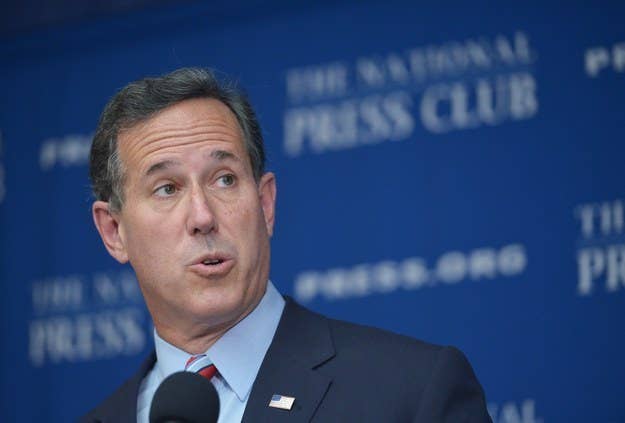 Rick Santorum said Thursday that, as president, he would abolish the State Department.
Santorum made the comment in an interview with radio host Glenn Beck, who told the former senator from Pennsylvania that he was hoping to hear the party's 2016 contenders call for everyone at the State Department to be fired.
"I have said that," Santorum replied. "I said that when I ran four years ago — the first thing I'd do is abolish the State Department and start all over."
"I have to tell you, I dealt with them for 12 years, I was on the committees that had a lot of interaction with them, and, you know, not that there aren't a few good people in there," Santorum continued. "I'm sure there are really good, dedicated public — but look, it's just, they are a bunch of internationalists who do not look after the interests of the United States. They don't look at the world from the standpoint of the United States and our principles being the ones that are the best."
"They're relativists, they're internationalists, and they are not serving the interests of the American people," Santorum concluded.
Pressed by Beck about the practicalities of firing the entire State Department, Santorum responded with a critique of the department's single-minded focus on international diplomacy.
"It's like, if all the tool you have is a hammer, every problem looks like a nail," Santorum said. "Every problem that the State Department has, the answer is diplomacy. Why? Because if it's not diplomacy, they don't have a job.
"And so the answer is never to do anything, the answer is always to appease, to talk," he continued. "I mean, I'm sure that they, that John Kerry, they're just having the greatest love-fest over at the State Department right now, because they got a deal!
"The fact that we sold out the security of our country, we put Iran on a path to a nuclear weapon that's going to cause a war at some point, just is completely beyond their ability to comprehend," Santorum went on. "They've got a hammer, every problem's a nail, and they're gonna negotiate, negotiate, until they get a deal."
"We have to have a leader who goes in there and says: 'We have problems, and we have a variety of different things in which we can solve those problems, and the State Department is one of them and only one of them,'" concluded the former Senator.