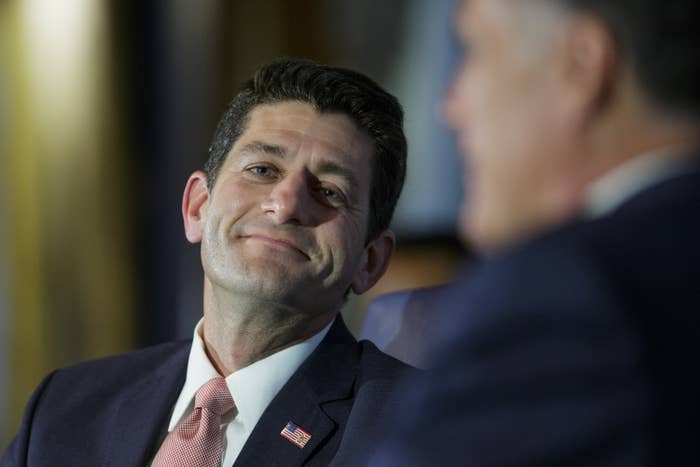 South Carolina Rep. Mick Mulvaney, a founding member of the House Freedom Caucus, said Thursday that Rep. Paul Ryan would "have a real hard sell" in the race to replace John Boehner as speaker of the house unless he promises a return to "regular order."
"You don't get to win just because you're Paul Ryan," Mulvaney said, in an interview posted to Hugh Hewitt's TownHall Audio Vault on Thursday. "Everybody will look to you, and give you a long look, because you're Paul Ryan, but you don't win just because that's your name."
Mulvaney acknowledged that "if Paul gets in, clearly it's a game-changing type of move," but said that "unless Paul comes out and says: 'Look, I want to be speaker, here's why I want to be speaker, and here's why I think I'd be different and better than John [Boehner],' it's a real hard sell."
Mulvaney did say that he thinks Ryan has "that potential to be a unifying factor" in a fractured Republican caucus, because "it's rare for politicians to actually have some credibility based upon intellect and hard work."
"Ordinarily we elect our leadership based upon their ability to raise money, and slap somebody else on the back and give out favors," said Mulvaney. "Paul has earned his reputation as a deep thinker – as a really smart guy, as a good guy – through his work, and his his dedication to his craft, and that carries a lot of weight in our business."
"But again, just because you're a really smart guy doesn't mean you'd be a great speaker," said Mulvaney, "and I think he's still gonna have to speak to what he would do if he were the speaker."
The South Carolina Republican said that he would advise Ryan to promise to restore "regular order" to the House legislative process, which he said had become deeply dysfunctional.
"People think, John, that Congress is broken, and actually they're right," said Mulvaney. "The system is broken, and the system that you and I studied in civics class, government class, that I watched on Saturday morning television when I was a kid – about 'I'm just a bill, I'm only a bill' – that doesn't work, that's not how we do it anymore."
"I wasn't there when Pelosi was Speaker, but we were so upset with the way she ran things that we promised people we would run it differently," said Mulvaney. "And honestly we haven't, and that's been very disappointing."