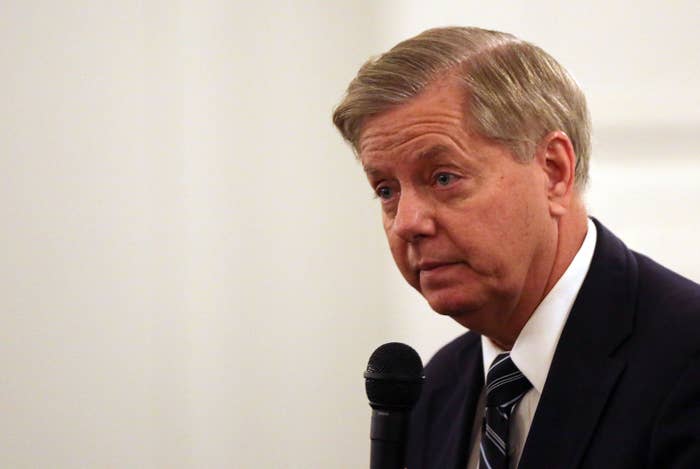 South Carolina Sen. Lindsey Graham said on Monday that nobody in the Republican Party is listening to what Kentucky Sen. Rand Paul is saying about national security.
"Rand Paul's a fine man, but he's been wrong about everything," Graham said.
Graham added, "The bottom line is, this flirtation with isolationism inside the Republican Party is over."
Graham made the remarks during an appearance on Fox News Radio's Kilmeade and Friends – the same program where Paul said Graham's foreign policy had "endangered the country" days before.
Asked about Paul's comments, Graham replied bluntly, asking "Who in their right mind wants to make Rand Paul commander-in-chief?"
Graham argued that Paul had been on the wrong side of the major foreign policy issues of the last several years, including U.S. troop withdrawal from Iraq and arming Syrian rebels.
"Here is what I will tell you, nobody is listening to Rand Paul in the Republican Party anymore about national security," said Graham. "Here is what Rand doesn't get, this is a religious war. It's not about Syria, Libya, and Iraq or Afghanistan, it's about a religious ideology that compels people to kill people in the faith that disagree, to destroy the state of Israel, and come after infidels like us."
"I'm glad Qaddafi is gone," Graham added. "If you want him back, then you go live in Libya under him. You go live in Saddam's world, if you think it's so good. What we did wrong was pulling out, after the Qaddafi was taken down. […] What we did wrong is leaving Iraq after it was in a good spot. What we are about to do wrong is to leave Afghanistan."
"So Rand Paul's isolationist, fortress America world – where you have no foreign aid, where you cut your military – will not keep us safe," Graham said. "It is worse than 'leading from behind.'"
Here's the video:
Kilmeade and Friends / Via Fox News Radio