Kasich Group Bought Website From Lefty Blogger Who's Using The Money To Pay His Writers
"How could we pass on the opportunity to have his own PAC keep our coverage going as he kicks off his national campaign for president?"
The political fundraising group supporting Republican Ohio Gov. John Kasich's bid for president bought the website at the center of its new advertising campaign from a prominent anti-Kasich blogger for several thousand dollars, a BuzzFeed News review of domain records has found.
As part of a $1.7 million ad buy to promote the governor, the New Day for America 527 group purchased "johnkasich.us," a site previously owned by Joseph Mismas, who has been a fierce critic of Kasich for years. Mismas routinely uses his platform at Plunderbund.com — one of Ohio's leading left-wing blogs — to criticize and embarrass the Ohio governor.
New Day for America's purchase will be funding the anti-Kasich blogger's writers and helping keep them "paid for the next few months" through the money he acquired in the deal.
Why is the group paying one of Kasich's most vociferous online critics? Here's how it all went down:
On July 8, New Day for America launched www.johnkasich.us.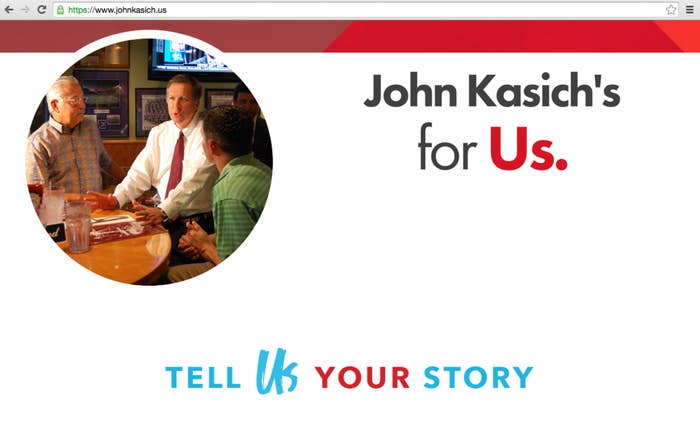 The same day the site launched, a local reporter in Ohio tweeted an interesting discovery:
BuzzFeed News then contacted Mismas to see if he was behind the similar-sounding site.
Mismas told BuzzFeed News that "it was just an interesting coincidence" that the other URL linked to the blog he helps run.
"I don't know the owner," Mismas said. "I assume he linked to us because we are 'Ohio's most influential political blog' and we have a steady stream of content related to John Kasich."
We then asked if Mismas owned any other Kasich-related domain names, and that's where things got interesting.
Mismas told BuzzFeed News that he owns "a few more Kasich domains."
Then he dropped the bombshell: "I used to own JohnKasich.us until July 7th, around 8 p.m. "
Mismas said that he had been discussing selling the domain name with Kasich's team for "several weeks" before receiving a "flurry" of communications on the 7th — the day before Kasich's ad campaign launched.
"Someone from Kasich's campaign team reached out and offered to buy it from me," Mismas explained. "After a few weeks of exchanging emails, I suddenly got a flurry of emails on July 7th."
"I was originally contacted by mail from someone at Kasich's campaign," said the blogger. "The letter was sent to my home address (the one on file when I registered the domain) on Ohio Republican Party letterhead. I responded via email and was told I needed to work with the lawyers for Kasich's PAC."
"I exchanged a few emails with their lawyer, and he tried to get me to sign an NDA [non-disclosure agreement]," continued Mismas. "I told him I needed to have it reviewed by an attorney first and would need a few days."
"Suddenly last Tuesday it seemed really urgent that they get the deal completed immediately. At that point he doubled the offer and dropped the requirement that I sign an NDA," Mismas concluded.
"I woke up the next day to find out John Kasich's Presidential PAC was now using it as part of their big, million-dollar media campaign in New Hampshire."
Mismas told BuzzFeed News that New Day for America paid him "a few grand" for the domain name, which he intends to "invest in plunderbund.com."
"Most of PB's writers are volunteers," Mismas explained, "but we do pay some of the regular contributors, including the ones who focus on the Statehouse and John Kasich. This money will be used to keep them paid for the next few months."
Mismas said that he agreed to sell the domain because he was "intrigued" by the idea that money meant to support Kasich could wind up funding a blog dedicated to opposing him.
"Plunderbund has spent the better part of the last decade covering Kasich and his problem-ridden policies here in Ohio," the blogger said. "How could we pass on the opportunity to have his own PAC keep our coverage going as he kicks off his national campaign for president?"
Mismas said that the scramble to purchase the domain name hours before the $1.7 million ad campaign built around it was due to launch is "typical of Team Kasich"
"They get so focused on the themselves and their own ideas that they fail to make sure the small and important stuff if actually taken care of," Mismas said. "Then they scramble at the end to catch up."
Mismas also offered a few words of advice for the soon-to-be candidate:
"The next time you plan to re-introduce yourself to the American people with a giant media campaign, try to make sure some lefty bloggers don't own your domain name first."
Here is a screenshot of the domain's registration information from July 7: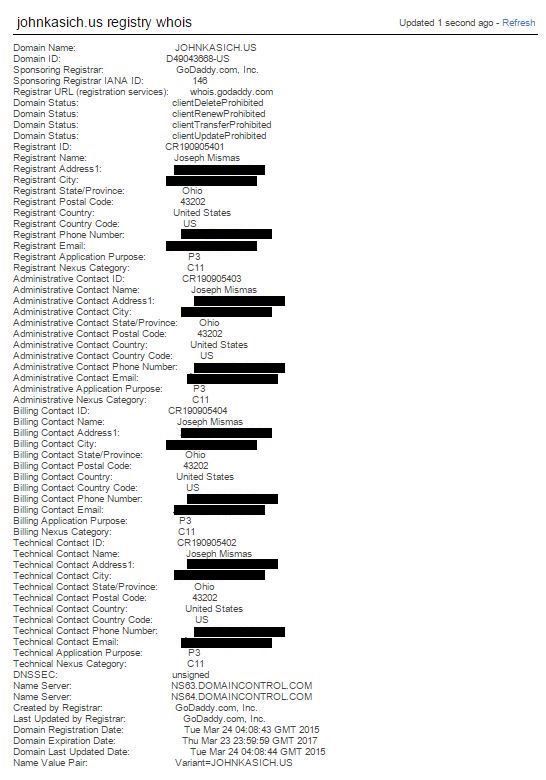 And here's the registration info now:
New Day for America did not respond to a request for comment.