Jeb Bush Offered To Help Obama Administration Re-Authorize No Child Left Behind, Emails Show
Jeb Bush's correspondence with the Department of Education shows the Florida Republican offered to help Secretary of Education Arne Duncan on the re-authorization of the controversial education law.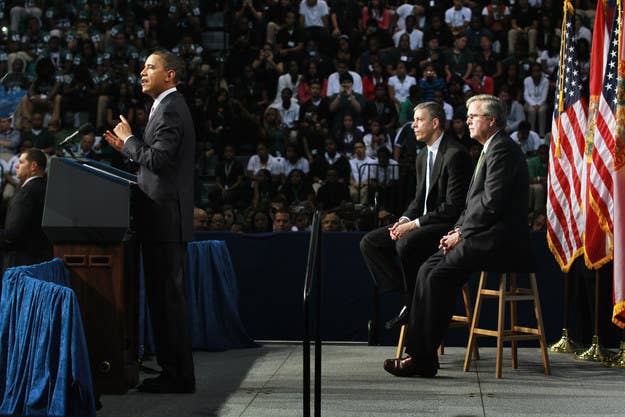 In an email from 2009 obtained by BuzzFeed News, Jeb Bush offered assistance to Secretary of Education Arne Duncan on reauthorizing No Child Left Behind – the controversial education legislation signed into law by President George W. Bush.
In the email, the former Florida governor proposes a meeting between Patricia Levesque, at the time the executive director of Bush's Foundation for Excellence in Education, and a high-level official at the Department of Education.
Among the topics to be discussed: how Levesque could "help" the Obama administration re-authorize No Child Left Behind.
The law, which technically expired in 2007 but has remained on the books, mandates annual statewide testing for every grade and penalizes schools for poor performance. The law is unpopular with both Democrats and Republicans, but in efforts to replace the law, the Obama administration has fought to retain as much of the law's strong federal role as possible, maintaining elements like mandatory annual testing, federal grant programs, and government oversight of achievement by students, especially minorities.
The issue has pitted Jeb Bush against most of his fellow Republicans, who oppose any federal government role in education. In a March op-ed in The Washington Post, however, Bush wrote in support of a limited role for the federal government in education, instead arguing for the states to take the lead.
The 2009 email is one of several pieces of correspondence between Bush and the Department of Education, obtained by BuzzFeed News by way of the Freedom of Information Act.
The email, dated May 29, 2009 -- just over four months after Duncan took office -- begins with Bush expressing his regret that Duncan had declined his invitation to keynote Excellence in Action 2009, the second annual "national summit on education reform" put on by Bush's Foundation for Excellence in Education.
"Hopefully, we can get you to come to another event down the road," Bush writes.
"Also, Patricia Levesque, the executive director of the Foundation I Chair will be in D.C. in late June," Bush continues, "and i would love for her to meet with one of your top staff, to tell them about Florida progress, help you in nclb reauthorization or in bold initiatives to advance reform, etc."
Bush concludes: "I hope you are enjoying your job!!!!"
Here's Bush's email offering to help with No Child Left Behind: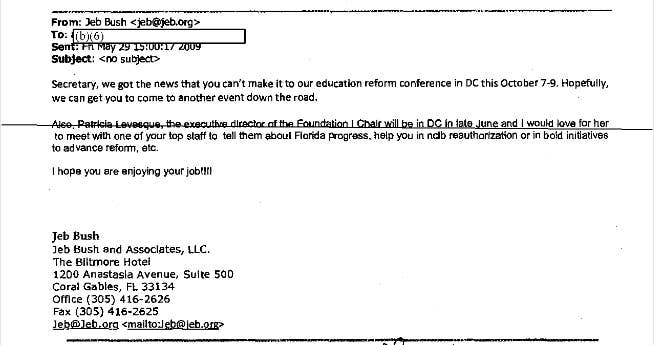 The re-authorization of No Child Left Behind is not the only controversial issue on which Bush offered assistance to the White House. Last week, BuzzFeed News reported that Duncan turned to Bush for advice about how to deal with Florida Governor Rick Scott's objections to Common Core.
A hand-written note from Duncan to Bush in 2013 shows Duncan's appreciation for Bush's efforts to reach across the aisle.
"I know this is hard, but your continued courage and clarity of thought is vital to giving our nation's children a chance in life," Duncan writes. "They are lucky to have someone with your tenacity as their champion."
Here's Duncan's note to Bush:
And here's the complete correspondence obtained by BuzzFeed News:
BuzzFeed News / Via Department of Education