Ben Carson Asks For Tolerance From The LGBT Community
"What position can a person who believes in traditional marriage... what position can they take that would be satisfactory to the gay community?" The conservative doctor talks health care, welfare, and Ted Cruz.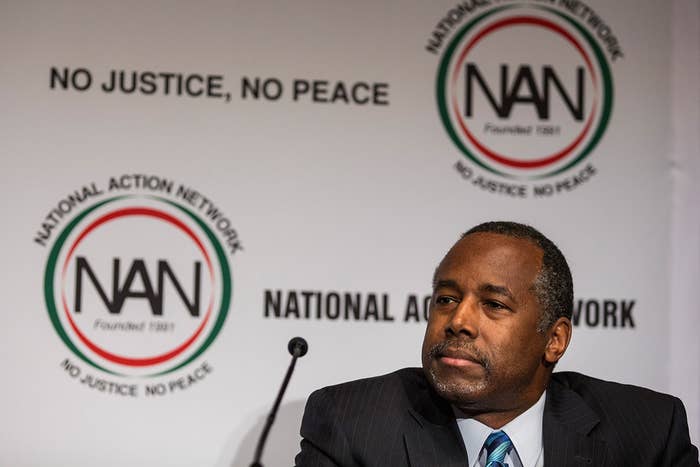 Dr. Ben Carson doesn't think there's any reason to be concerned about Hillary Clinton's concussion a few years ago.
"No," he replied simply when asked about whether the former secretary's fall in 2013, a subject of speculation by some conservatives, most notably Karl Rove, should be a cause for concern. "I've seen lots of people with concussions over the years, and generally they recover from them fully."
In a wide-ranging interview Wednesday in Manhattan, the likely presidential candidate talked about health care and welfare and the shooting in South Carolina, offered the kind of Iran deal he'd support (it "would have to guarantee access of the parties that we designate"), and expressed a desire for some rhetorical middle-ground on legalized marriage for same-sex couples.
Carson was in New York to speak in an unlikely venue — at National Action Network, the nonprofit headed by Rev. Al Sharpton, who introduced the doctor by noting the two "probably don't even agree that today is Wednesday." Over the last few years, the retired neurosurgeon has become an outspoken critic of President Obama and a popular figure in the conservative movement, after decades as a more aspirational figure, as a pioneering, world-class surgeon who is also black.
That legacy has splintered somewhat following Carson's more outlandish comments in recent years (comparing homosexuality with bestiality and pedophilia, for instance). The tension was not a secret on Wednesday — Carson began his speech by thanking "my good brother Sharpton for having the courage to invite me to come."
His message to the largely black crowd was the one he often delivers: self-reliance and independence with a mix of social conservatism. "I don't hate gay people; I just happen to believe that marriage is between a man and a woman," told the audience to some applause. The audience also welcomed his insistence that "there is nothing that even slightly compares to slavery" in American history, though few, if any, went along as Carson pivoted to defending his previous statements that the Affordable Care Act is the worst thing "since slavery" with the emphasis on the word "since."
Those past comments loom large in the media landscape as Carson prepares for the likely White House bid. In the interview with BuzzFeed News, Carson — who is soft-spoken and formal (his adviser requested his interviewer remove his hat before speaking) — delivered a more tempered tone on LGBT issues.
Should transgender people be legally protected from discrimination? "I think federal law should protect all American citizens from discrimination," he replied.
How would Carson react if one of his sons were gay? "I would still love him, just like I love all gay people," he said. Would attend his wedding, though, should he choose to marry another man? He was less sure ("I don't know"). But, Carson had a question in response — is there a place for same-sex marriage opponents?
"What I would ask — I think, maybe BuzzFeed can get an answer to this question: What position can a person who believes in traditional marriage, between one man and one woman, have, who has absolutely no animosity or opposition to gay people – what position can they take that would be satisfactory to the gay community?" he asked. "Because if they can give me an answer to that, I'm quite willing to seriously consider it. But so far I haven't been able to find anybody who can give me an answer — it's sort of like, 'Nope! It has to be my way or the highway.'"
"So, hopefully there's a level of tolerance in that community where they can actually come up with an answer," he continued.
Carson's popularity within the social conservative base originates with these kinds of beliefs — he's a deeply Christian social conservative, a true believer. But as he runs for president, he won't be the only person in this space. Sen. Ted Cruz last month announced his own bid at Liberty University, the Christian college, while former Gov. Rick Perry and current Gov. Bobby Jindal have also made a point of courting socially conservative, tea party-minded Republicans.
On Wednesday, Carson was reluctant to criticize other candidates. Asked how a Carson administration would differ from a Cruz administration, Carson offered only, "We're different people." He elaborated with a stock answer that described his own beliefs in the broadest possible terms ("the people are supposed to be the pinnacle of power in the system that we have established") and sounded a lot like... Ted Cruz.
Where Carson has more to say is health care and the intersection between that issue and broader social issues. Carson once served on a committee on bioethics under President George W. Bush's tenure, a time when one of the core issues at the crossing between social conservatism and science — embryonic stem-cell research — dominated the conversation. For his part, Carson said he wouldn't stop research already in progress on embryonic stem cells, but noted that "a lot of the research in recent years has demonstrated that the very best stem cells are mature stem cells that are de-differentiated back to the potential stage. Those are much easier to control, where the embryonic stem cells have a tendency to go off in wild directions and frequently create tumors. A lot of the research now doesn't involve embryonic stem cells for that reason."
The level of consideration isn't surprising — the neurosurgeon proposed dramatic changes to the U.S. health care system as early as 20 years ago in Harvard publications, a plan that involved socializing catastrophic care and decoupling health care from employment. He has since disavowed the plan. "I've subsequently decided that it's better just to scrap the whole system, and come up with something that makes a lot more sense," he said Wednesday of the plan.
Today, he proposes health savings accounts for everyone, "from the day they were born until the day that they die, which they can pass on at the time that they die." He would strip the laws that bar people from buying care across state lines. For the poor, the amount of money spent on Medicaid — roughly $5,000 per person, by his calculations — was enough that it could potentially be re-routed to any number of options, including purchasing "boutique" plans for the poor. ("I'm not suggesting that that's what you do, but I'm saying that those are the kind of resources that are already allocated," Carson was quick to point out.)
And on that front, Carson, who frequently rails against the welfare state as part of his message about self-reliance, argued that giving all Americans health savings accounts would incentivize them to make cost-saving decisions about their own care, in a way that current law does not — using food stamps as an example.
"Some people say: 'Mehhh – people are not responsible enough to be able to do things like that,'" he said. "But that's what they said about food stamps, they said: 'You can't give people food stamps; they won't know how to use 'em. They'll go out and buy porterhouse steak the first five days, and then they'll starve the rest of the month, and they'll be out in the street begging.'
"Did that happen? No! People learn to buy rice, and hamburger helper, and a little bit of corn, and beans, and they learn how to – and people are smarter than we think they are, and we have to start, at some point, depending on people to be able to manage their own lives," he said.