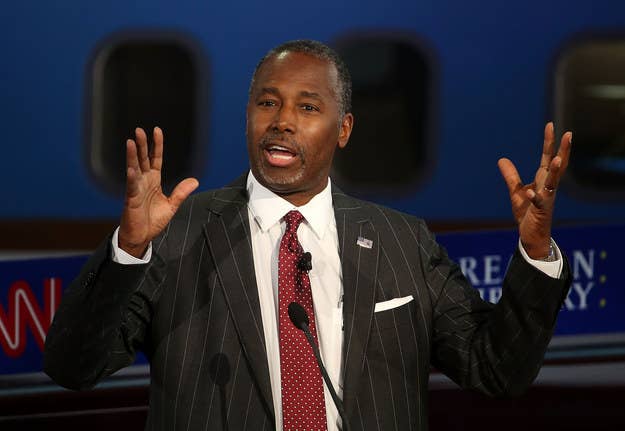 Republican Presidential candidate Ben Carson said Thursday that he believes his advice to George W. Bush on how to handle the Middle East was "the reason" he was awarded the Presidential Medal of Freedom in 2008.
Carson made the remark in an interview with radio host Doug Wright, who asked the Republican to elaborate on the claim he made during Wednesday night's debate that he had opposed the Iraq war from the outset, and encouraged President Bush to pursue alternatives courses of action.
"What I suggested to President Bush is to be Kennedy-esque," Carson had said. "Declare that within five to 10 years we will become petroleum independent. The moderate Arab states would have been so concerned about that, they would have turned over Osama bin Laden and anybody else you wanted on a silver platter within two weeks."
When Wright asked Carson to share the details of his conversations with President Bush, the renowned surgeon did not hold back.
"Actually, I had multiple conversations with him," Carson explained. "But the point that I was making to him is that those moderate Arab states, they're much more concerned about their well-being than they are about protecting Osama bin Laden or any of the other terrorists, and that we can use that to our advantage, simply by changing our policy, and bringing them into line, under control, that way."
"I think he eventually came to understand what I was saying — I believe that's the reason he gave me the Presidential Medal of Freedom," Carson continued. "But, you know, it's a process."
A press release announcing Carson's award put out by Johns Hopkins Children's Center, however, cites Carson's groundbreaking work as a neurosurgeon and philanthropist.
"Today Dr. Carson is one of the world's leading neurosurgeons. He is renowned for his successful efforts to separate conjoined twins and his expertise in controlling brain seizures. He has worked to be a motivating influence on young people. He and his wife Candy have started an organization that offers college scholarships to students across America. The child of Detroit who once saw a grim future became a scholar, a healer, and a leader."
Carson himself also made no mention of his role as foreign-policy advisor in accepting the award.
"I am humbled by President Bush's recognition of my work," said Carson. "I am extremely grateful that he chose to honor me not only for my work as a neurosurgeon, but also for my efforts to improve the lives of America's youth."
"I am blessed to have the opportunity to pursue both paths, which I consider equally important," he concluded.