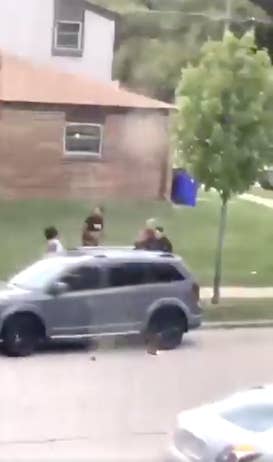 Wisconsin's governor on Monday deployed the National Guard to the town of Kenosha, where police officers shot a Black man from behind as he walked to his car on Sunday evening, triggering protests overnight.
In an incident filmed and shared on social media, 29-year-old Jacob Blake is seen walking away from several police officers. When he opens the car door, an officer grabs his shirt and then shoots him several times from behind.
Blake is in serious condition at a hospital in Milwaukee, according to a statement tweeted by the Kenosha Police Department. Officers were on the scene responding to a "domestic incident," police added.
Blake's family members have said on social media that he is out of surgery and is in stable condition.
Civil rights attorney Ben Crump said that Blake's three sons were "only a few feet away" at the time of the shooting.
"Jacob Blake was shot in the back seven times in front of his children," Wisconsin Lt. Gov. Mandela Barnes said in a press conference Monday. "This wasn't an accident. This wasn't bad police work. This felt like some sort of vendetta being taken out on a member of our community. The officer's deadly actions attempted to take a person's life in broad daylight."
Gov. Tony Evers announced that 125 National Guard members would be deployed to Kenosha County by Monday evening to "support local law enforcement" after the shooting sparked overnight demonstrations during which police used tear gas against protesters.
"Every person should be able to express their anger and frustration by exercising their First Amendment rights and report on these calls to action without any fear of being unsafe," Evers said in a statement.
He added that this was a "limited mobilization of the National Guard" that was focused on protecting critical infrastructure and to ensure "Kenoshians are able to assemble safely."
Kenosha County declared an emergency curfew for Monday, ordering the public to "be off the streets for their safety" from 8 p.m. to 7 a.m. Tuesday.

The officers involved in the shooting have been placed on administrative leave, but have not yet been identified by officials.

The Wisconsin Department of Justice said that its Division of Criminal Investigation will be investigating the shooting.
"The Wisconsin Department of Justice is vigorously and thoroughly investigating yesterday's officer-involved shooting in Kenosha," Wisconsin Attorney General Josh Kaul said in a statement. "I hope for a full recovery for the man fighting for his life."
Kaul added that the DOJ will work closely with the Kenosha County District Attorney's Office, which will make the decision on whether to file charges in the case.
In a tweet, a man who was identified as Blake's cousin said Blake was in the ICU.

"We will not excuse the actions of the Kenosha Police department, but his mother asks everyone to please remain peaceful," his cousin said.

"No matter what the fuck they say doesn't justify shooting my son in the back eight times," his father, Jacob Blake III, said in an Instagram video.

Blake's aunt shared her reaction to the video on Facebook, saying, "My nephew. I am shaking like a leaf but...I would be too for any human being I never saw anything like this in all my years as a criminal lawyer. Not...even...close. You...wouldn't shoot a dog like this. My people are beneath contempt in police departments around the country."
After the shooting on Sunday, Evers said, "we stand against excessive use of force and immediate escalation when engaging with Black Wisconsinites," and promised action. On Monday, Evers announced a special session of the state legislature to convene on Aug. 31 in order to take up a package of legislation that he had previously proposed "to increase accountability and transparency in policing in Wisconsin."
Democratic presidential candidate Joe Biden called for an "immediate, full and transparent investigation" and for the police officers to be held accountable.

"Yesterday in Kenosha, Wisconsin, Jacob Blake was shot seven times in the back as police attempted to restrain him from getting into his car. His children watched from inside the car and bystanders watched in disbelief. And this morning, the nation wakes up yet again with grief and outrage that yet another Black American is a victim of excessive force," Biden said in a statement. "These shots pierce the soul of our nation."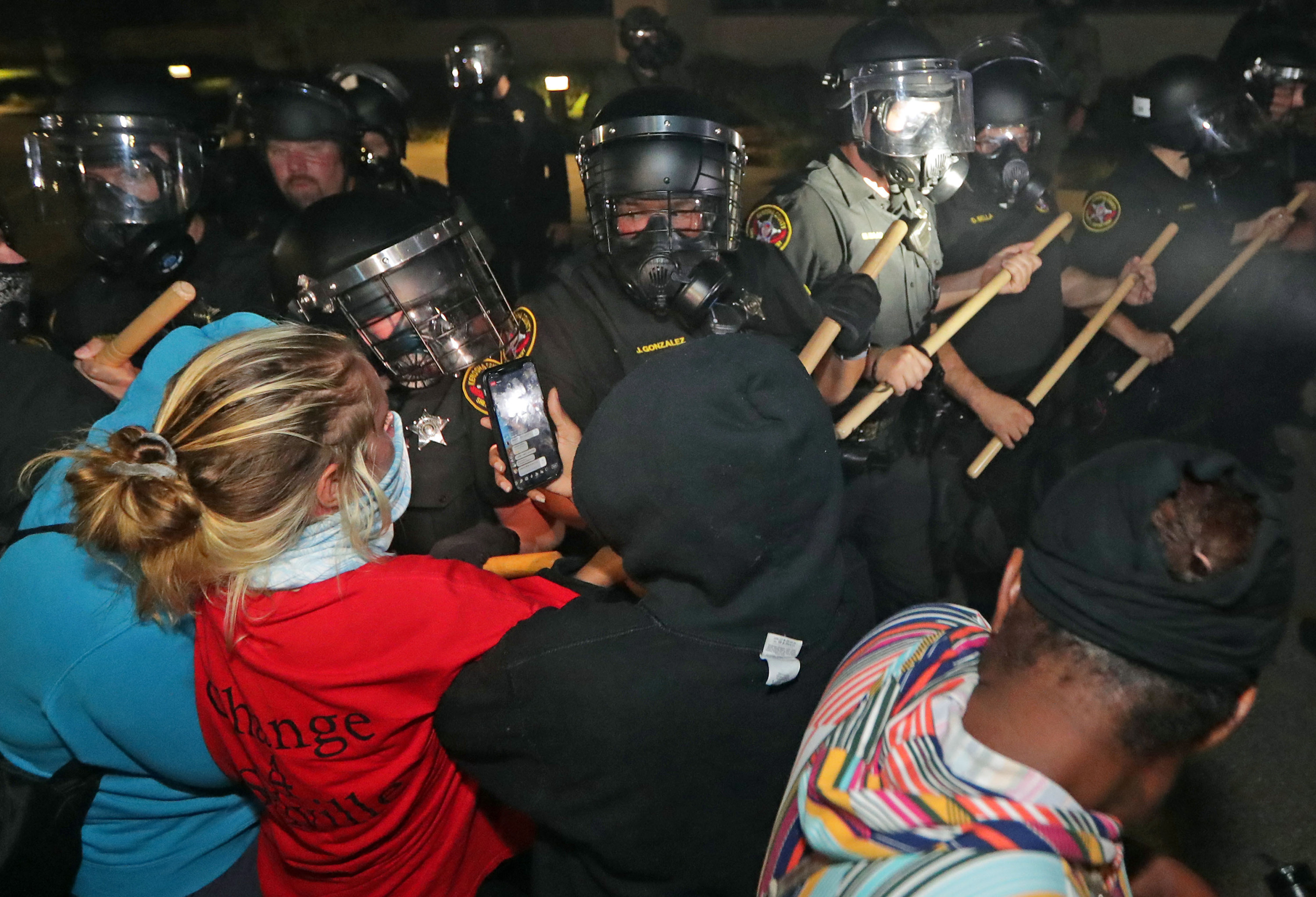 People began protesting in Kenosha starting Sunday night, and a citywide curfew was issued until 7 a.m. Kenosha police said they had received numerous calls about armed robberies and shootings. According to the Associated Press, police used tear gas on protesters who didn't leave following the announcement of the curfew.

In a series of tweets responding to the shooting, David Crowley, the Milwaukee County executive, said that "as a father of young Black children I understand the fierce urgency in which communities of color are demanding change."

In a statement provided to BuzzFeed News, Crowley offered scathing criticism of the "systemic racism" entrenched in state and local institutions.
"Make no mistake, Blake's wounds are the result of systemic racism, the policies and practices that entangle our institutions and produce racially disparate outcomes, regardless of the intentions of people who work within them," the statement said.
Crowley urged state and local leaders to "follow the lead of Milwaukee County in declaring racism as a public health crisis."
"We must listen to the voice of the people and take action to prevent the unnecessary loss of Black lives at the hands of the police," Crowley said in a tweet. "I stand with my brothers & sisters standing up for Black lives and making their voices heard."
The events in Kenosha Sunday night were reminiscent of those seen in other cities where police shot and killed Black men and Black Lives Matter protests sprung up. In nearby Milwaukee, just over 30 miles north from Kenosha, huge protests took place in 2016 after a police officer shot and killed Sylville Smith, a 23-year-old Black man. The police officer was charged, but acquitted at trial.
Wisconsin has often been dubbed the worst state for Black Americans, with the sharpest gap between unemployment, income, home ownership, and education outcomes of its Black and white citizens.
The majority of Black Wisconsin residents live in Milwaukee, Racine, and Kenosha.
"They live in primarily Black, segregated, heavily policed communities," Katherine Hilson, assistant professor of sociology and criminal justice at Carthage College in Kenosha, told BuzzFeed News. "A lot of people are having uninvited, repeated, regular contact with the police, and especially incidents like we saw yesterday with Jacob Blake, those sort of things are what erodes the trust that community members have with police."
In June 2019, 18-year-old Ty Rese West was shot and killed by a police officer in Mount Pleasant, less than 15 miles from Kenosha. The officer was chasing West at 1:30 a.m. for not having a light on his bike. There was no video of the incident and the officer was not charged.

This April, an off-duty Milwaukee police officer put Joel Acevedo, 25, in a chokehold for 10 minutes during a disagreement at the officer's home after a party. Acevedo died from injuries several days later and the officer, Michael Mattioli, was charged with first-degree reckless homicide. He is still on police payroll.
Hilson pointed out that Kensoha's protests aren't fueled only be frustrations at the shooting of Blake or other incidents of police brutality.
"When you see the unrest, the protests and the uprisings — and I use those words in particular as opposed to something like a riot, which seems completely uncontrolled and senseless — people are responding to real things," Hilson said.
"They are not just responding to episodic events, which are tragic in themselves," the professor added. "But they're responding to underemployment, unemployment, living in poor conditions, going and sending children to schools that are subpar, being subject to regular police contact that is often intrusive and dehumanizing."
Correction: Tony Evers is the governor of Wisconsin. The state was misidentified in a previous version of this article.
Correction: The city of Racine, Wisconsin, was misspelled in a previous version of this post.