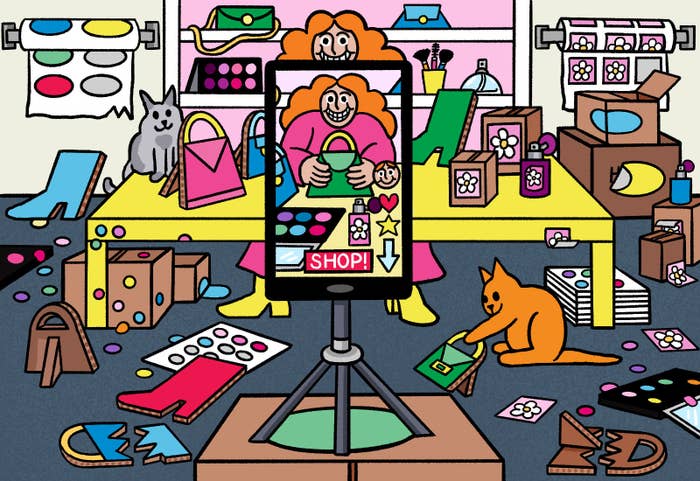 Iman Hamid, a lawyer and author in London, was browsing TikTok in January when she came across a NYX lip gloss being sold on a livestream for just £3.99 (about $5) — almost half of the product's original price. Thinking this was a good deal, she purchased the lip color — but once it arrived, she said she realized the discount was too good to be true.

In a video she posted on TikTok in June, Hamid swatches the lip gloss she purchased on TikTok and compares it to the same color she bought at Superdrug to compare. The colors are starkly different and she says the texture didn't match up.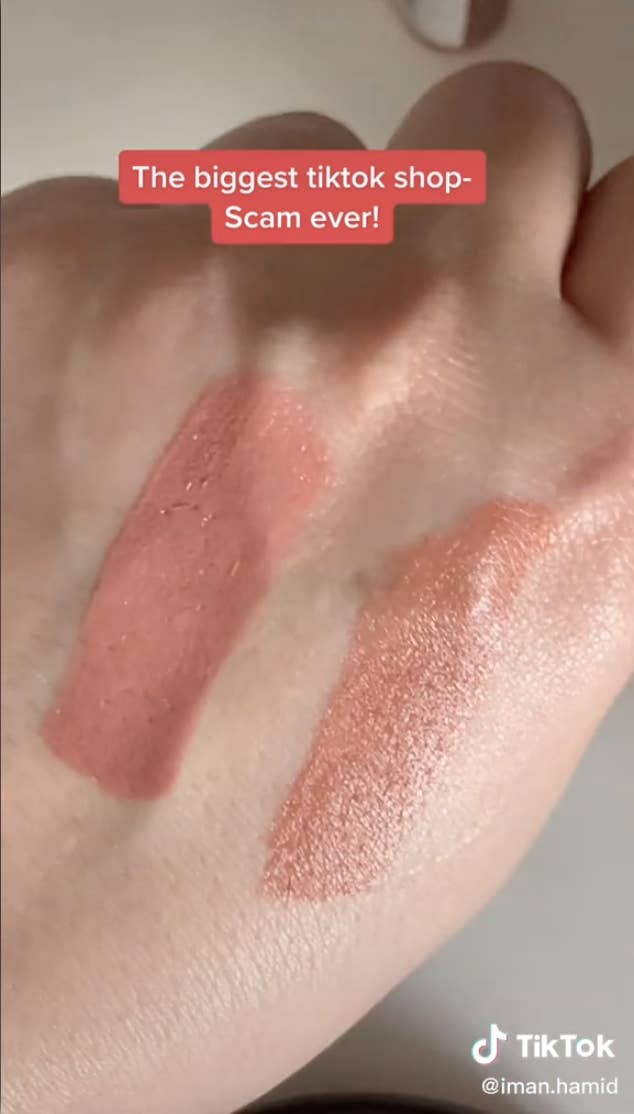 "I have used the product once and I could tell from the first use that it was fake, because it faded so fast and the color was off," Hamid told BuzzFeed News.
TikTok launched its marketplace in September 2021, and since then vendors have sold items often at highly reduced prices, including a sunset lamp that has gone viral as well as the famous "TikTok water bottle" that both sold for 99p.
Hamid was not alone in her experience — people on the platform have said that products they purchased in-app were fake. Several videos have been posted on TikTok with users questioning the authenticity of the products sold.
One TikToker compared a sunscreen they previously owned to the one they purchased on TikTok and immediately noticed differences in the packaging, saying in the video, "The image on the box has been printed, there is also no braille on the side of the box."
They also noticed a huge difference in the color of the sunscreen itself. The customer told BuzzFeed News she has been refunded. The customer who posted the video provided BuzzFeed News with a screenshot that appears to show the TikTok shop she purchased the sunscreen from is now closed. A spokesperson for TikTok confirmed that the shop was removed from TikTok Shop UK "due to policy violations regarding counterfeit products."
Several commenters on Hamid's TikTok video shared their experiences of purchasing what they believed to be a fake product from TikTok.

"Same happened to me with mascara," one person said. Another warned, "if the price is too good to be true, it's probably too good to be true."
"It's shocking to me to see how many people have actually gone through the same problem," Hamid told BuzzFeed News.
When asked by BuzzFeed News if she had left a review for the product, Hamid said the seller no longer appears to sell the lip glosses.
Another user, @lasoandmo, posted a video comparing a set of Real Techniques makeup brushes she purchased on TikTok to a set from the same brand that she already owned. The woman, who asked that her real name not be used, told BuzzFeed News that the price of the brushes on TikTok was so low that "straight away" she knew they might be fake, but purchased them anyway because she wanted to warn others if they were.
When the brushes arrived, the woman told BuzzFeed News that the weight of the brushes was much lighter than the ones she already owned.
A representative from Real Techniques told BuzzFeed News, "Unfortunately, Real Techniques brushes are not branded in any way to be able to determine authenticity." The representative said that they recommend people purchase brushes from authorized retailers listed on their website.
But there are genuine products being sold on TikTok along with the ones users believe to be fake. In April, BuzzFeed News purchased a Laneige lip sleeping mask, an Embryolisse cream, a Nars blush, and a MAC lipstick from a seller on TikTok called Keep Online. The items that arrived several weeks later appear to be authentic. BuzzFeed News reached out to the seller we purchased the products from for comment but has not heard back from them.
A spokesperson for TikTok told BuzzFeed News that "fake or unauthorized replicas of an authentic product are forbidden on TikTok Shop."
"We make this absolutely clear in our policies, which all Merchants must adhere to," the spokesperson said "We encourage our Community and brands to report cases of counterfeits or intellectual property violations if they find them on our platform, and we remove such cases when found."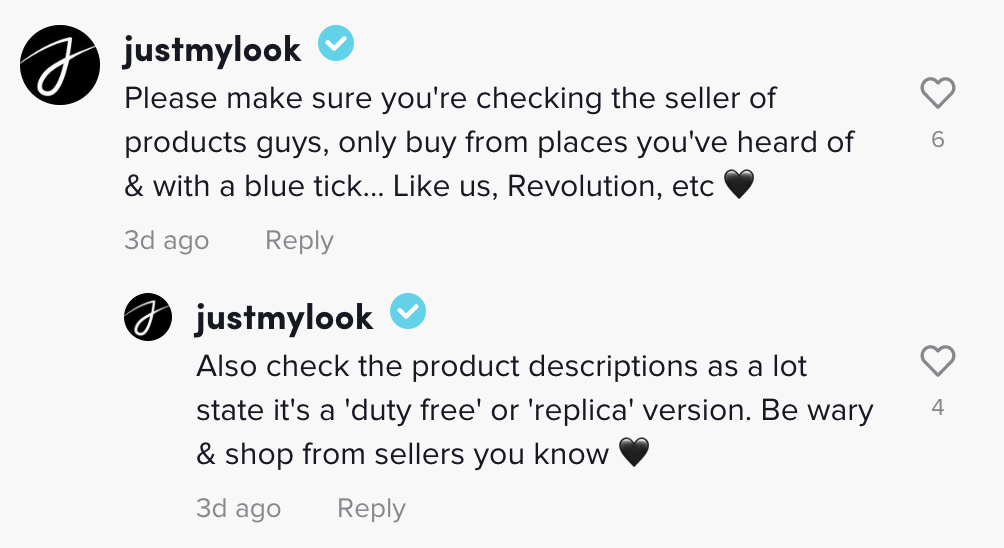 Hamid told BuzzFeed News she would only order products from TikTok again if the purchase is made directly from a verified company's page.
"Tiktok is definitely in need of a whole new culture of accountability," she said. "Otherwise if the TikTok shops are left in the hands of those influencers, we will all end up being victims of scams and fraud."