This is Zainab Merchant, 25, who alleges she was profiled at least 10 different times in one round trip while traveling to a wedding last week.
Merchant is an author from Gainesville, Florida. She was traveling with her 6-month-old baby and her husband to a wedding in Vancouver, Canada, a journey that involved several flights and a car ride.
Merchant and her family flew from Orlando to Los Angeles International Airport. When they arrived at LAX she said they were told to wait, were escorted by security, and had their bags checked.
Then their bags were rechecked, their hands were swabbed multiple times, and they were patted down.
She said they made it to their gate afterwards, relieved that their flight to Portland had been delayed. Then she said she saw the same group of TSA personnel at the boarding area. They told her and her husband they needed to check her a third time, she said.
The agents said they were conducting a random security and ID check, and they were escorted out of the terminal by TSA staff. During these checks, she said, her baby was left unattended because she and her husband were searched at the same time.
She said she was told she failed the test and needed to come to another area, though the staff members refused to tell her which test she failed.
Merchant said after a 14-minute wait, she was checked by security staff again and told she passed. She was worried her husband and baby had boarded the flight — but it turned out they waited for her. They missed the flight.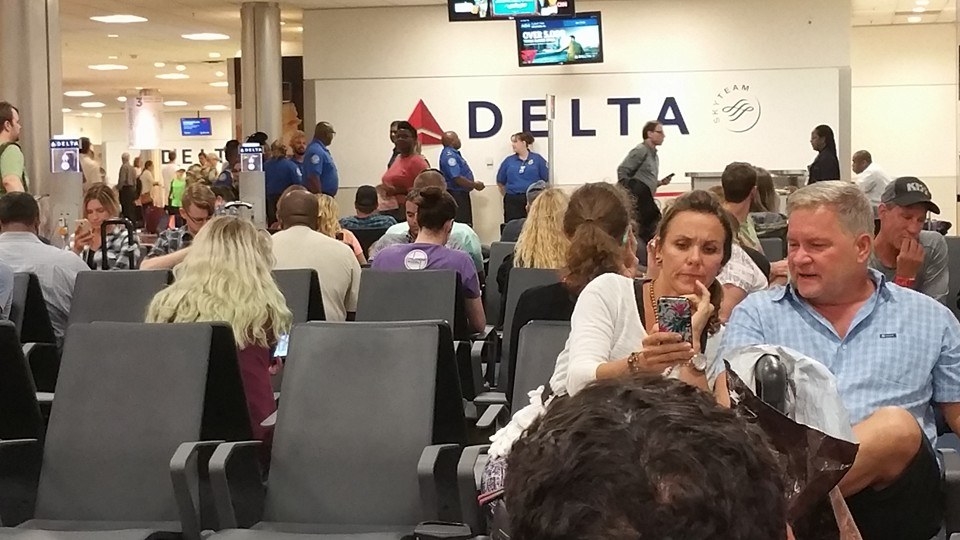 Merchant said they were stopped again, for a sixth time, on their way back into the US. Driving from Vancouver back to Portland, they were held at the US–Canada border. Merchant said no one spoke to them for about three hours and then, around midnight, her husband had been taken away for questioning. She said the family was held overnight. "At one point, in the middle of the night, we were the only ones there and I remember feeling really scared," she said. "I really felt like we were in jail. At that moment, I felt fearful and powerless.
"I asked the staff member 'why are you guys doing this?' and he replied, 'Look Ma'am, we are just following orders – when someone comes to this border, we have to start at the top, which is terrorism, and work our way down.' And I said, 'So you are treating us like terrorists — what happened to innocent until proven guilty?' and he never answered."
She also said they asked to get their stroller after the baby fell asleep. The staff members agreed and let her husband go to the car.
"The staff member said in his walkie-talkie 'suspect walking towards the car to retrieve stroller,'" she said. "They were already referring to us as suspects."
Merchant said she was stopped four more times before completing her journey home.
When flying from Portland to Atlanta, she was stopped twice while departing, once upon arriving at the Atlanta airport, and then again — with extra security — before leaving Atlanta for Orlando.
In total, Merchant said she experienced 10 different security checks during her family's round-trip journey to Vancouver.
Merchant told BuzzFeed News the numerous checks by the TSA staff at LAX in particular were what inspired her to share a Facebook status about her experience:
Many who commented on Merchant's status said they've experienced similar issues with the TSA.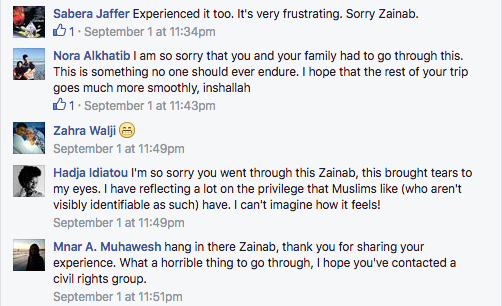 Merchant said she was surprised at the number of people who related to her Facebook post and that she's now considering taking legal action against the Department of Homeland Security. The TSA told BuzzFeed News in a statement:
"All TSA officers and contracted screeners are trained to treat every passenger with dignity and respect. They receive regular training on cultural and religious sensitivities. Profiling is not tolerated at TSA. TSA has long made it clear that profiling is not only discriminatory; it is also an ineffective way to identify someone intent on doing harm. TSA officers are specially trained to use risk-based security measures to identify, mitigate and resolve potential threats at the airport security checkpoint. These officers are empowered to ask questions about a passenger's travel to include identity, travel itinerary and property and may use a variety of screening processes, including random screening, regardless of whether an alarm is triggered.
"When additional screening is needed that requires the removal of religious apparel, our officers offer private screening and only then will they request a passenger remove the item."
CORRECTION
Merchant was stopped by LAX for 14 minutes. An earlier version of this post misstated the length of time she was held for.