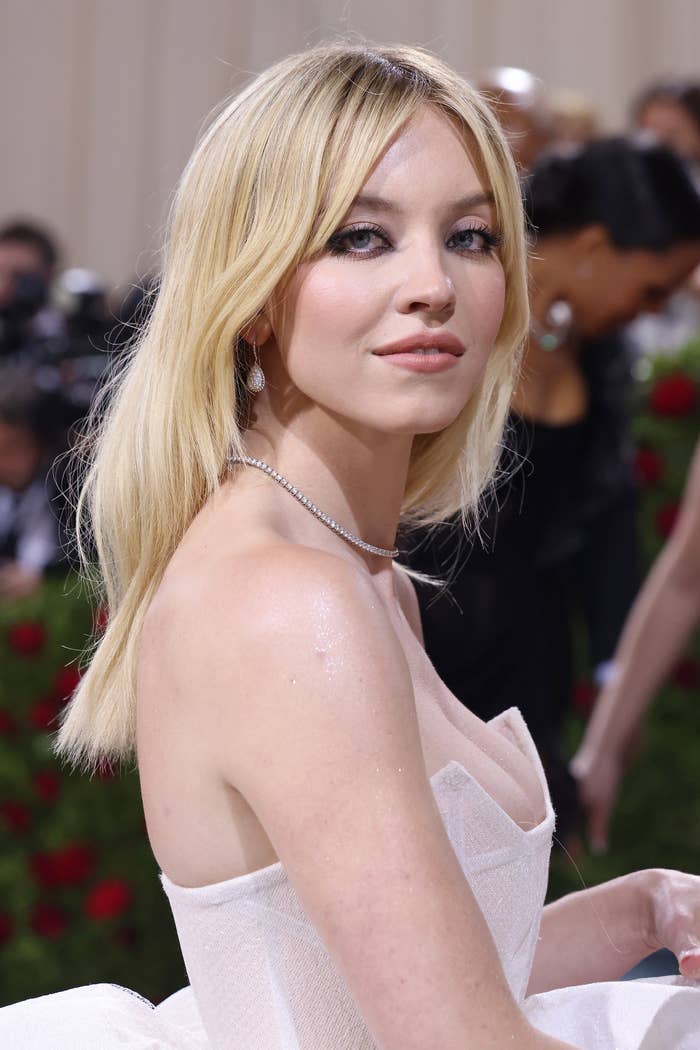 Update: This story has been updated to reflect that the video may have been misheard as "show us those boobs" rather than "show us those moves."
A video that went viral because it appeared to show actor Sydney Sweeney being sexually harassed on the red carpet of the Met Gala may have been a misunderstanding.
Sweeney was attending the Met Gala in New York for the first time, tweeting on Monday that she was stuck in traffic after fans asked where she was. When she arrived, the Euphoria star strutted the red carpet wearing a long white Tory Burch gown.
When she removed the skirt, she twirled for the cameras, before walking further up the famous stairs.
As she walked up the red carpet, past dozens of gathered reporters and TV cameras, video captured by the New York Times included audio of someone, presumably a photographer or reporter, shouting at Sweeney.
"Do you hear the guy catcalling her?" said 24-year-old Sabrina from New York City , in a viral TikTok she posted of the incident, including the video that had been posted as an Instagram story on the New York Times' @nytfashion account. Sabrina asked for her surname not to be published for privacy reasons.
Sabrina, and others online, believed they'd heard someone yell at Sweeney: "Does anyone have boobs like you down there? Come on, show us those boobs."
But a source who spoke with people in attendance said that the person had instead called out: "Does anyone have moves like you down there? Come on, show us those moves," in reference to how Sweeney had been twirling around and dancing just a few moments earlier before walking up the stairs.
Sweeney appears to laugh it off and look away in the moment.
Sabrina said she was shocked when she heard the screams, replayed the video, and sent it to a friend as she couldn't believe what she was hearing. She then reposted it on her TikTok, speaking about her frustrations at the harassment women receive.
We're following the influencers who want you to follow them. Sign up here for weekly dispatches from our Please Like Me newsletter.
"I immediately screen-recorded it," she told BuzzFeed News, "because I think it's important that we don't over-glorify events like the Met Gala if the standard for what photographers are being invited and the conduct of those photographers is so shockingly low."

Sweeney's representatives declined to comment. The actor has spoken before about the difficulties of constant scrutiny of her body, and a derogatory tweet last year referencing her "boobs" may have led to Sabrina mishearing what the person yelled at her Monday night.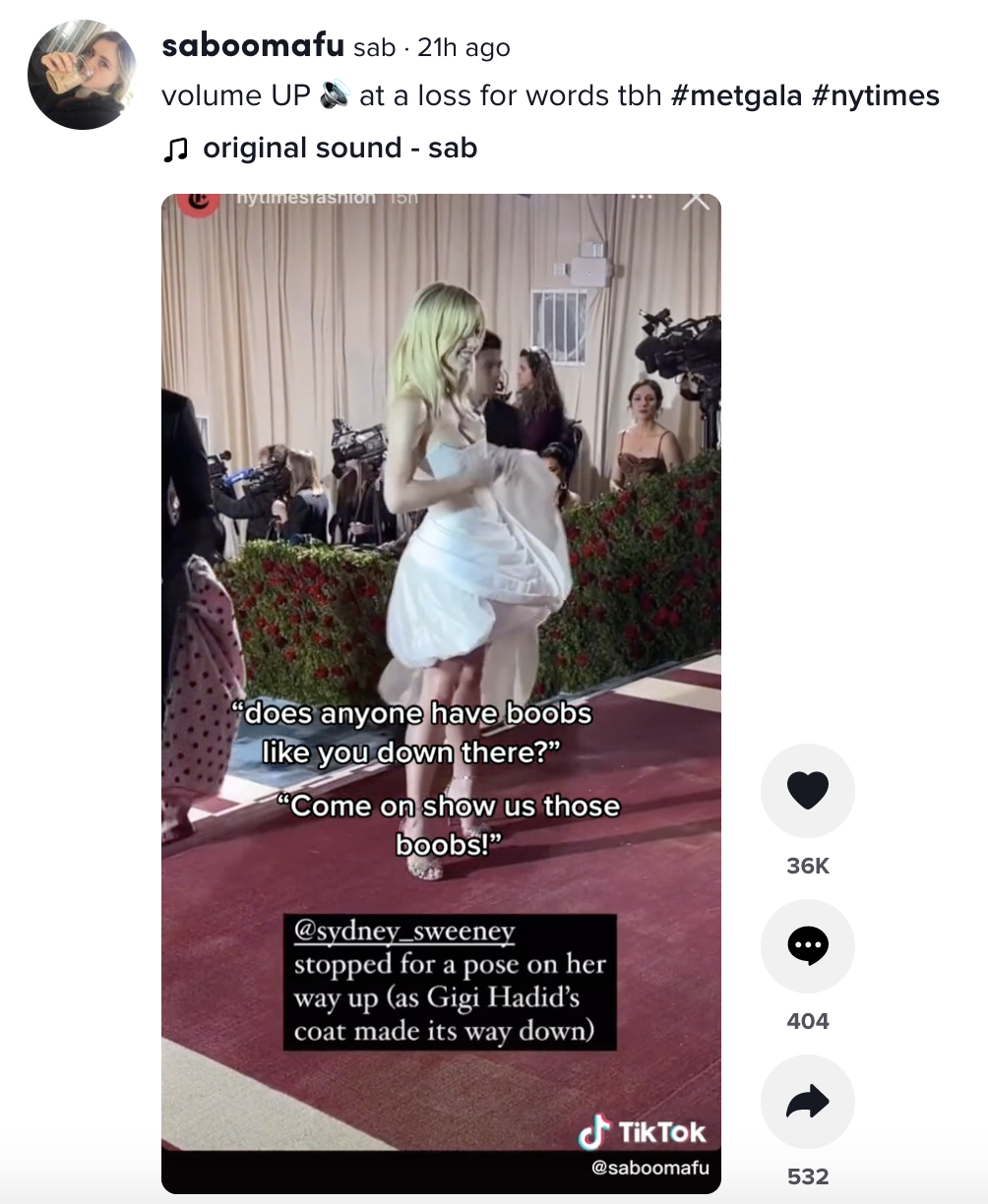 Last year, Sweeney cried live on Instagram addressing a tweet where someone said, "Here I'm gonna force y'all to look at her with no boobs." Sweeney later revealed that that was just one of many reasons she broke down.
Part of Euphoria's cultural success has included tweets, memes, and comments objectifying the young actor's body online.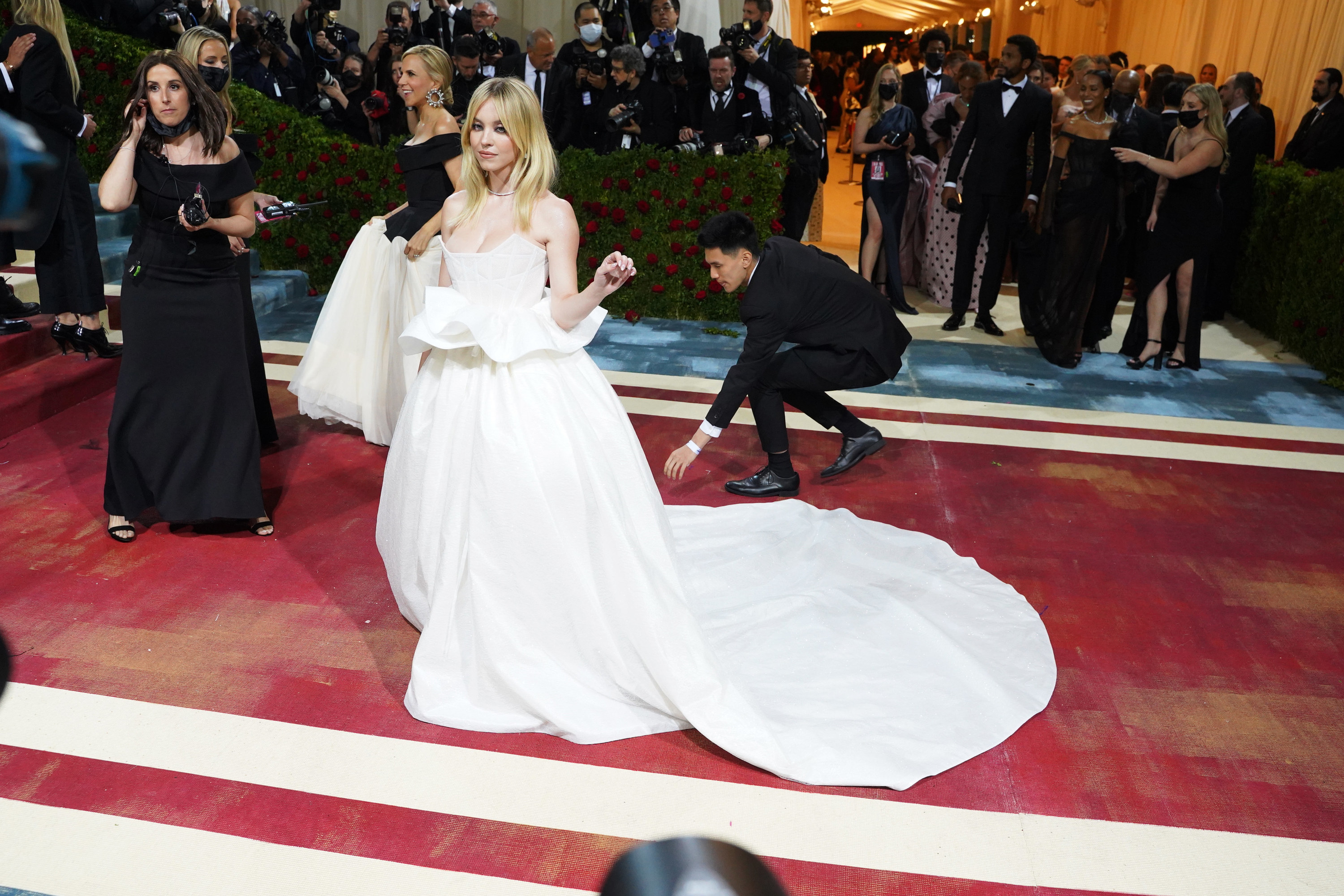 A spokesperson for the Met told BuzzFeed News that they have a "rigorous review process for applications."
"This was just brought to our attention — and we are neither clear if the allegation is accurate nor who the reporter may have been — yet surely we would not condone any of our guests being treated in this unprofessional manner."
Vogue, which organizes the Met Gala, has not yet responded to a request for comment.