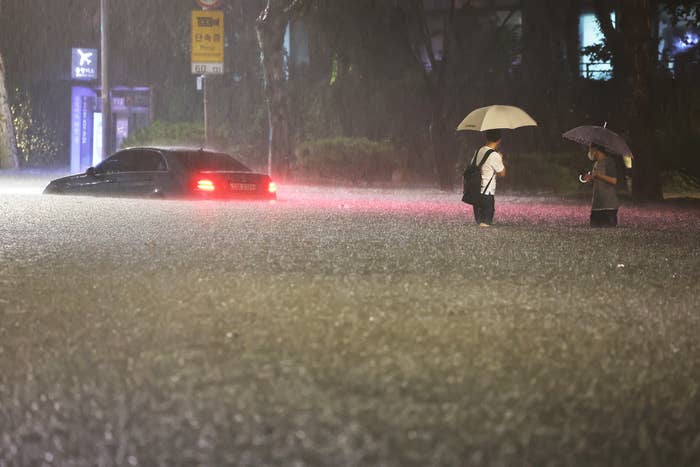 Heavy rain in Seoul on Monday evening quickly led to floods across the city, with photos on social media showing a man trapped on top of a car and major shopping areas and a university filled with water.
The floods have killed at least nine people after the city saw its worst rainfall in over a century. Six people are said to be missing, according to the Korean Herald.

In South Korea, people with lower incomes often live in basement apartments like the one depicted in the movie Parasite, putting them at higher risk of being trapped during a flood.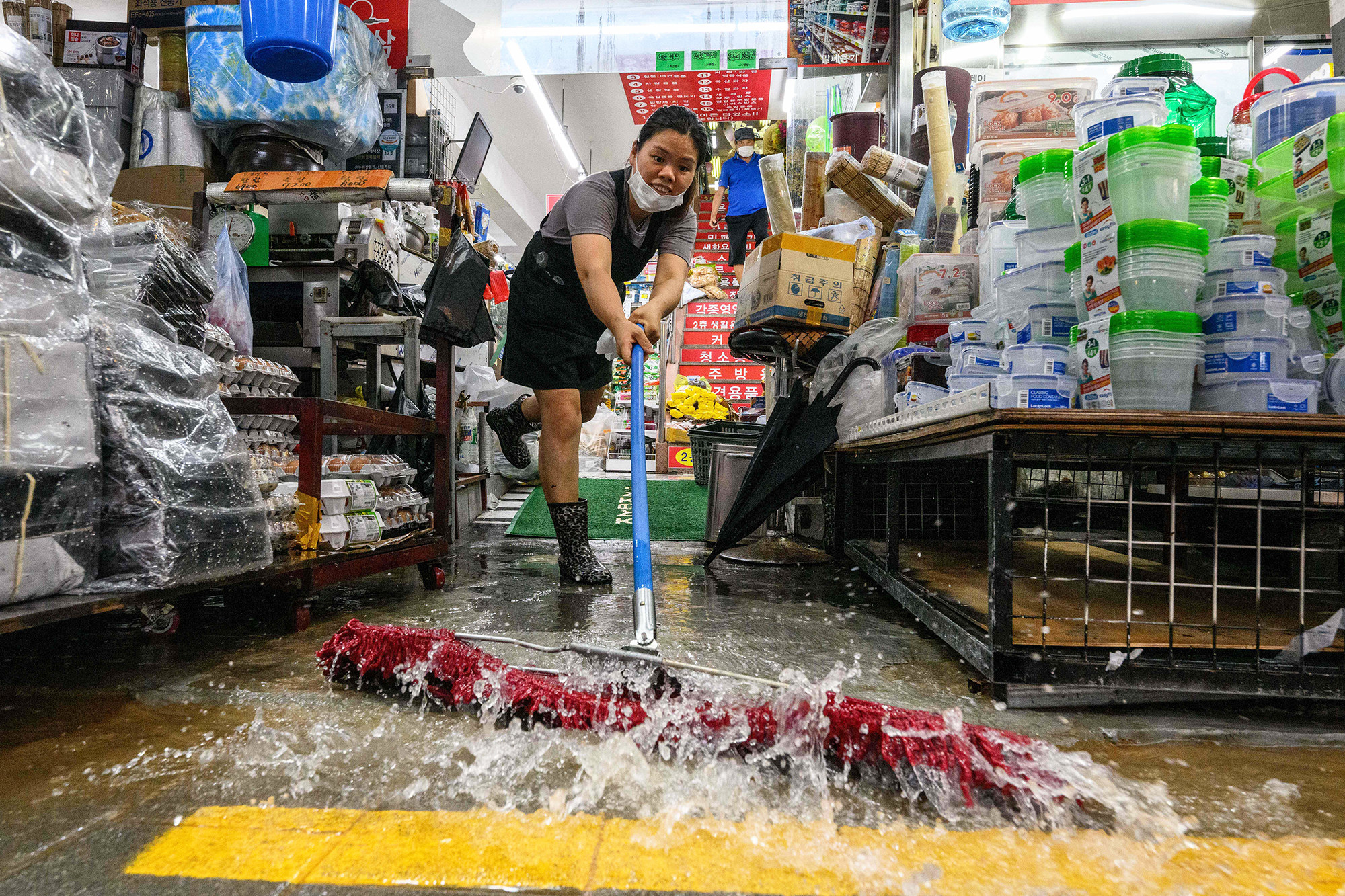 Three members of one family drowned in their basement home on Monday night as water started to rise rapidly. Neighbors tried to help but were unable to save them, according to the Hankyoreh newspaper. The victims were reported to be a 46-year-old mother, her 13-year-old daughter, and the mother's sister, a 47-year-old with a developmental disability.
A neighbor recalled trying to rescue the family after he had broken windows to save his own daughters. He said the water pressure stopped him from helping the family who died.
South Korean President Yoon Suk Yeol posted on his Instagram account after visiting the home where the family died. In the photo, he can be seen crouching down and peering through the basement apartment windows. He wrote in his caption that the government will be providing support to people following the floods and housing those who were displaced.
Weather disasters are inextricably linked to human-induced climate change. The planet has already warmed 2.1 degrees Fahrenheit since 1880, according to NASA, and that's making disasters worse. Wildfire seasons are getting longer. Hurricanes are getting wetter and more dangerous. Heat waves are getting hotter, happening more frequently, and lasting longer. Heavier rainfall across the US is triggering more inland flooding. And the cost of climate disasters is soaring. Stopping this vicious cycle will require drastically reducing our reliance on climate-polluting fossil fuels.
When the floods began, people were commuting home, and one subway line became completely submerged by the rainfall. People abandoned their cars and left stations to make their way to safety. Seoul National University was flooded.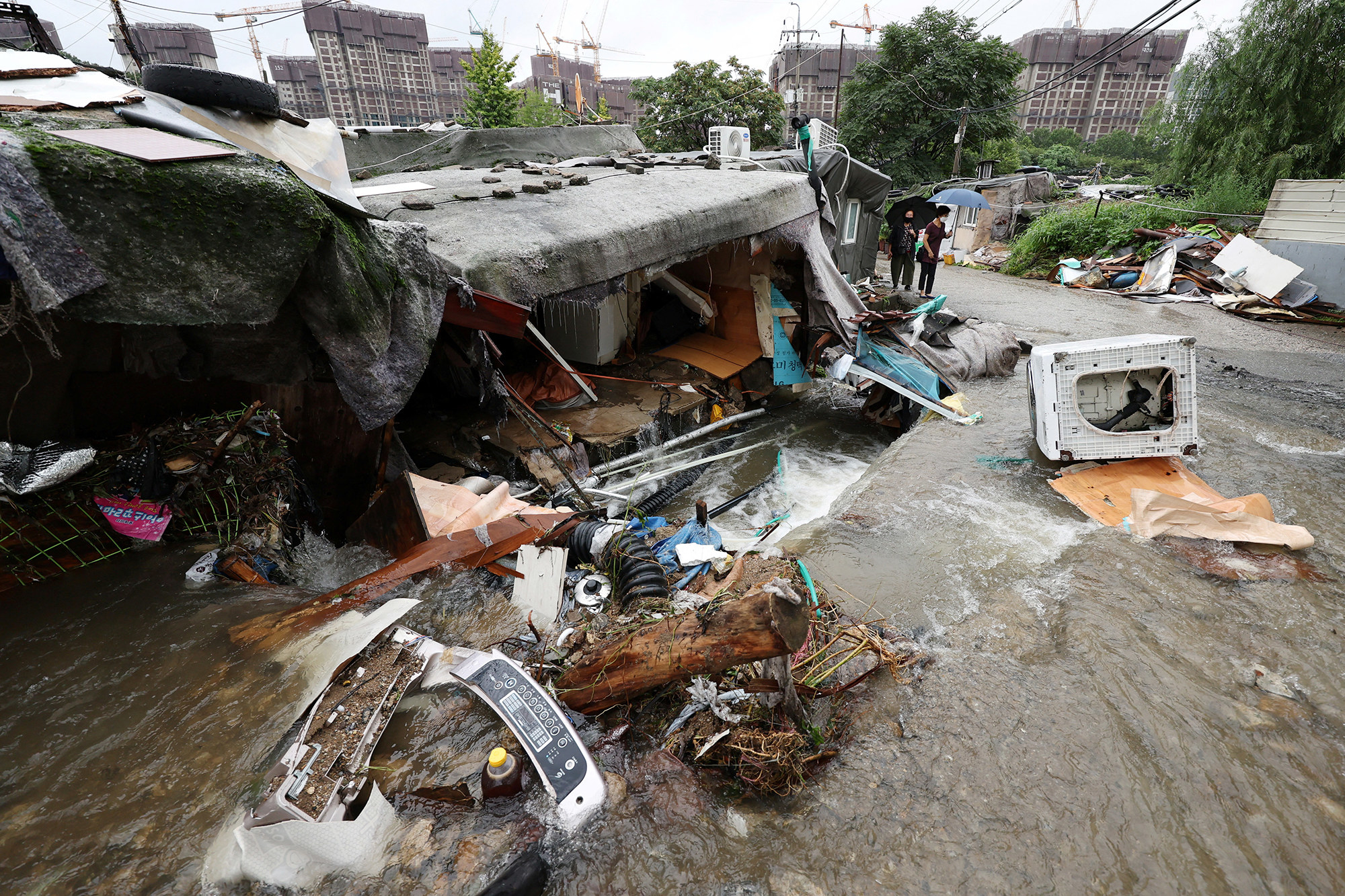 According to the Korean Herald, the Korea Meteorological Administration said that heavy rainfall is expected to continue until Friday. "Those in areas where landslides are expected should move to a safe place as continuous rain has weakened the ground," the agency said.