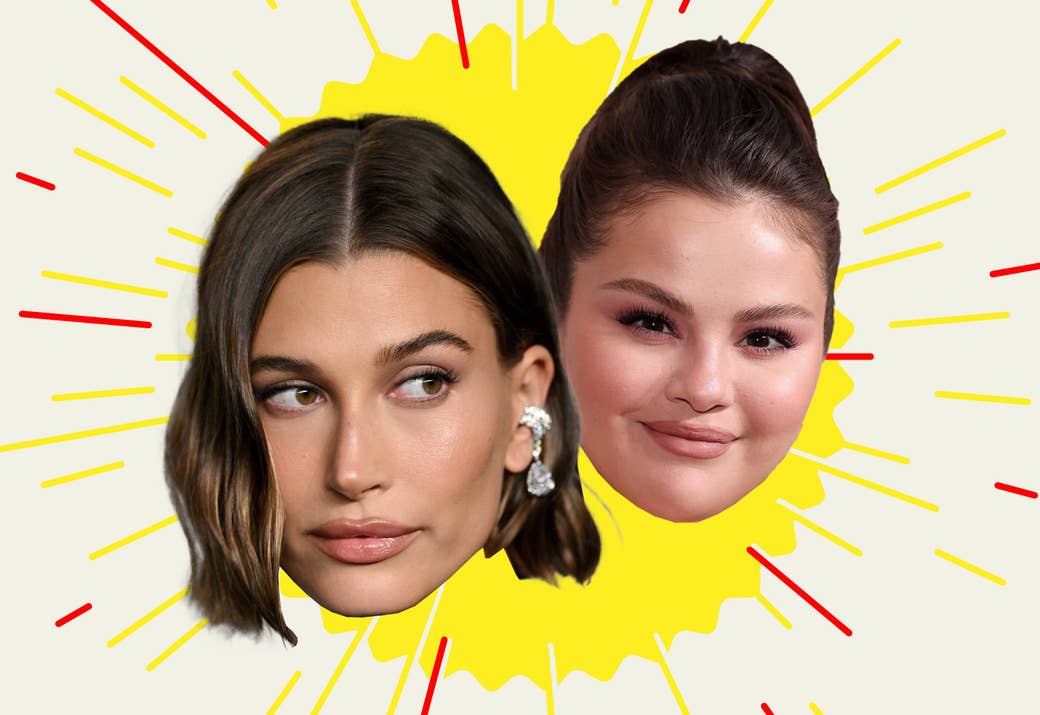 The notorious rumored feud between Hailey Bieber and Selena Gomez that has inundated social media for weeks appeared to reach a boiling point on Friday after Selena asked her fans to stop threatening and harassing Hailey.
"Hailey Bieber reached out to me and let me know that she has been receiving death threats and such hateful negativity," Selena wrote in an Instagram story. "This isn't what I stand for. No one should have to experience hate or bullying. I've always advocated for kindness and really want this all to stop."
For the first time, Selena started following Hailey on Instagram — and just a few hours later, Hailey followed her back.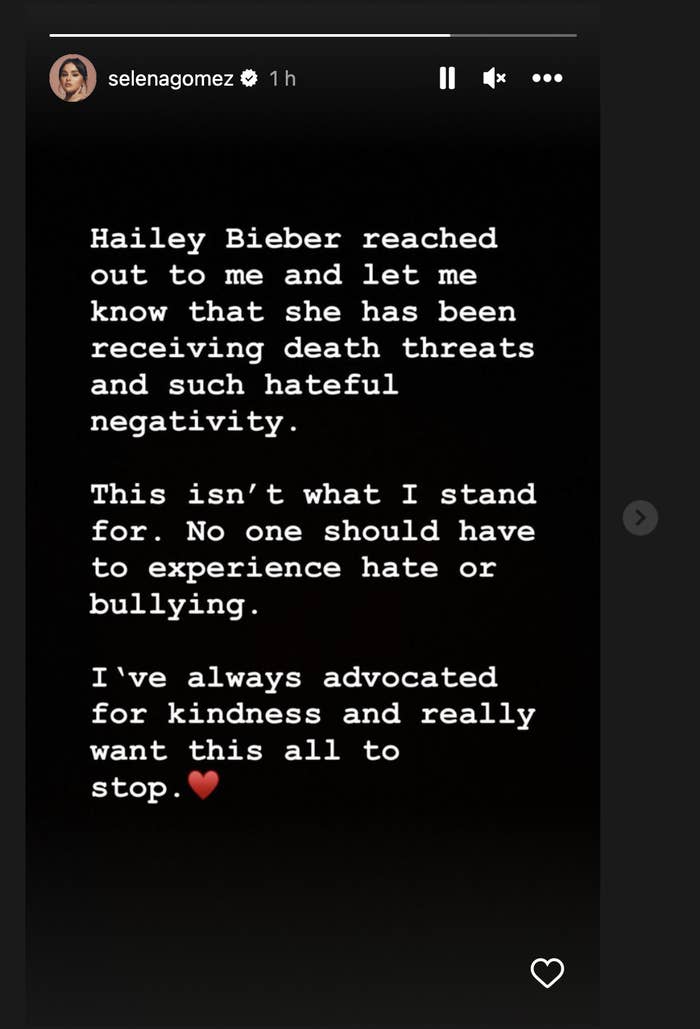 The online discourse about Hailey and Selena makes it appear that the duo actively hate each other. However, neither woman has said anything offensive to the other in public. Instead, for almost 10 years, fans have dedicated themselves to creating and fighting this war on their behalf. I know this because I was a die-hard Belieber and I saw most of it play out in real time as the stars' fans pit the women against each other in tweets and edited videos.
Just in case you need a reminder of why these two grown women are allegedly mad at each other, Selena and Justin Bieber dated on and off for seven years and garnered a fandom along the way that ships the couple as "Jelena". In 2018, the couple broke up, and months later Justin announced his engagement to Hailey. That's when the rivalry got really messy and splintered into three warring sides: Team Selena, Team Hailey, and Team Jelena.
The algorithm had a two-fold effect: exposing more people to the feud while also further fueling conspiracy theories.
Twitter was the main battleground until TikTok came along. With its powerful algorithm, TikTok has been pushing conspiracy theories onto the For You pages of users who may have shown even a passing interest in any of the three celebrities. You could have watched a single video of Hailey's glazed donut nails or one of Selena's videos about Rare Beauty, and your FYP would begin showing you conspiracy theories about how Hailey is obsessed with copying Selena.
And when Selena joined TikTok last year, millions of her fans followed suit, not only to watch her videos but also to defend her against any perceived slights. The algorithm had a two-fold effect: exposing more people to the feud while also further fueling conspiracy theories.
Over the years, fans have connected the dots on moments that may have nothing to do with each other.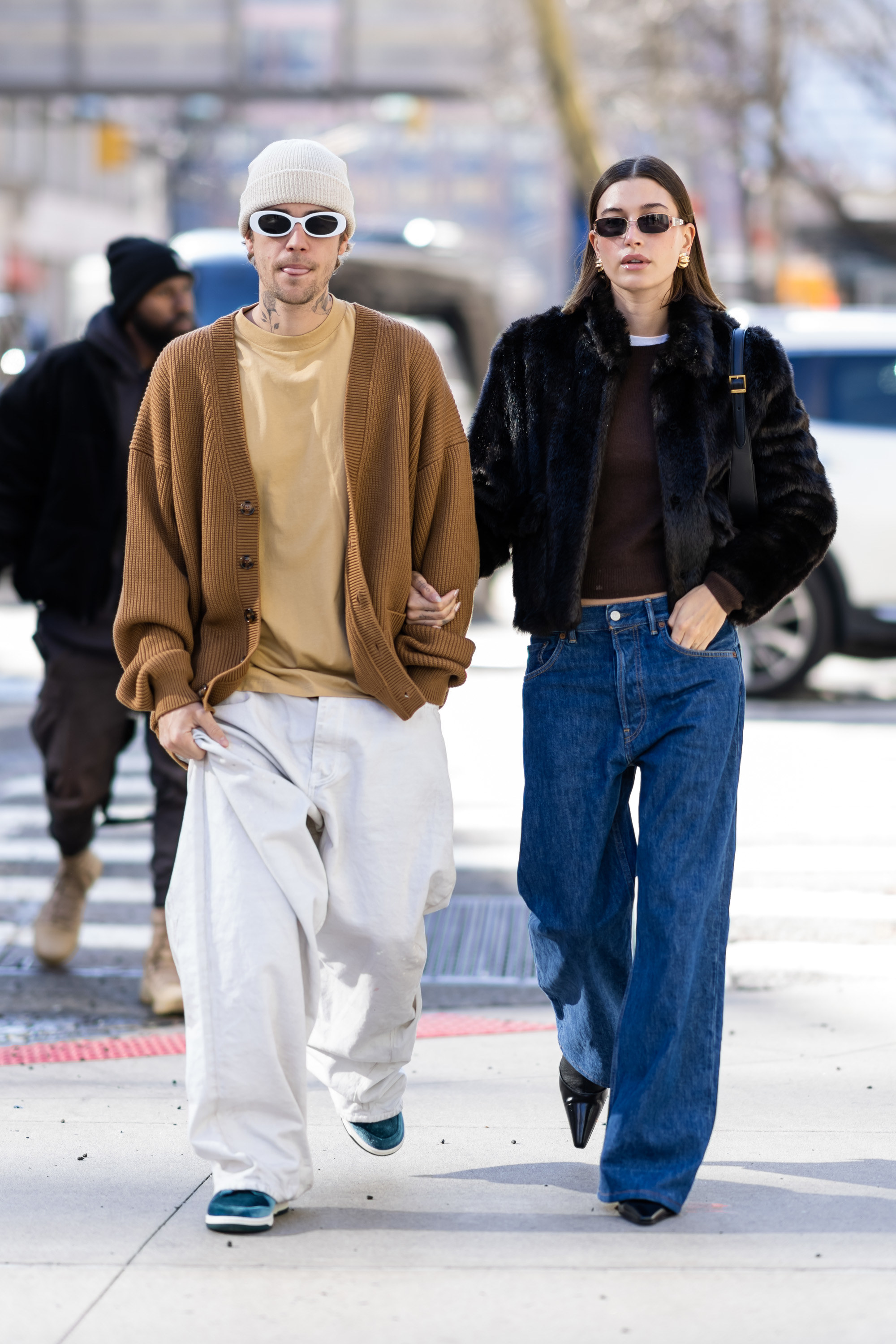 For example, three years ago, Selena and Hailey went to the same buzzy West Hollywood restaurant on the same day. There was an unverified rumor from a fan account on Twitter that Hailey and singer-songwriter Madison Beer, who were there together, had asked restaurant staff to play Justin's song "Yummy" to spite Selena. (Justin has said that he wrote "Yummy" about his love for Hailey.)
The online harassment Hailey and Madison received afterward was so bad that the latter wrote on Instagram: "i love selena.. always have ... and i would literally never in a million years try to upset her??? this is just mean and unnecessary and nothin happened.'" Selena responded and called the trolling "disgusting" and added "there is no issue."
But that didn't stop people. Toward the end of 2020, when Selena released her hit song "Lose You to Love Me," which was reportedly about Justin. Minutes after its release, Hailey shared a Summer Walker song on social media. Unfortunately, the title of the song was "I'll Kill You." Fans decided that the song title was an open threat to Selena, and Hailey was inundated with messages from Selena's fans yet again.
In 2022, just as Hailey began to post more on the platform to cement herself as a lifestyle influencer before launching her company Rhode, she started to get trolled by Selena's fans who were spamming her with "Selena" under her TikTok posts. As a result, she turned off comments on TikTok.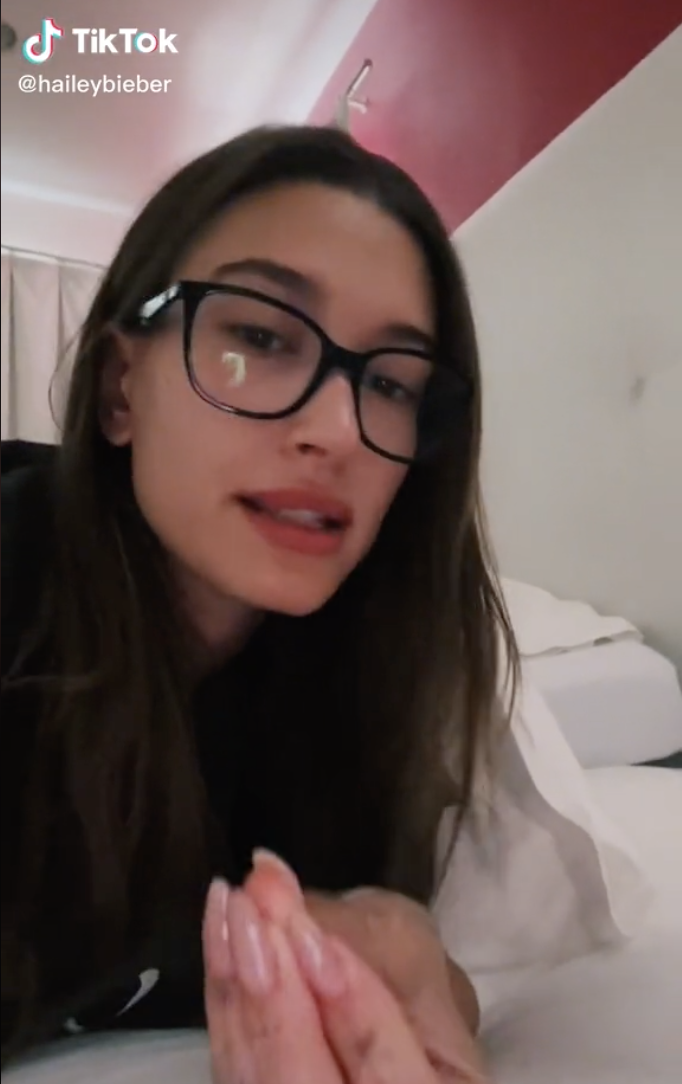 Hailey posted a video last April begging people to stop. "Enough time has gone by where it's valid to leave me alone," Hailey said. "I beg of you, truly, that's my only request. Leave me alone." Sadly, the audio of Hailey pleading went on to become a trending sound used by 23,000 people.
Then, in September, Hailey clarified again that she had no beef with Selena. "I respect her, there's no drama personally," she said. Shortly afterward, Selena called the harassment of people online — not specifying Hailey, but again fans assumed — "just vile and disgusting" and "not fair."
Things got so chaotic the pair posed for a photo together last November, finally smiling proof that there was no feud.
But that didn't stop fan accounts. Dedicated to either Selena, Jelena, or Hailey, they have continued to shape the conversation by claiming posts by Selena and Hailey are constantly shading each other.
Fans are continually obsessed with the idea that the two are copying each other. For example, Selena posted a photo of herself beaming at the camera, while wearing a yellow top with green flowers, on what appears to be kindergarten picture day. Days later, Hailey posted a throwback photo of herself at a similar age, looking up at the camera pouting while sporting blunt bangs. Immediately, hundreds of compilation videos declared it a copycat move.
One TikTok post with 16 million views, titled "Proof that Hailey Bieber does everything that Selena does," accuses Hailey of only filming a YouTube video about her fashion style throughout the years because she was inspired by one that Selena filmed with Vogue.
Recently, Hailey cut her hair. Naturally, fans declared she had copied Selena, who'd recently gotten a bob. Of course, when it came out later that Hailey cut her hair for a Vogue Australia shoot, fans had already moved on to the next conspiracy.
In fact, the most recent feud development may have been planned by stans from the start.
Selena's fans have been posting videos quite frequently, with entire accounts dedicated to hating Hailey. One TikTok account titled "second choice," a dig at Hailey being considered Justin's second choice after Selena, writes in its bio that Hailey had blocked the user on Instagram. The account's videos have accumulated a total of 4.3 million views since its creation last May.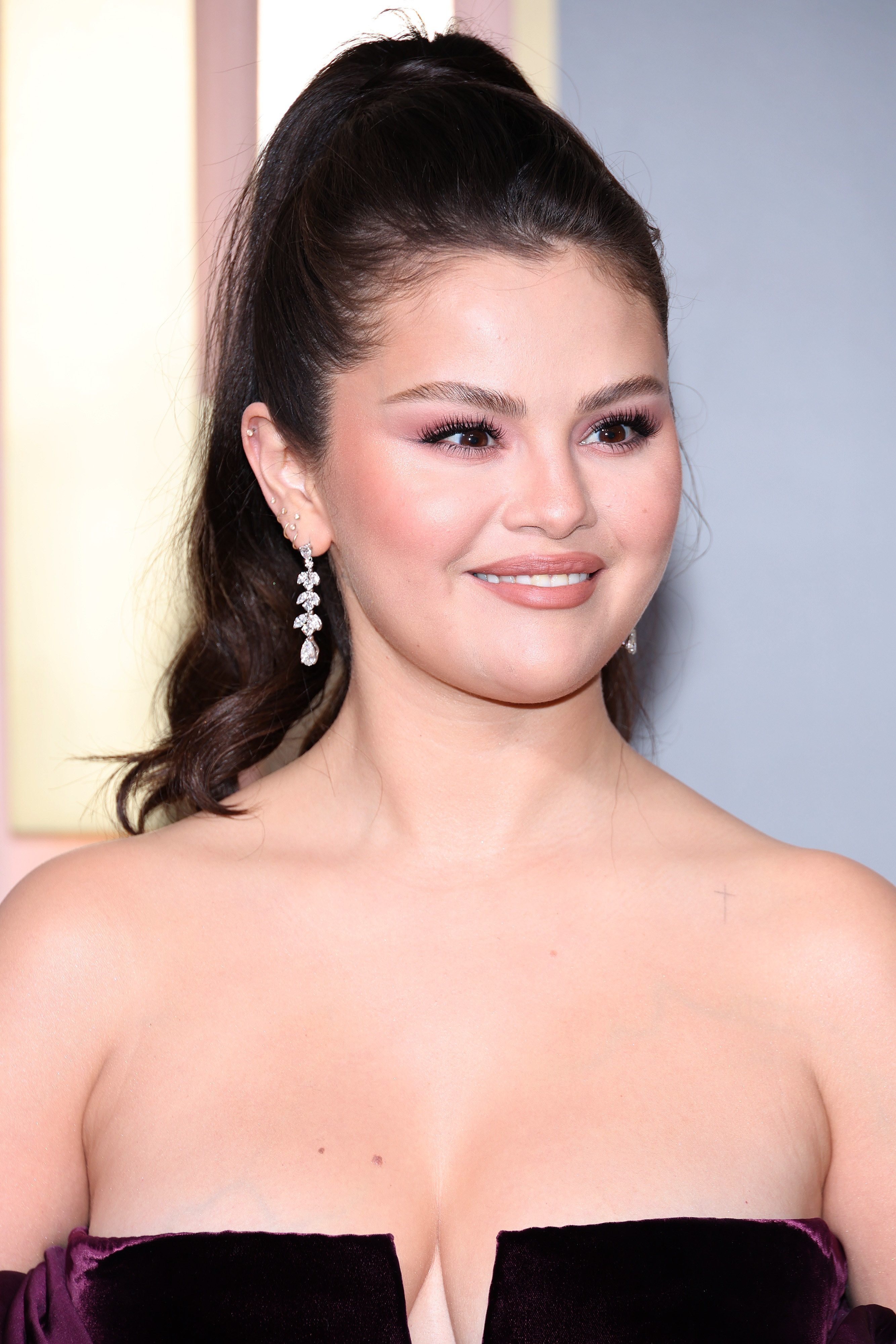 In fact, the most recent feud development may have been planned by stans from the start.
Headlines began when Kylie Jenner posted a screenshot of herself on a FaceTime call with Hailey, with the photo zoomed in on their eyebrows. Fans speculated that the move was a subtle jab at Selena, who had recently posted a video showing off her newly laminated eyebrows.
The theory started after a TikTok user reposted the story and suggested that the pair were insulting Selena. "Are we shading Selena Gomez, because it sure looks like it," the TikToker said.
Kylie commented under the video, writing, "no shade towards selena ever," and saying that fans were making something out of nothing.
Selena commented too: "Agreed @kyliejenner. It's all unnecessary. I'm a fan of Kylie!"
However, a viral tweet showed screenshots of a fan asking people to post about Hailey talking about eyebrows and make the Selena connection.
That same TikTok user who posted the viral eyebrows video, @devotedly.yours, had first gotten online fame during the Johnny Depp v. Amber Heard trial, a time of notorious misinformation and hate directed at Amber on TikTok.
During the trial, @devotedly.yours and many social media accounts gained popularity supporting Johnny. The account posted a video of Amber's lawyer holding up a color-correcting makeup palette to demonstrate how her client had learned to cover her bruises, but the TikTok user noted that the palette had been released after the claims of abuse. The account subsequently went super viral, and a public relations representative for Johnny sent the video to members of the media ostensibly to show that Amber was lying.
The TikTok algorithm rewards engagement and shows users content similar to what they post and interact with. So it was no surprise that several videos made by Selena's fans ended up on her own For You page. One post that ended up on her radar was of Hailey making a gagging face at the mention of Taylor Swift on Drop the Mic, a TV show Hailey cohosted until 2019. "So sorry, my best friend is and continues to be one of the best in the game," Selena commented last month.
Fans who hated Hailey took this as the green light from Selena to fight and defend their idol's honor. In doing so, some started editing videos to make it seem as if Hailey had always had it out for Selena. One video claims that Hailey is insulting an advertisement in a grocery store that features Selena, but it is actually of Natalie Portman. Even some of those videos that claim Hailey had worn clothes after Selena turned out to be misinformation.
And because of all these conspiracy theories, Hailey lost millions of followers. Her husband was met with chants of "Fuck Hailey Bieber" at a surprise performance during the Rolling Loud music festival. It was proof that Hailey's status as an icon among the masses had changed not only online but offline, too.
Brands quickly jumped into the social media storm around the alleged feud. Duolingo posted its own TikTok using Justin Bieber's "Beauty and a Beat" song, captioned, "We stand with Sel." A TikTok page selling "sunset lamps" also joined in and posted an edit that made it appear as if Hailey had copied Selena by posting a photo with the lamp.
Content hashtagged #TeamSelena has 1.7 billion views; meanwhile, content with #TeamHailey only has 152 million views.
And they weren't the only ones. A thread on Twitter points out a number of companies that have joined in on the online spectacle by making themselves known as Team Selena.
Brands tapping into this beef and declaring themselves as Selena supporters guarantees positive clout. When you compare the engagement of Selena-related posts to Hailey-related posts, the number of likes are not in the same ballpark. Content hashtagged #TeamSelena has 1.7 billion views; meanwhile, content with #TeamHailey only has 152 million views.
But the tide does slowly seem to be changing in Hailey's favor. In part, some people are starting to notice a pattern in the women whom Selena allegedly feuds with — a majority are all ex-girlfriends of men she has dated. One famous example is when Justin performed at the Victoria's Secret show and was photographed talking to model Barbara Palvin. Selena tweeted a photo of Justin and Barbara with an ellipsis. This led to an onslaught of harassment on Palvin's social media accounts, and the Hungarian model ended up having to ask fans to calm down.
A lot of people don't quite understand why Selena can't just scroll past the negative videos instead of preaching kindness after the fact. One TikToker posted a meme video captioned, "Selena Gomez watching her fans bully every woman she mentions," and the comment section is filled with people agreeing.
Major spikes in harassment against Hailey correlate directly with every moment Selena has engaged with a fan's negative video. Despite Selena's attempts to intervene and speak out against the bullying that Hailey has received, it seems that her efforts have backfired. Selena's fans on TikTok have praised the star for her kindness toward Hailey, but in the comments they seem to agree that it won't stop them from harassing her. Instead, Selena's fans have seen this as yet another example of her being the better person, which Justin should have been, as they claim he is idly watching as his wife gets death threats.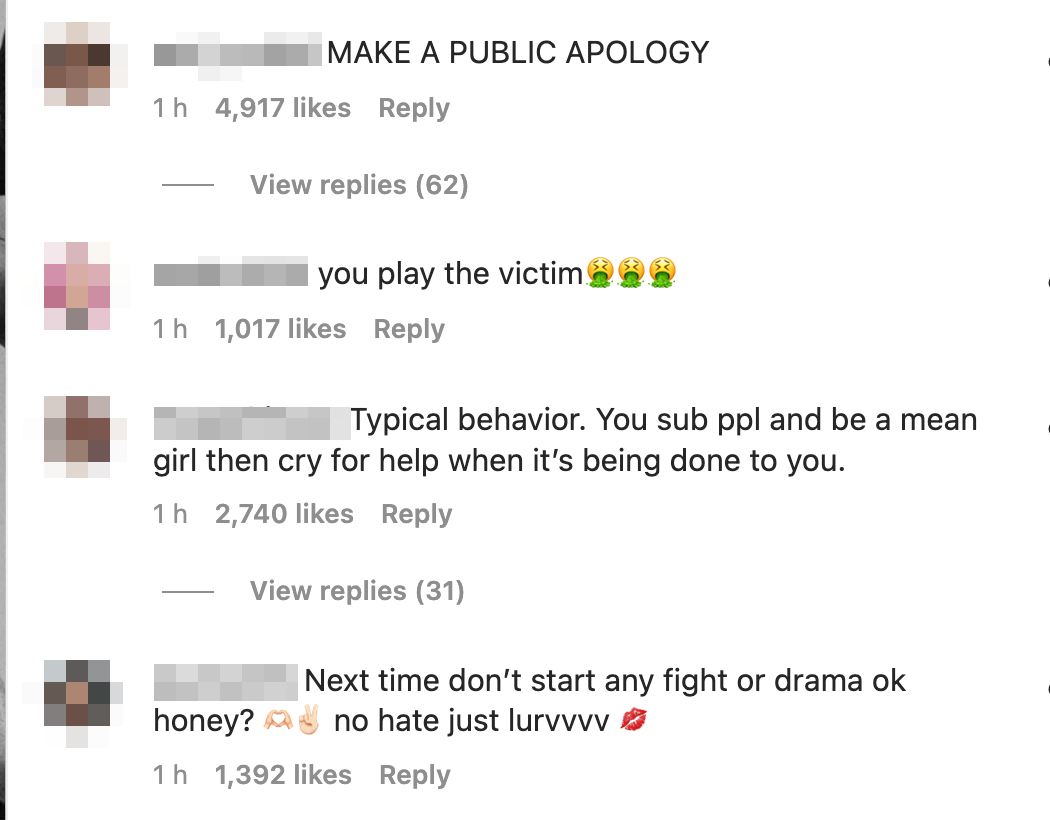 Some fans are suggesting that they should begin attacking Justin instead. "Seems a little strange that in this whole selena and hailey drama that justin isn't receiving the same amount of hate? like let's redirect the energy here," one Selena fan tweeted.
Hailey's best friend, Justine Skye, has also been on the receiving end of trolling. In a lengthy tweet on Friday, Justine blamed fans for the alleged Hailey–Selena feud. "It doesn't matter what ANYONE says you guys don't want to truth to be real," the singer wrote. Fans have even gone as far as finding Justine's phone number and have started texting the singer messages of racist abuse.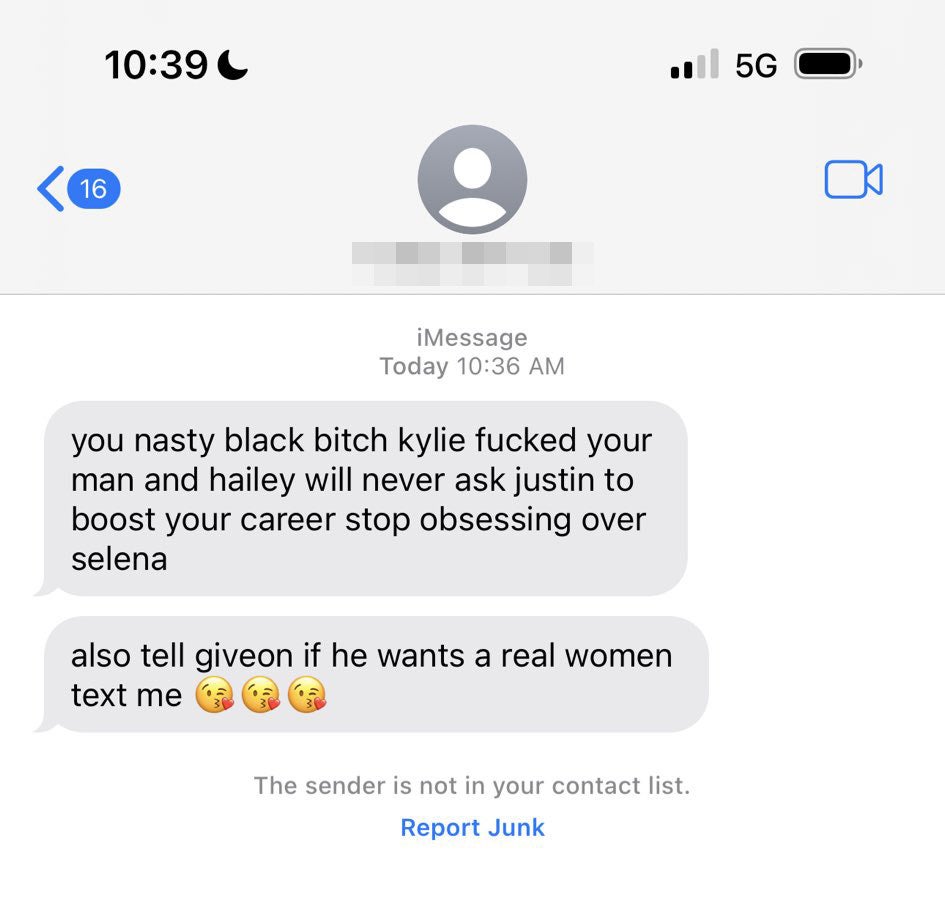 Soon after Selena's call for peace on Friday, Hailey responded. "I want to thank Selena for speaking out, as her and I have been discussing the last few weeks how to move past this ongoing narrative between her and I," Hailey wrote on her Instagram story. "Things can always be taken out of context or construed differently than they were intended."
But the people controlling this fight are the fans, and they seemingly have no interest in stopping.