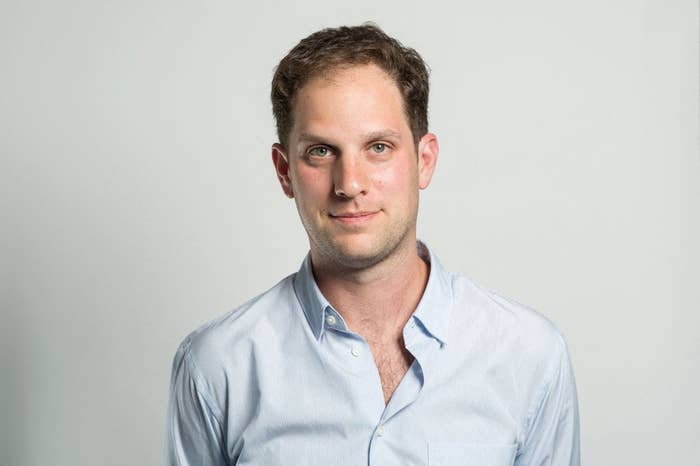 A reporter for the Wall Street Journal has been arrested in Russia and accused of spying.
Evan Gershkovich, a US citizen, was detained on Thursday in Yekaterinburg by Russia's Federal Security Service (FSB), which claimed he was trying to obtain classified information, according to the Associated Press.
The FSB claimed that Gershkovich "was acting on the U.S. orders to collect information about the activities of one of the enterprises of the Russian military industrial complex that constitutes a state secret," per the AP. Espionage carries a prison sentence of up to 20 years.
In an article about the arrest, Gershkovich's employer, the Wall Street Journal, said it "vehemently denies the allegations from the FSB and seeks the immediate release of our trusted and dedicated reporter, Evan Gershkovich." It added, "We stand in solidarity with Evan and his family."
White House press secretary Karine Jean-Pierre said that US officials have spoken with Gershkovich's employers and family, and was working to get consular access to Gershkovich. In a statement, Secretary of State Antony Blinken added that the US government was "deeply concerned" by Gershkovich's detainment.
"In the strongest possible terms, we condemn the Kremlin's continued attempts to intimidate, repress, and punish journalists and civil society voices," Blinken said.
Gershkovich has lived in Moscow for the past six years as a reporter for the Wall Street Journal focusing his coverage on Russia, Ukraine, and the former Soviet Union. He is accredited as a journalist by Russia's foreign ministry, the Wall Street Journal reported. His last article, published Tuesday, was about the possible forthcoming decline of Russia's economy.
Gershkovich's arrest comes at a time the Kremlin is cracking down on dissent and criticism during its ongoing war in Ukraine, which the international community has condemned. In September 2022, Russian police arrested 1,300 people at anti-war protests after President Vladimir Putin announced that citizens would be drafted for the fight against Ukraine. More recently, a Russian father was sentenced to two years in prison after his 13-year-old daughter made pro-Ukrainian art with the slogan "Glory to Ukraine."
Russia is also cracking down on media. After Russia invaded Ukraine in February 2022, Putin signed a law making it a crime to report "fake" news about the war with Ukraine — including merely referring to it as a war — leading to many international organizations suspending reporting from the country.
Outlets that remained have done so under censorship, with restricted language and punishment for contradicting the government. According to Reporters Without Borders, journalists have also been targeted with attacks while reporting from within Ukraine, and eight were killed within the first six months of the war.
Russian authorities have made high-profile arrests of US citizens before, often on inflated or spurious grounds. On Feb. 17, 2022, shortly before Russia's invasion of Ukraine, Russian authorities arrested WNBA player Brittney Griner after vape cartridges with a small amount of hashish oil were found in her luggage. Griner later pleaded guilty to drug charges and was sentenced to nine years in a Russian penal colony. The case was widely seen as a political move to put pressure on the United States, which had promised aid to Ukraine. Griner was later released in a prisoner swap with Russian arms dealer Viktor Bout.
Gershkovich is the first journalist in over 30 years to be detained in Russia on espionage accusations. In 1986, Nicholas Daniloff, a reporter for U.S. News & World Report, was arrested by the KGB while he was a Moscow correspondent and released 20 days later in a prisoner swap for an employee of the Russian government who had been arrested by the FBI.