On Thursday, a Muslim-focused Instagram account announced a competition to win a free trip to New Zealand to meet with the families of the victims of its recent attack, as well as visit mosques.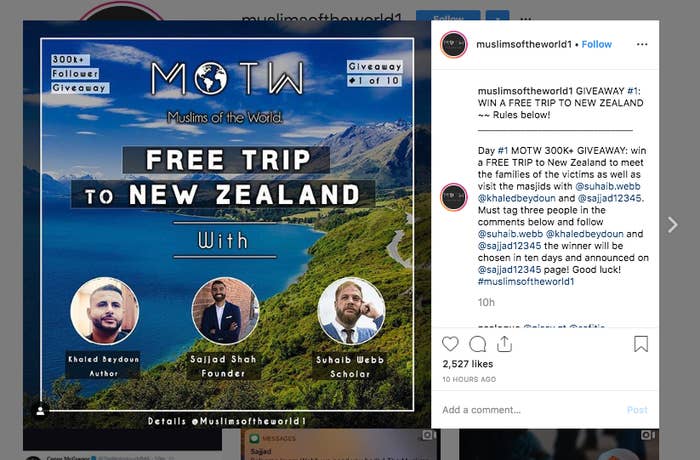 The full Instagram caption read:
GIVEAWAY #1: WIN A FREE TRIP TO NEW ZEALAND
~~ Rules below!
____________________________________

Day #1 MOTW 300K+ GIVEAWAY: win a FREE TRIP to New Zealand to meet the families of the victims as well as visit the masjids with @suhaib.webb @khaledbeydoun and @sajjad12345. Must tag three people in the comments below and follow @suhaib.webb @khaledbeydoun and @sajjad12345 the winner will be chosen in ten days and announced on @sajjad12345 page! Good luck! #muslimsoftheworld1
People immediately thought it was incredibly insensitive.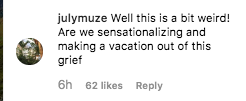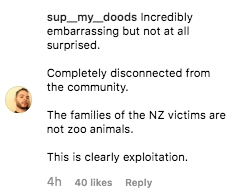 The daughter of a victim who was killed in the terrorist attack in Christchurch also left a comment. "I don't know who you think you are but you and your idiot friends are not welcome to come here and look at us like some animals in a zoo," she wrote.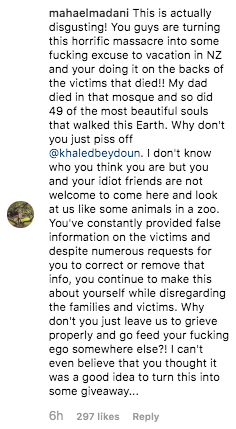 The backlash continued on Twitter.
And another victim's family member said they were infuriated.
The post was later deleted without any explanation. The account then went on to upload an unrelated post, but that was also deleted.
On Thursday night, the group posted an apology on Instagram but disabled comments on the post.
You can read the full apology here:
Salam Alaikum, we at @muslimsoftheworld1 want to sincerely apologize to the families and the victims of the New Zealand massacre for yesterday's post. Our intention was to visit New Zealand in hopes of being agents of healing and community. However, Our wording was insensitive and we take full ownership of it. We apologize for our offensive post and ask for your forgiveness, we are trying our best to bring goodness in this world and we did make a serious mistake. The criticism for the insensitivity is spot on, we are a very young team and have lots to learn. Apologize once again. We are willing to learn and grow from people and appreciate the people who have reached out to us and gave us sincere advice.
However, some people were still very disappointed...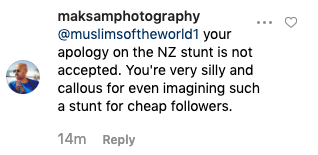 ...and are calling for a boycott of the page.

When BuzzFeed News reached out to Sajjad Shah for comment about the giveaway and subsequent apology, he told BuzzFeed News that our information was incorrect. "Please do not spread wrong information," he wrote via email.