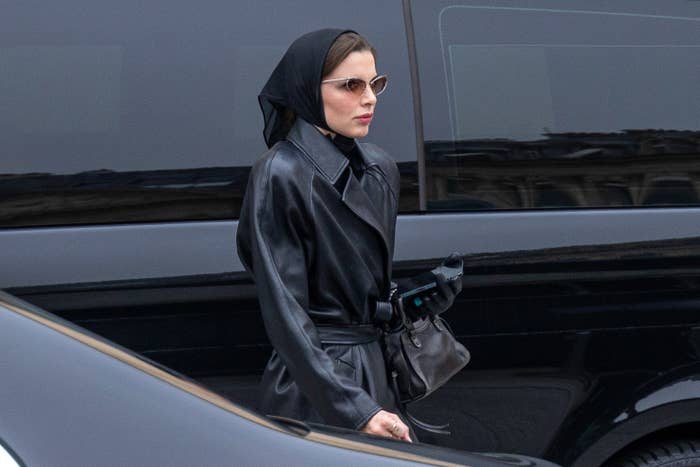 This is an excerpt from Please Like Me, BuzzFeed News' newsletter about how influencers are battling for your attention. You can sign up here.
I've been thinking a lot this month about how Vogue France posted to its Instagram a photo of fashion girl of the moment Julia Fox with a caption reading, "yes to the headscarf" — conveniently ignoring that the French government has actively introduced multiple bills and laws to stop Muslim women from wearing hijabs.
After being criticized in the comments, Vogue France removed that line, but I've watched the backlash against the caption spark an outpouring of trending photos of hijabis (people who wear hijabs) in fashion by major influencers.
Last week, Bella Hadid posted photos on Instagram along with some powerful statements addressing the attack of Huda, a Muslim high school student in New Zealand whose hijab was ripped off.
"It makes me angry and sick to my stomach," Hadid wrote. "We need to change this mindset of immediate judgement. Teach our friends, children, parents, families that wearing a hijab, being Muslim, or being anything other than white in general, does not equal being a threat or different than anyone else."
At the end of January, France proposed a hijab ban on all national sports played in the country. This isn't the first time France has discussed some form of anti-headscarf legislation; just last year, the country passed a bill that banned people under 18 years old from wearing a headscarf. That was later extended to all Muslim women college students in France. Even more recently, India has imposed a hijab ban students have been protesting against, which led to this viral video of a young woman screaming at a group of men.
This started a movement online of people pushing against that bill with the hashtag #HandsOffMyHijab, and Muslim celebs and influencers such as Hadid are speaking out.
One of the images she reposted was taken by photographer Rayan Nohra for the French platform Zarafet Galleries. One of the young women in the photo, Amina Rachid, previously spoke to BuzzFeed's Seasoned about her life as a hijabi in France, recalling a time when someone tried to kill her on the subway.
Talking to Rachid now, almost exactly a year later, she told me she's trying not to pay much attention to the government's actions because "it will be too overwhelming."

"They keep pushing forward some laws," she said. "I often think that I should just leave."
Rachid said she struggled to find a job that would accept her wearing a hijab — "I was always declined once they saw me in interviews" — but eventually found one in retail. She said the proposed ban on hijabs in national sports in France is ridiculous. "Because most of us can do sports as well as non-hijabis, it's not something that will stop us from doing it," she said.
Rachid said Hadid and the stylist from the photo shoot, Taqwa Bint Ali, are friends, and the supermodel had asked her if she could post the photo of them.
Head coverings, such as balaclavas and headscarves, have been having a huge moment in fashion, but stories about trends often ignore the reality of actual hijabis. That's part of the reason Hadid's post was important.
Hadid's Instagram caption read, "Although different forms of the hijab and head coverings are starting to make an appearance in fashion, let's still remember the daily struggle, abuse, and discrimination Muslim women face on a regular basis because of their faith and what they stand for. To each woman's body, stand their own opinion on what they should do with it. That is NO ONES decision except for theirs."

Bella wrote that she had always desperately wanted to see the type of image and representation she saw in the photo.
Vogue France never directly addressed its post of Julia Fox wearing a headscarf, but other fashion brands appear to have released campaigns that coincided with the aftermath.
For example, Adidas has rolled out an "Impossible Is Nothing" campaign with basketballer and creative Asma Elbadawi wearing her hijab, an Adidas sweatsuit, and a ballgown.
And the balaclava has been taking over people's Explore pages on Instagram this winter. Rachid said that trend can introduce people to how Muslim women live on a daily basis and the persecution Muslim women face. Those who wear a balaclava in the name of fashion "should keep that in their mind," she said.
Correction: Rayan Nohra's name was misstated in a previous version of this post.