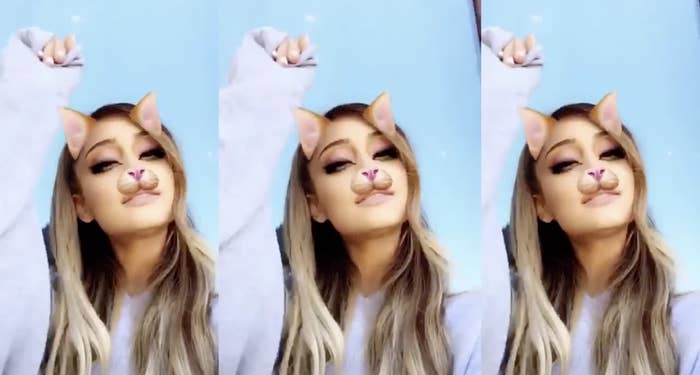 This is an excerpt from Please Like Me, BuzzFeed News' newsletter about how influencers are battling for your attention. You can sign up here.
It may feel like decades ago but it was actually in 2015 that Snapchat popularized filters — from animal faces to ones that gave you makeup and changed your face shape.
Snapchat referred to them as lenses (you even had to pay for some), and they gradually went from being silly fun to what we now view as cosmetic surgery filters — ones that alter the size of your features such as your nose, lips, and chin. Filters quickly became ubiquitous across most social media apps.
However, people have begun pushing back against the use of filters that make you look like a version of yourself who's gotten work done. I've seen it coming from both Gen Z and millennials. As time goes on, it seems that face-changing effects may eventually fall out of use — so I reached out to some filter makers for their thoughts.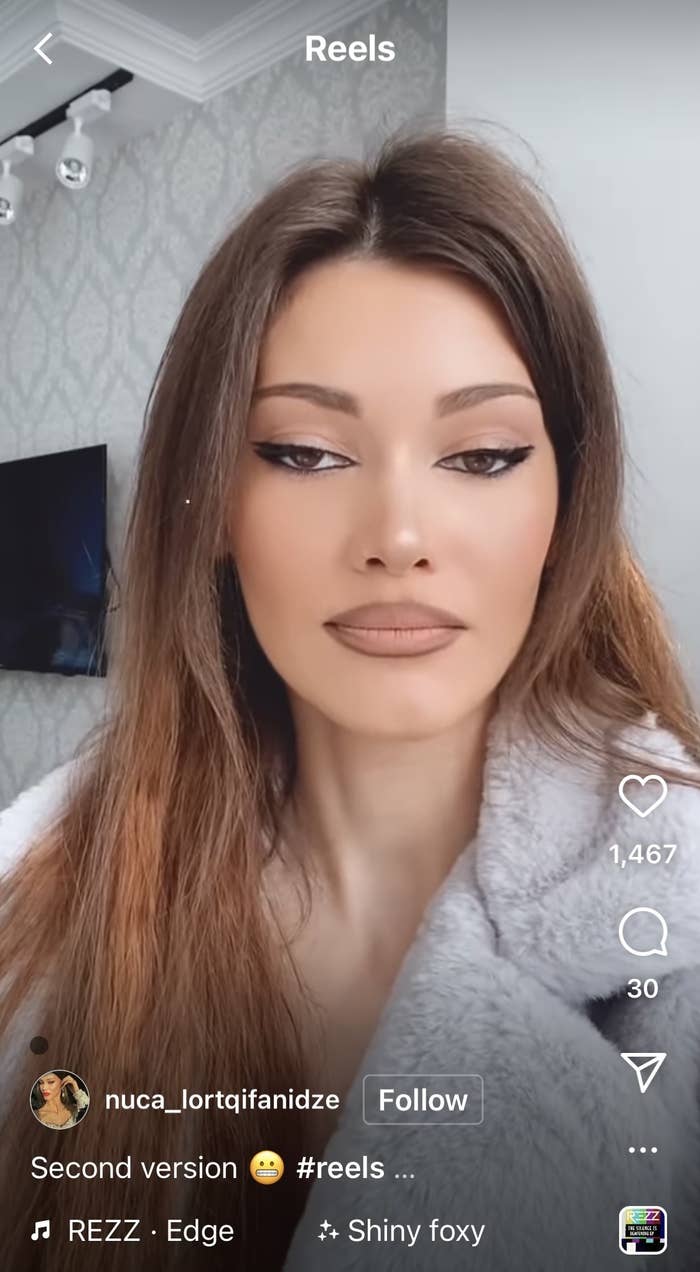 One particular Instagram filter, called the "Shiny Fox," has gone incredibly viral as users say it makes them look very different. The creator of the filter is Aleksandra Matveichuk, who lives in far-east Russia. She told BuzzFeed News that she started creating filters in 2019 and became obsessed with making them for two years.
"I was looking for references, coming up with what the new filter would be, communicating with subscribers, asking them what filters they were waiting for and what they liked," she said.
Matveichuk said at first her filters became popular in the Philippines and Brazil, and later went viral and were used all over the world. The Shiny Fox filter alone has 2 billion impressions, and in total all 300 of her filters have exceeded 600 billion impressions.
"I always create filters relying more on my taste, and I am glad that my creativity has found a response in the hearts of so many people," she said.
But many recent viral posts show people freaking out about how much the Shiny Fox filter changes their facial features and makes them unrecognizable.
Research has shown that users' mental health is being affected by constantly seeing altered images, and a study by London's City University found that 90% of women surveyed would edit pictures to alter their faces and bodies.
One of the audios using the Shiny Fox filter that has gone viral on Instagram Reels belongs to @thediaryofrihanna. In the caption she wrote, "I legitimately get so weirded out when I see a filter I think is cute on someone's story and then I use it and it gives me a completely different face with lip and cheek fillers."
So far 5,000 people have used that audio alone. In the viral audio Rihanna says, "I'm legitimately so confused because I saw this filter, and I didn't realize they didn't look like this. I just liked the colors of the filters so I was like, 'Oh, I'm gonna use it,' and then I put it on my face and this is not my face."
In a similar but more playful audio, @kidsaretheworst jokes: "I don't know why people have a problem with this filter, this is totally what I look like," and then the filter comes off. That audio has also been used by none other than Eva Longoria.
Despite the criticisms, Matveichuk said she doesn't take what people have been saying to heart because she knows that videos where people reveal their face without a filter get a huge number of views. "I do not know why, but people like to watch the video 'I am with and without a filter' to the end. Algorithms are triggered, and the video is gaining views."

She added that people should know that they are beautiful and that the phone camera can distort their perceptions of themselves. "The camera highlights skin imperfections and distorts proportions. Filters can correct this, and I don't see anything criminal in this."
It's not criminal, but there is a push for looking more authentic. Even Instagram itself has acknowledged the way its filters have changed and banned ones that encourage surgery.
"We want AR effects to be a positive and safe experience for our community, while allowing creators to express their artistic perspectives," said a spokesperson from Meta, the company that owns Instagram. "We ban effects that directly promote potentially dangerous cosmetic surgery, and we don't recommend certain face-altering effects in the effects gallery."
People have also been trying to opt for filters that look like they don't make any difference to your physical features, such as this no-filter filter on Instagram.
Similarly, on TikTok people have either been calling out bad filters that modify your features or sometimes even your skin tone. Videos with the Light Makeup filter and the Lovely filter have been going viral. The creator of the Lovely filter is 21-year-old computer science student Pegah Fallah from Toronto. The filter adds freckles and a tiny white heart on your nose.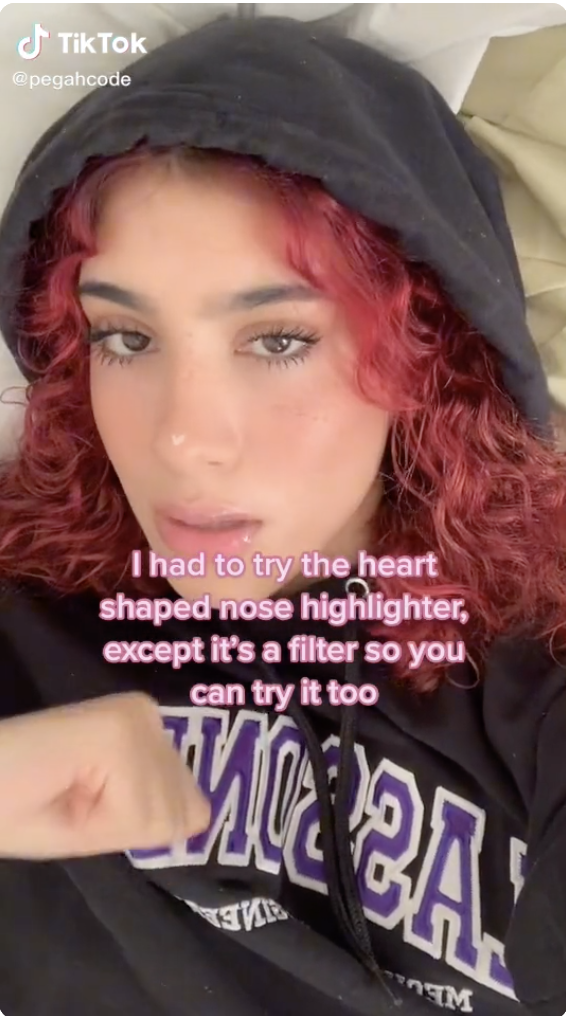 She said she uses augmented reality as a creative outlet and loves making effects that bring people joy. After not seeing filters that suited her features, she decided to create her own.

"My main motivation for making effects like Lovely is that I saw a lot of room for improvement in making filters more inclusive," she told me.
There are 98,000 videos using the Lovely filter on TikTok, and one of the viral videos was made by 20-year-old LA-based content creator Jada Jones.
She captioned her TikTok "whoever did this filter you outdid yourself." Jones told BuzzFeed News she has been using social media since seventh grade, and said she isn't really fazed by filters and they don't affect her self-confidence.
She doesn't use filters often, but when she does, Jones chooses ones that don't alter her facial structure. "If it adds lashes fine, maybe a slight eye color change, some blush, fine, but when it starts to make me feel like I can't recognize myself, I just don't use them," Jones said.
She said she knows people who use face-altering filters who are self-confident, and she thinks it's down to personal preference.
Her TikTok with the Lovely filter now has 489,000 likes and 4.6 million views. She said that in her opinion it was just a fun filter that wasn't that deep, but she sees that it has resonated with a lot of people. In the comments, people have praised the filter and one user said "exactly how filters should be."
Most filters on both TikTok and Instagram are uploaded by users so the most popular filters will eventually start to reflect the needs of a platform's users. Personally, there was one day last year that I started to look back on old photos, mainly selfies, and I realized that a lot of them had filters, which made me feel a bit uncomfortable because I didn't look like that.
So I consciously changed my filter usage. People who I'd just met began telling me how much I look like my photos online as a compliment, and it made me feel good. That is how I look.
I will obviously use the fun interactive filters and the cute hearts. But anything that makes me consider walking in to get filler I will be avoiding entirely.