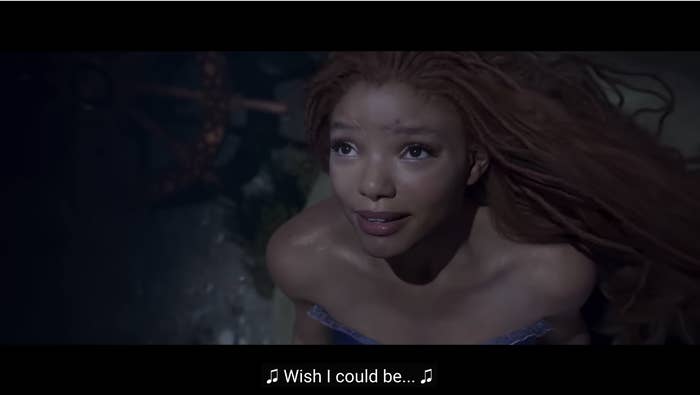 Parents have been capturing joyous footage of their young Black daughters watching the new trailer of The Little Mermaid and excitedly seeing Halle Bailey emerge as the first Black Ariel.
Over the weekend, Disney held its biennial expo where it revealed what is coming next to their die-hard fans and showed a teaser of the much-anticipated live-action Little Mermaid movie.
The first look of the film includes Ariel played by Bailey, who is known for being one half of the popular musical duo Chloe x Halle, singing "Part of Your World." A video from inside the expo, which has since been deleted, showed the crowd cheering when the preview finished playing. At the event, Bailey revealed that it took three days to film that song alone.
The snippet wasn't just well received at the event, but people also loved it online. Social media posts and videos show how it especially struck a chord with young Black girls who finally saw themselves represented as one of the all-time classic Disney princesses.
One video posted on TikTok, captioned "when your favorite Disney princess looks like you," shows a little 3-year-old girl sitting up once she sees Ariel onscreen.
"I think she's brown," she says in the video, her face beaming. "Brown Ariel is cute."

Another video of two sisters, one wearing a dress featuring Tiana (Disney's first Black princess, from the 2009 film The Princess and the Frog), shows their mouths drop open with shocked smiles when they notice Bailey.
Bailey tweeted another one of the videos, where the little girl is seen grinning and asking, "That is Ariel?"
In one video, three sisters, Ke'iona, Lai'anna, and Ea'iona Shanks, who are 7, 6, and 2 can be seen watching the trailer with excitement. "She's Black? Yay!" Ke'iona says joyfully.
"I saw the trailer drop the night before," Sterling Shanks, the father of the three girls, told BuzzFeed News. "I just knew that they would be super excited about it."
"I think representation matters," he added. "There's a quote I wrote on my phone when I watched Viola Davis on TV one time, and she said that representation is important because you need to see physical manifestations of your dreams. If you don't see it, it's harder to think it's realized."
Since watching the trailer, Shanks said that the girls have not stopped talking about their excitement for the film. "Hours after the video, we were driving, and Lai'anna said, 'Even her hair looked like us. Did you see she had braids?'" he said. "And that night, they were pretending to be mermaids."
"Mama, she's Black," another girl screams excitedly while her mother films.
The casting of Bailey, first announced back in 2019, came with a lot of racist backlash as people claimed that the fictitious mermaid was white.

Jodi Benson, who voiced Ariel in the original 1989 animated film, has consistently shown her support for Bailey ever since she was announced.
Although there was plenty of praise for the trailer, there were some people claiming that Bailey didn't look like she was underwater.
Which other people saw as another unfair complaint against Bailey in the role.

So people turned it into a meme.

The Little Mermaid will be released in theaters in the US on May 26, 2023.