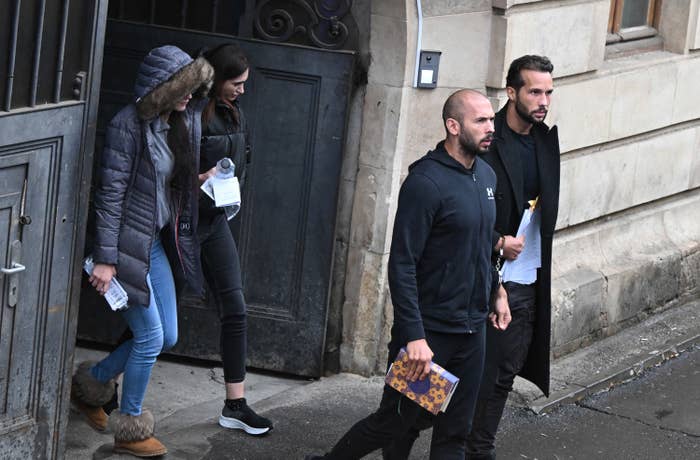 Escaping content featuring misogynist influencer Andrew Tate can be hard on social media — and according to new research, that's because thousands of accounts posting favorable content about him are actually bots.
The Center for Countering Digital Hate announced on Wednesday that it had found 4,621 fake Twitter accounts created to promote Tate. The bot accounts tweeted 15,202 times in support of the former kickboxer, who is in pretrial detention in Romania.
Tate, his brother Tristan Tate, and two women were arrested over an investigation into an organized crime ring, rape, and human trafficking allegations.
But the support online jumped after their arrests, thanks to the coordinated accounts. The bot mass tweeted using hashtags "#freetopG," "#freetate," "#freeandrewtate," or "#freetates" and 30% of all 50,479 tweets analyzed using the hashtags were made between Dec. 29, 2022, (the day of Tate's arrest) and Jan. 9.
The accounts were defined as "fake" if they had 10 or fewer followers and were created within the last three months. Often the usernames for the accounts referenced words related to Tate, such as "cobra," "Top G," and "Neo."
Tate's own username has long been @Cobratate, while Neo is a reference to the Matrix film character. Both have long formed part of his ideology and call for men to "escape the Matrix," and he has always promised followers to teach them how to be a "Top G."
"If Elon Musk is serious about dealing with fake accounts, bots, and inauthentic behaviour then Twitter must act on Andrew Tate's network of fake accounts manipulating Twitter's algorithm," said Imran Ahmed, the CEO of CCDH, in a news release.
Last year, a large part of Tate's online presence came from an affiliate marketing scheme involving Hustlers University, Tate's discord server. The "university" offered business classes in which students were tasked with editing inflammatory videos featuring Tate in an effort to get more signups for HU. This was later shut down as social media platforms began deplatforming Tate.
A BuzzFeed News investigation found that the Hustlers University 2.0 server contained more than 200,000 members. With fees of $49.99 a month, that meant at least $11 million was collected from membership payments in October 2022 alone.
Now, Tate has created "The Real World," a similar suite of chat rooms and classes, and there is a new affiliate marketing boot camp that led to a surge of users on Twitter. A chart put together by CCDH shows the influx that joined Twitter after the registration for the new marketing boot camp started.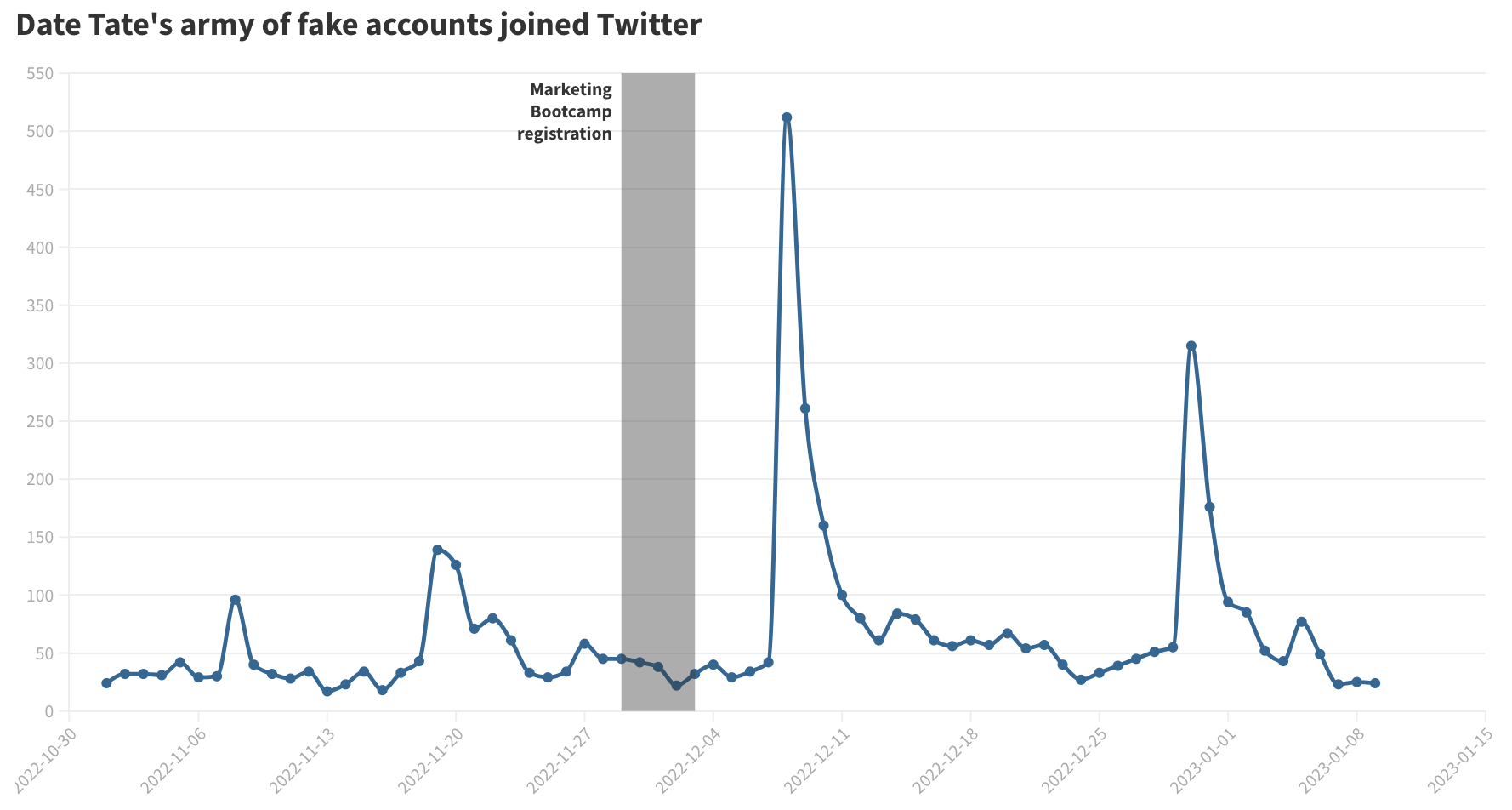 In its research, the CCDH also came across a now-deleted tweet from a Tate supporter who said they joined Twitter due to a marketing boot camp. That would explain why accounts were participating in botlike behavior and appeared to be disseminating similar tweets in an organized manner. The accounts are sharing the same videos and the style of the videos is almost identical.
Romanian courts will decide in two weeks whether to keep Tate in detention.