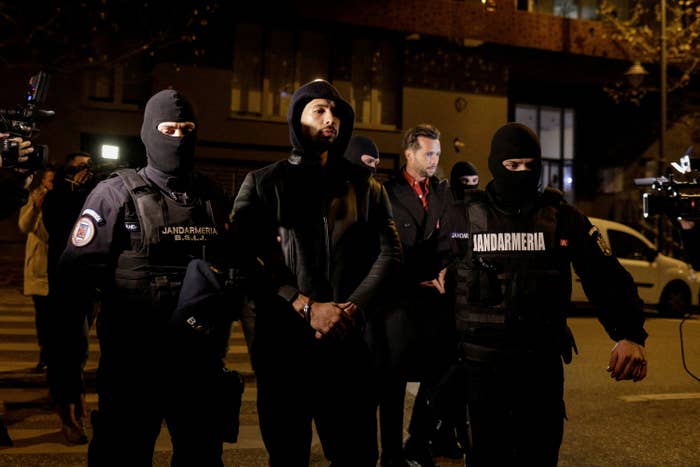 Although misogynist influencer Andrew Tate is behind bars after being arrested last week in Romania as part of an investigation into human trafficking, rape, and organized crime, his Twitter and his daily newsletter are still pumping out content to his fandom.
On Thursday, his verified account, which is subscribed to Twitter Blue and has 4.4 million followers, tweeted: "Do you believe Andrew Tate is totally innocent?"
His newsletter then emailed a link to the tweet with the subject "What do you believe?" At the time of writing, 970,000 people had voted, with 86% voting "Innocent, Matrix attack."
Ever since the arrest of Tate and his brother Tristan Tate on Dec. 29, his social media accounts have continued to promote his idea that mainstream society is "the Matrix" (a reference to the film of that name, suggesting an illusion created to enslave people for the benefit of malevolent overlords) and that authorities are attempting to suppress his message, rather than investigating any actual crimes.
The day after his arrest his account tweeted, "The Matrix sent their agents." The tweet went viral, with over 120,000 retweets and 50 million views.
"Your enemies perpetuate 'justice' and 'civility' in a society designed to enslave you," his account tweeted on Friday.
We want your help! If you have more information or a tip regarding Andrew Tate, contact ikran.dahir@buzzfeed.com, or reach us securely at tips.buzzfeed.com.
Since his arrest, a total of 60 tweets and retweets have been posted from Tate's account. Many of his tweets look as if it's business as usual: promoting the "41 tenets" that he claims to live by, sharing inspirational video edits, and posting Islamic tweets that led to some backlash from Muslim Twitter. On Gettr, a right-wing social media platform, 42 posts have been shared by Tate's profile since his arrest, with only one post, identical to his Twitter one about agents being sent, seeming to reference what happened.
Who is writing and posting under Tate's name across social media? It is unclear, and Tate's PR contact and lawyer have not responded to a request for comment from BuzzFeed News.
Some of his fans believed that Tate's tweets meant he had been freed, so they began swarming social media platforms to inform people that this was proof of the former kickboxer's release.
But Tate, his brother, and the two other people are in pretrial detention alongside two Romanian nationals. One of those Romanian nationals has been confirmed to be an ex-police officer. They have been accused of creating an organized criminal group in 2021 that trafficked victims in Romania and elsewhere, including the USA and the UK, according to reports from Romanian news outlet Gandul.
On the day of the arrest, Romanian police said that six trafficking victims have been identified so far. The police alleged that Tate and the others detained used "loverboy" techniques, which is when the perpetrator initiates a sham romantic relationship with a vulnerable person in order to trap and sexually exploit them.
Authorities allege that the victims were transported to housing in Ilfov County, just outside the capital of Romania, through acts of physical violence and mental coercion. They were allegedly then forced to create pornographic material that would be shared on social media platforms. According to Romanian police, one woman was raped on two occasions in March 2022.
Shortly after his arrest, Romanian police confiscated 11 luxury cars belonging to Tate. If the cars are found to have been purchased with money made through illegal activities, they will be seized permanently, Gandul reported.
Tate's life of luxury cars and homes is a huge part of his self-marketing. Much of Tate's income comes from The Real World (TRW), formerly known as Hustler's University, a course-based online community that helped lead to his meteoric rise on social media. A BuzzFeed News investigation found that the Hustler's University 2.0 server contained more than 200,000 members. With fees of $49.99 a month, that meant at least $11 million from membership fees in October 2022 alone.
But two websites offering sign-ups to TRW disappeared following Tate's arrest, and an announcement on Tate's Telegram account suggested that the decision to remove them wasn't made by Tate. "The Matrix wants you weak, poor, and alone," it read and they offered one alternative website that people could use to sign up.
A remaining website leans more heavily on symbolism from The Matrix films. On the home page, before you sign up, there are two options. One is a blue pill labeled "Netflix," which links out to the streaming service, and the other is a red pill button, marked "TRW," which takes you to input your credit card details for the monthly payments.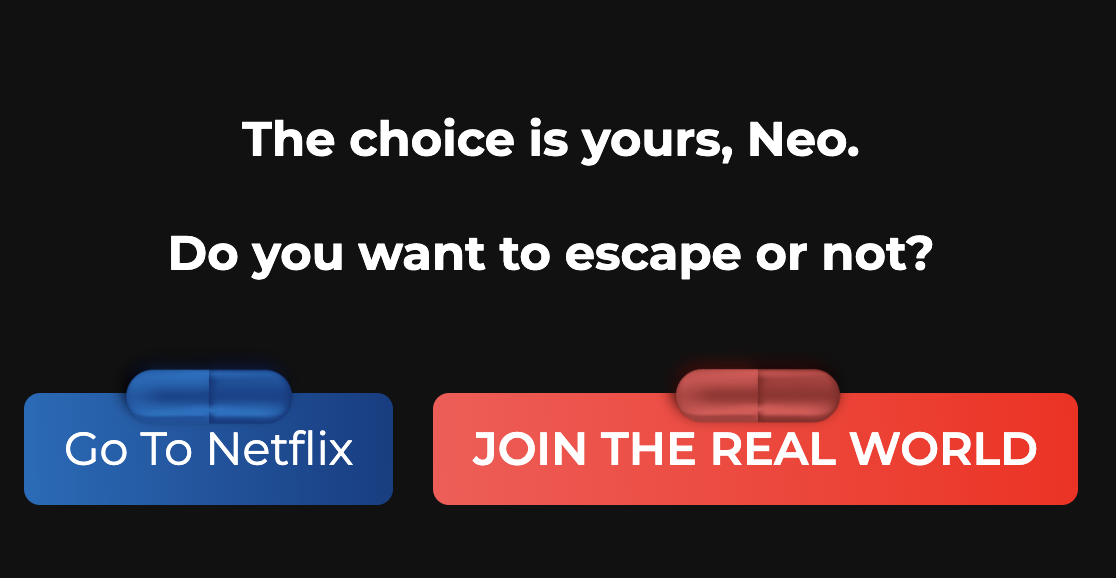 Since the arrest, five promo emails from Tate — written in the style of LinkedIn broetry with anecdotes from his life, encouraging people to sign up for TRW — have been sent from tate@cobratate.com.
An email sent on Wednesday, which does not mention Tate being detained, tells a story of his parents' divorce, which he claims happened after his dad put him through an intense all-nighter playing one-to-one chess that his mom did not approve of.
"My dad sacrificed his marriage to raise me exceptionally," Tate wrote in the email sent Jan. 4. "My mother simply didn't get it. Men raise pussy sons because they cuck to wives. My father lost his wife for ME. I always used to remember this story when deep in the rounds of championship fights. Am I gonna lose because I'm tired? Or just lose. Tates know how to win. I type life stories to educate and spread Tateism for the betterment of man."
In an email sent on Jan. 2, Tate wrote: "My enemies hope to attack me with lies." "They needed to just shut me up," he continued, "Tate isn't good for the Matrix. Tate is good for individualism."
"They do not want you to surround yourself with powerful men," he wrote. "They destroy the family unit, they ban any loud opposition."
In that email, Tate said he will be online again soon.