Justin Trudeau Has Committed Canada To Accept And Resettle 25,000 Refugees
The Canadian Prime Minister said the refugees would all be included into government resettlement schemes, on top of those being privately sponsored.
Canadian prime minister Justin Trudeau confirmed that the government was still on course to accept 25,000 Syrian refugees, and resettle them through government-assisted schemes.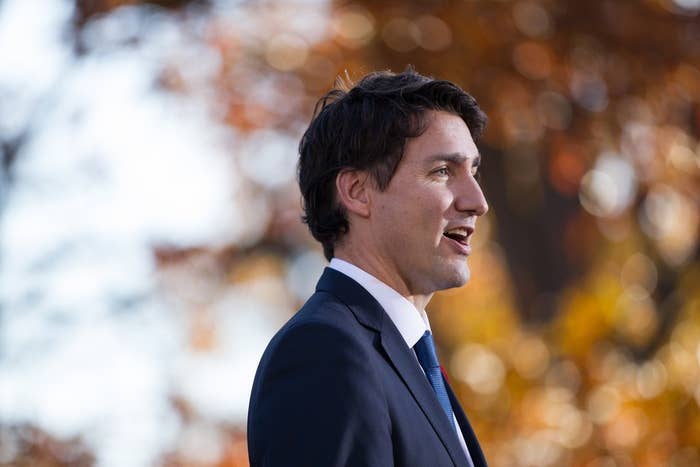 Speaking to BuzzFeed News after a speech at the Canadian High Commission in London, Trudeau said: "We committed to welcoming 25,000 refugees [during the election campaign] and we will do that, but we will do it in a responsible way. We have committed to 25,000 government sponsored refugees in the first batch which we're hoping to do before the end of next year. This will be on top of the large number of privately sponsored refugees.
He added: "This is a time when politics can be bent to make people fear refugees...that came up during the election campaign. But its important for Canada to lay out a clear vision that welcoming people is a good thing, and can lead to more successful societies and more resilient communities".
Trudeau did not comment on the specifics of the country's resettlement program, which has been criticised by some for not being "realistic", after he campaigned to fully resettle up to 25,000 refugees by the end of 2015.
On Tuesday, Trudeau stated that the refugees resettlement plan would be extended until at least February 2016 – insisting that the time was needed in order to "complete security and health screening overseas".
He also recognised that the recent terrorist attack in Paris had "heightened concerns" around security in Canada.
"We want these families arriving to be welcomed, not feared, because that's the way to get the right start in terms of having them become valuable parts of our community and create success" he told CBC News.
According to Canadian media, a revised refugee resettlement plan will see 25,000 refugees being identified for resettlement by the end of the year, with 10,000 expected to be resettled. The remaining 15,000 government assisted refugees will arrive by February 2016.
Trudeau had come to the UK in order to meet the Queen, and is due to meet Prime Minister David Cameron on Wednesday evening.
Although he did not disclose what would be spoken about, he suggested that he would be raising issues about "global security" and the threat of ISIS around the world.
Trudeau also gave a speech focussing on diversity and inclusion to delegates at the Canadian high commission, in which he emphasised the importance of tolerance and acceptance, particularly toward refugees fleeing war.
"In the wake of recent events in Paris...we must also recommit to a world where diversity is welcomed and celebrated" he said, adding: "Canada has learnt to be strong not in spite of our differences but because of it".