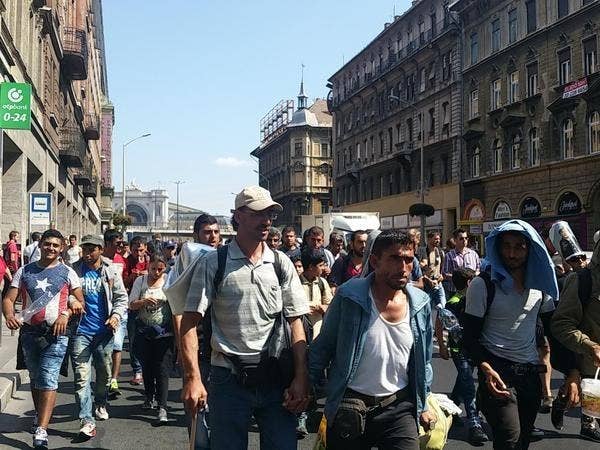 BUDAPEST — Thousands of refugees taking temporary shelter inside Budapest's Keleti train station walked out of the city on Friday, declaring that they would go to Austria in order to enter Western Europe.
The asylum seekers have lived in the underpass of Keleti train station, considered to be one of the largest and most important stations in the Hungarian capital, for weeks.
Most of the refugees who spoke to BuzzFeed News said that they had hoped to travel to Western Europe — in particular, to Germany. While they say they had managed to travel through countries like Turkey and Serbia with relative ease, they say that they have been stopped at Hungary due to the delay in immigration application forms into the European Union.
Hungary's Prime Minister, Viktor Orban, who has been accused in the past of pandering to the country's far right movements, has described the refugee crisis in his country as "Germany's problem."
Since arriving at Keleti station a little over two months ago, more than 1,000 refugees took to the hard, stone floors for temporary shelter. Some families had set up tents, while others had little more than a simple foam bedding or old sleeping bags.
Most families told BuzzFeed News that they had travelled long distances to escape war in their home countries. Many said they had held professional, well paying jobs before conflicts broke out.
When asked why they wanted to come to Europe, many said that their homes had been destroyed by war, and that they "looked at Europe as a place where there is peace."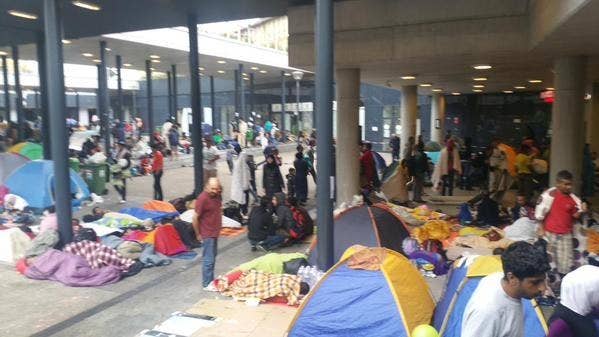 Hungary has refused to let refugees pass through the country, claiming that, in accordance to EU regulations on immigration, it needs to process their applications. However, the authorities also prevented the movement of refugees in other ways too. Earlier this week, the government forcibly stopped trains traveling from Keleti train station at Bicske, a town a few kilometers outside of Budapest. According to reports, the refugees refused to leave the train, having suspected that it was taking them to a refugee camp, rather than to the Austrian border.
Many people decided to walk out of the station on Friday because of "many people here being frustrated with the way Hungary is treating us" a participant of the walkout, originally from Damascus, told BuzzFeed News.
"They do not care about us, they hate us all," said another man in the crowd.
The group, originally consisting of several hundred people, came about after several young men staying at the station took upon themselves the role of organisers, encouraging families to travel with them. The group sang a number of chants in Arabic while walking out of the station, including one that said: "Everyone here, let us walk to our freedom."
Many of the refugees in the station were from Syria, which has been plagued both by bombardment from the regime of Bashar al-Assad and the growing threat of ISIS, who they said had invaded their home towns.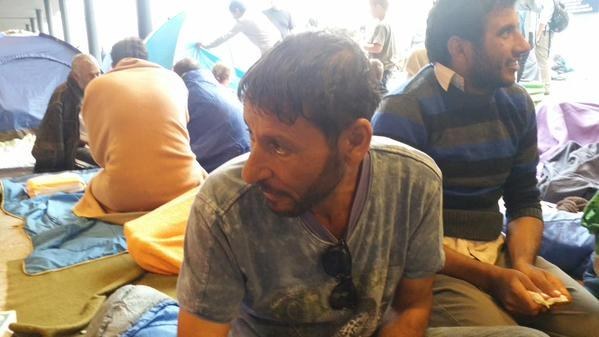 Nassar, a father and former businessman in Deirzour, Syria, told BuzzFeed News that the conflict had "cost my entire life."
"When Da'esh (ISIS) came into my village, I saw everything...I saw them cut off heads, kill people, all these things," he said.
"I used to work as a businessman, in oil. But the war took that away from me. Now I have nothing." he said.
With Nassar were his large family, including his wife, three sons and his sisters. While they did not want to be photographed, Nassar's son, Hassan, said that he was a former engineering student in Syria before the war broke out. "I want to go to Germany and start my education again," he added.
Others, such as Mahmood, a former mathematics teacher from Damascus, attacked the Hungarian government's treatment of refugees.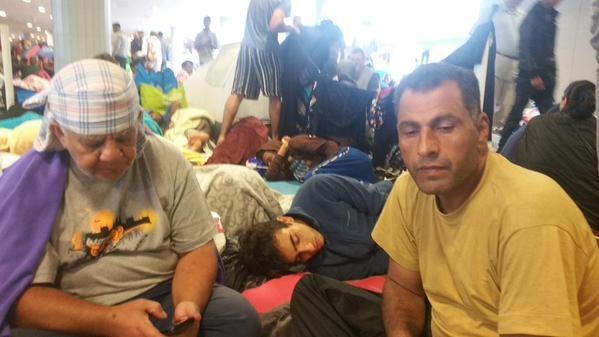 "It is worse than hell here," Mahmood told BuzzFeed News, adding that the station did not have facilities for the refugees to wash and clean themselves.
Mahmood, and other refugees, said that the Hungarian government "did not care about any of the refugees in their country" a point that some said "was proven...because they have kept women and children on trains for days, and they are letting us, and our children starve."
While few women were willing to to speak to BuzzFeed News about their situations, or have their photgraph taken, one woman, a 24-year-old medical student named Hafsa, said that the way of living "was even worse for the women and their children here." She said that many of the elderly women had medical conditions that they could not treat, and that there were some mothers living in the station with children under the age of one.
"They do not even know if they will be able to provide enough food or water for their babies," she said. "And in the hot days, it is very difficult for the infants to breathe."
But not every family chose to leave the station in order to travel to the border in Austria.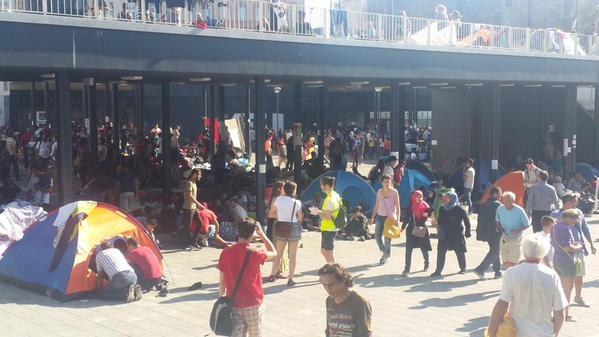 Upon returning to Keleti station hours after the walk began, BuzzFeed News found a large number of people still remained in the station, most of whom were women and children.
Maryam, a mother from Syria, said that her son had gone on the walk, but she had chosen to stay in the station with her young daughter. "I wanted to leave," she said. "But I don't want to hurt my child more...so it's better for me to stay here."