This Is What It's Like For Refugees On The Road To Austria
Refugees are crossing the Austrian-Hungarian border on their way to Europe — and volunteers across Austria are helping to deliver aid to them.
VIENNA — As Abdel Hussain, 28, boarded the train at Hegyeshalom station, on the Austrian-Hungarian border, he smiled softly as a single tear rolled down his cheek. Carrying just one worn out backpack and a sleeping mat, which he said had been with him since he left his home in Homs, Syria, he squeezed into the corner of the train carriage and sat down.
With him were more than 1,000 other refugees, many of whom Abdel stayed with during his seven days living in the underpass of Keleti train station in Budapest.
"It was so bad," he told BuzzFeed News. "[It was] very dark, and [there was] no air. It was difficult to breathe."
He said that he and two friends who also made the journey out of Syria often did not sleep for more than a few hours a night in Keleti and relied mainly on donations given to them by aid workers and volunteers.
Abdel was one of thousands of refugees who decided to march from Keleti station to the Austrian-Hungarian border on Friday. He told BuzzFeed News that he had no choice but to travel there, and that "Hungary was not helping any of the refugees."
He and several hundred others were eventually picked up by buses sent early Saturday by Hungarian authorities following the government's decision to assist the refugees' movement. The decision to send the buses came after mounting international pressure on Prime Minister Viktor Orban.
According to Abdel, the buses dropped the refugees a short distance inside the border. Using phone GPS, they then made their way to the train station.
Large numbers of women and children also boarded the train, some of whom said they had been walking for over 10 hours without food or water.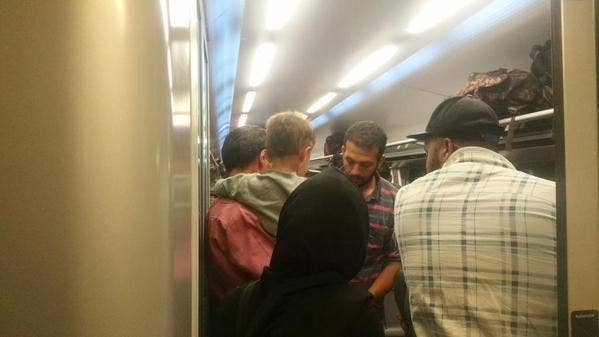 As the refugees scrambled onto the train, the few guards at the station panicked.
"What the fuck is happening right now?" one guard shouted at another as they attempted to control the numbers entering the train's four carriages.
Some refugees, remembering events on Thursday when refugees refused to leave trains that were heading to refugee camps near Bicske, repeatedly asked guards whether the trains were heading to Vienna.
One guard, who did not want to be named, told BuzzFeed News that they had not been prepared for situations like this.
"We first thought all the migrants were going to be taken to Vienna on the buses. We did not know there would still be so many people taking the trains," he said, adding, "There are only three guards here, and so many people."
The guard said also that trains had suffered severe delays since Friday because of safety concerns for the refugees, and that the train companies had insisted that women and children all had seats on the trains. The men found places to sit and lie down. Some chose to catch a few moments of sleep, while others spoke to each other about their travels, or their plans for the future.
Bashar, a 25-year-old university student from Aleppo, told BuzzFeed News that he hoped to travel to Sweden to be with his girlfriend.
"We met five years ago," he said, displaying pictures of her on his phone. "She came to visit Syria and I met her when I was working at a hotel."
They kept in contact on the internet because Bashar had not been able to move to Europe. But, he said, he hopes to get a job as an engineer and eventually get married to her.
Zouhar, a father from Damascus, was also on the train and hopes, like many refugees, to go to Germany. He left Syria last year with his wife, sister, and young daughter Sara when his home was destroyed as a result of the civil war. His wife died in Turkey when they stayed at the refugee camps earlier this year, he said. Since her death, he has been raising Sara on his own, and, he said, he wants to give her a better life when she grows older.
"I want her to go to school," he said.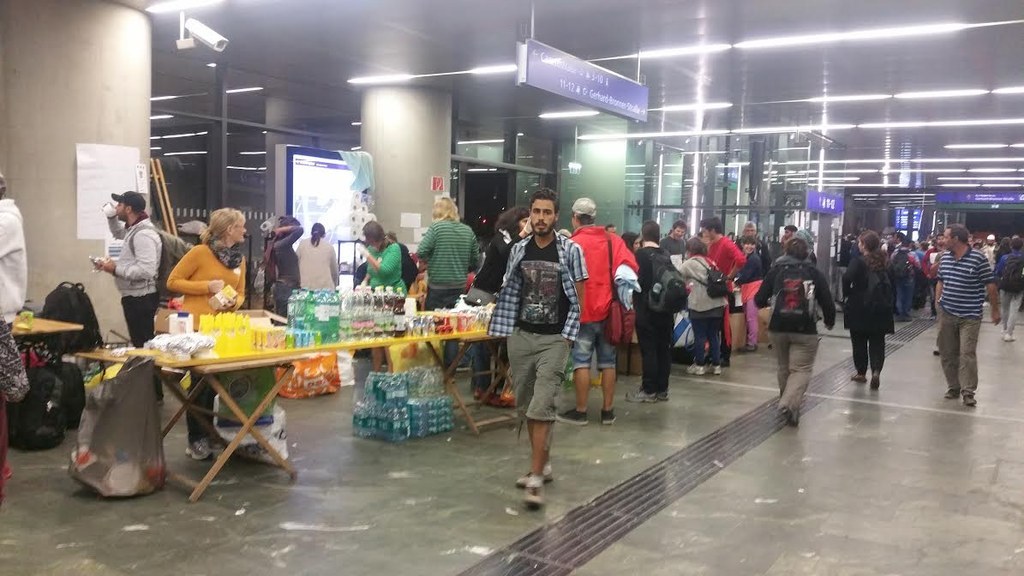 Upon arrival in Wien Hauptbahnhof, Vienna's central train station, refugees were welcomed by groups of volunteers across the city.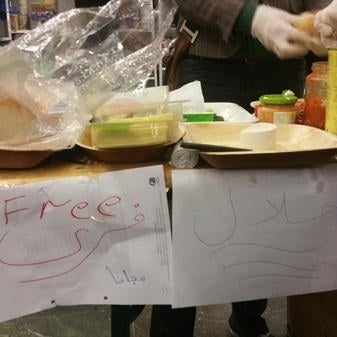 "The volunteers here work all day and all night," said Maha, one of the aid organizers at the station. "We give them food, water, medical help, and there are also Arabic speakers here who can communicate with them."
The makeshift aid center, which takes up one floor at the back of the train station, was staffed mostly by young students. Tables filled with fresh fruit, water, and bread line the concourse, while on the walls are banners that read "Welcome Refugees" in English and Arabic.
Many prepared food as the trains came into the station. To fit their religious dietary requirements, all the meat served is halal, Maha said.
"There have been stories that refugees have been given pork and ham sandwiches when they were in Hungary, so they've had to throw them away," she said. "We want to make sure that they all can eat."
The center also provides medical support for incoming refugees; there is an open pharmacy that stocks basic medicines, painkillers, and first aid kits, while a number of junior doctors use their free time to assist refugees with illnesses, including bone fractures and breathing problems.
"Some people who come here are just very scared," a student doctor named Julia said. "Part of the job is calming them down and telling them they are safe."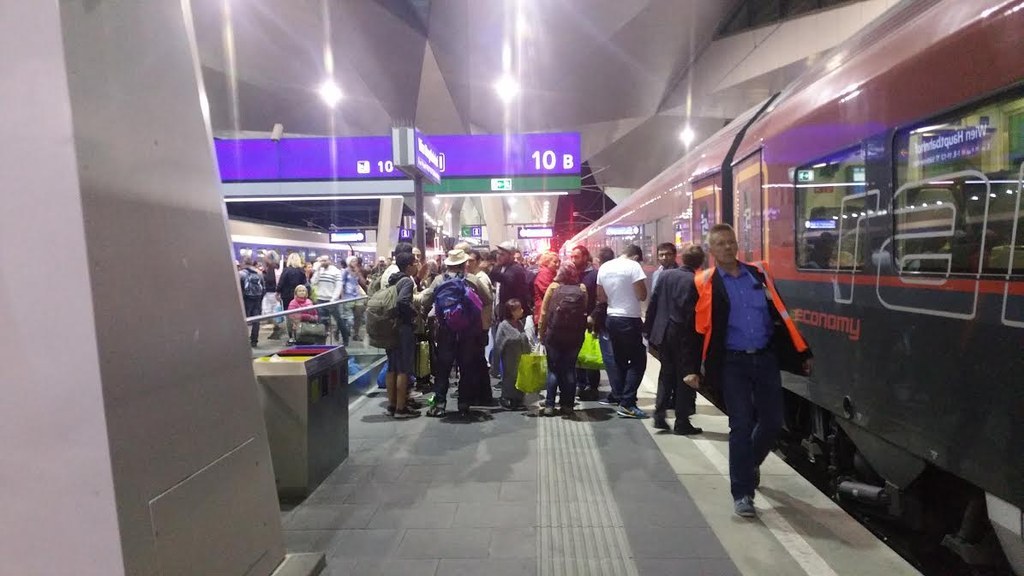 But for the most part, the refugees Sunday will travel just outside of Wien Westbahnhof to an area where Austrian authorities are allowing refugees to sleep at night. Abdel Hussain will go with them, and then he's planning to take the train to Berlin, he said.
Smiling, he added, "I am very happy." But, he admitted, he does not know what he will do once he reaches Germany, or even where he will stay.
"If I have to, I will sleep on the street," he said. "I have done it before, so I can do it again."