We Just Lived Through The Most Twerk-Filled Week In Human History
Internet interest in twerking reached a peak Tuesday, and by Thursday the words "twerk" or "twerking" were used on television more than a thousand times in a day. Congratulations, you made it through peak twerk.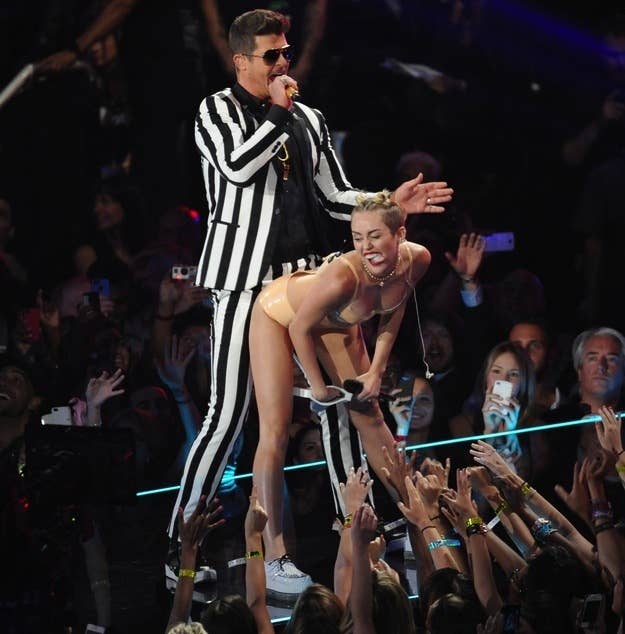 Twerking was catapulted into the national consciousness this week thanks to Miley Cyrus, who who twerked during her performance at the 2013 MTV Video Music Awards Sunday, and the Oxford Dictionary, which added the word to its online edition Tuesday. It was the culmination of decades of twerking.
Twerking isn't new — one of its earliest uses can be found in the 1993 song "Do The Jubilee All" by DJ Jubilee — but it took off in 2013. Short looping Vines and Instagram videos of people twerking was a fast and convenient way for the dance to spread. But interest in twerking reached an even wider audience this week.
A Google trends search shows "twerking" reached peak search interest on Tuesday, August 27.

And according to TVEyes, "twerk" went from 2 mentions on television Sunday to a peak of 1,058 mentions on Thursday.
This week, the word "twerk" or "twerking" was used on E! 114 times, CNN 110 times, Fox News 66 times, MSNBC 35 times, CNBC eight times and ESPN one time.
Oxford's definition for twerking was read by Morgan Freeman, debated by cable news pundits and even used to describe a storm. Here is highlights from twerking's big week on television:
This is Oxford Dictionary's online definition for "twerk":
The New York Post printed a helpful "How to twerk in 4 easy steps" tutorial Thursday for readers who had no idea what everyone was talking about.
The good news for those with twerk fatigue is we've reached peak twerk. By Wednesday, Google trends showed interest was declining, dipping below interest in Syria, where President Obama said Saturday he would seek Congress' authorization to strike Syria in response to an alleged chemical weapons attack against civilians in August.