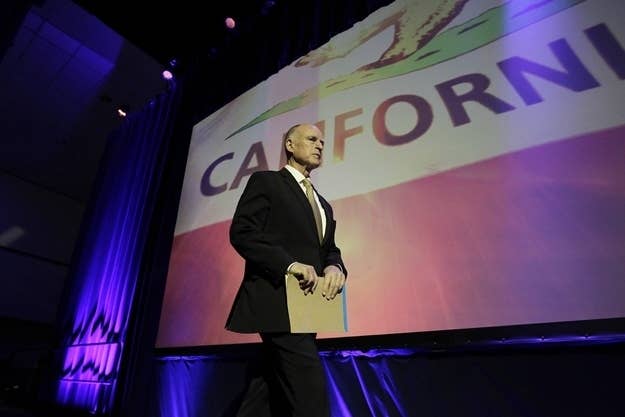 LOS ANGELES — Gov. Jerry Brown hasn't been shy in his support for an ambitious trans-Californian high-speed rail project, despite the project's unpopularity and a looming legal deadline that could derail it. Even as he runs for an unprecedented fourth term, he's not backing down.
Brown devoted only eight words to high-speed rail in his state of the state speech, but days later, he asked the California Supreme Court to block delays to the project. This month, he joked it was a way to get "old people who shouldn't be driving" off the road.
"They should be sitting in a nice train car working on their iPad, having a martini," he said, according to the Sacramento Bee.
The high-speed train would take travelers between Los Angeles and San Francisco in less than three hours for about $81. Voters approved a $9.95 billion bond for the train in 2008, but since then, costs have ballooned to $68.4 billion, nearly seven times the original price tag, and support has waned.
The project faces legal troubles and opposition for mutating beyond what voters OKed. A petition for extraordinary writ was filed Friday in the Sacramento Superior Court, asking to expedite a decision on whether the California High-Speed Rail Authority is legally compliant with the six-year-old plans. Oral arguments begin May 20.
"It's certainly my belief this project is a financial disaster in waiting, but certainly the governor doesn't see it that way," Dave Schonbrunn, president of Transdef, a pro-high-speed rail group opposed to the current project, told BuzzFeed.
Schonbrunn called it a "sinking ship." Still, he doesn't believe Brown's support will hurt his reelection chances because, "He's otherwise doing an OK job and the state's not otherwise in crisis." Brown's approval rating hit a record high in January, with 60% of likely voters approving of the job he's doing, a Public Policy Institute of California poll found.
Although Brown's support is at odds with more than half of Californians, opposition isn't growing, according to polls. Nearly 54% of Californians would vote to stop the project, a January poll found, which is the same percentage who were opposed to it in a poll 10 months earlier.
"It's an issue of importance for a small group of people in select communities," said Assemblyman Rich Gordon, a Democrat who represents Menlo Park, a town that filed a lawsuit with surrounding municipalities against the project in 2010. "My perception is I don't think it's going to have an impact on his reelection."
Gordon said he supports the current high-speed rail project, which most Democrats in the legislature do publicly, but that could change.
In February, Lt. Gov. Gavin Newsom said during a radio interview he'd rather the money for high-speed rail be directed to other projects, and that there are other Democrats agreed with him, although privately.
"The lieutenant governor has long supported high speed rail and still does, but this project in its current form gives him pause," Newsom spokeswoman Andrea Koskey said in an email.
Newsom's opposition on high-speed rail puts him in line with Brown's Republican opponents for governor, like Neel Kashkari, a former assistant U.S. Treasury secretary, who's been calling it the "crazy train."
"Of all the priorities we have in our state — putting people back to work, getting our economy going again, fixing our schools so our kids get a good education, breaking the cycle of poverty — wanting to spend $67 billion on a crazy train makes no sense to me," Kashkari told BuzzFeed in an interview in January. "To me it's a symbol of misplaced priorities coming out of Sacramento."
Kashkari applauded Newsom's "courage" to come out against the train last month, but many familiar with the project characterized it as Newsom's latest attempt to get out in front of trends for political benefit.
"My personal opinion is Gavin Newsom likes to tweak Gov. Brown whenever he can," said Gary Patton, executive director of Community Coalition on High Speed Rail and a legal studies and politics instructor at UC-Santa Cruz.
Patton said supporting the train could actually benefit Brown's campaign, attracting donors who stand to benefit if it's built. "Unions and big construction related firms of various kinds have been the biggest supporters of high-speed rail," he said.
BNSF Railway Company, one of five companies bidding to design and build a stretch of the train that would run for 60 miles in the San Joaquin Valley, gave Brown a total of $54,400 in December, and Tutor Perini, a company with more than a $1 billion in contracts with the California High-Speed Rail Authority, gave $27,200 in January.
Last Friday, the campaign filed documents showing it had $19.7 million on hand.
Schonbrunn, the Transdef president, wants California to one day have high-speed rail, but worries the current project will fail and will render any future endeavors futile by souring public opinion. For that, opposition should be nonpartisan, he said.
"It's not just right-wingers who are opposed to this project."