Republican Candidate For California Governor Compared Securing The Border To War In 2006 Speech
"We must become as radical as we are creative," California Assemblyman Tim Donnelly said, according to the recording of a 2006 speech obtained by BuzzFeed. "We must be as determined as those who wish to take over our state and take over our country."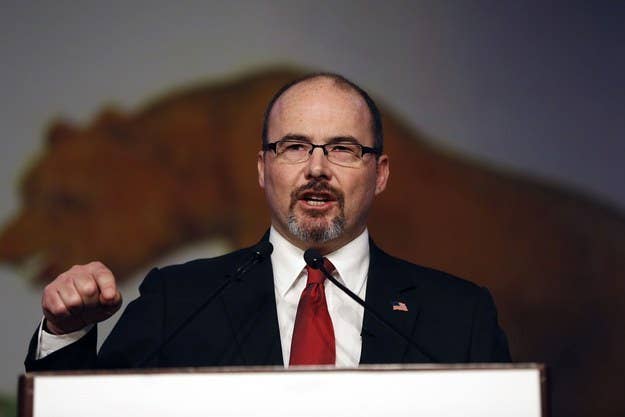 LOS ANGELES — BuzzFeed obtained a recording Tuesday of Tim Donnelly, Republican candidate for California governor, comparing illegal immigration and securing the border to war in a 2006 speech.
"We are on the brink of a battle," Donnelly said during the speech. "We must become as radical as we are creative. We must be as determined as those who wish to take over our state and take over our country," he said.
The Los Angeles Times reported Monday on the speech, which Donnelly gave to about 200 people at a Save Our Nation event on March 25, 2006.
He said there was "a growing insurgency, right here in Los Angeles" and other cities, and compared it to insurgencies in cities like "Baghdad, Samarra, and Tikrit." He also asked those whom he was speaking to if they would "rise up" and take the place of his ancestor Jim Bowie, who was said to have killed a dozen Mexican soldiers at the Alamo.
"I am a decedent of Jim Bowie, who died at the Alamo," Donnelly said. "It is rumored that he took a dozen Mexican soldiers to their deaths before they finally killed him. How many of you will rise up and take his place on that wall?"
Donnelly used or referenced the phrase "I have a dream" several times in the speech, and wondered what percentage of people in the United States illegally were criminals were rapists, murderers, child molesters, or terrorists.
"In the name of diversity, we are bringing millions of people into our country who want nothing to do with diversity," he said. "Their creed is for anyone in the Hispanic race: everything. For anyone outside it, nada. Nothing."
Donnelly's campaign did not immediately respond to comment, but he told Los Angles Times reporter Chris Megerian Tuesday that though he wasn't backing away from his comparisons to war, he might word what he said differently today.
"Although I might say some things differently," he said, "I am not backing away from the fact that we are in a war ... I don't know what you call it when drug cartels are operating in all of our national forests, growing marijuana."
Donnelly's Republican challenger, Neel Kashkari, called the comments "outrageous and divisive" in a statement.
"Once again Assemblyman Donnelly's comments are outrageous and divisive," he said. "This is not who we are as Republicans and is not who we are as Californians. We need positive leadership that unites us to tackle the serious challenges that California families face."
Listen to the 2006 speech: