Obama Touts Entertainment Industry At DreamWorks Stop
President Obama spoke Tuesday at DreamWorks Animation, the studio headed by one of his top donors. Meanwhile in California, a debate is brewing over the state's entertainment tax incentives.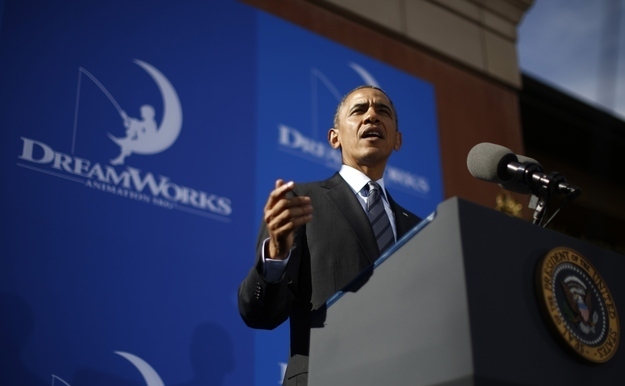 President Obama praised the entertainment industry and its economic importance Tuesday in California as lawmakers in the state debate critical tax incentives to keep production local.
"In a global race for jobs and industries, the thing we do better than anybody else is creativity," President Obama said during the visit to DreamWorks Animation studios in Glendale, Calif. "There's still no better place to make movies and television and music than right here in the United States."
Obama said Tuesday entertainment was "one of America's biggest exports" and "part of American diplomacy." He compared its role in the southern California economy to the auto industry in the Midwest and technology in northern California.
"Every time someone buys movie tickets or DVDs or distribution rights to a film, some of that money goes back into the local economy," he said.
Although the president didn't address entertainment tax incentives Tuesday, they're currently the subject of an ongoing debate in California.
Southern California leaders are currently working to convince state leaders to increase tax incentives to keep film production from leaving the state. Los Angeles Mayor Eric Garcetti signed a law in October waiving television pilots from certain city fees and said he plans to make the case in Sacramento to increase the state's incentives.
California currently has a $100 million tax incentive program to compete with other states with similar programs to lure production away. New York, for example, has a $400 million tax incentive program.
Garcetti said California Gov. Jerry Brown is "skeptical" of raising the incentive limit. Brown was in Los Angeles for a fundraiser Thursday where he spoke about the importance of the entertainment industry, but he did not specifically mention tax incentives.
The motion picture industry contributes $30 billion to the California economy, according to the California Film Commission, and 80% of entertainment companies are small businesses that employ fewer than 10 people.
During his visit to DreamWorks, Obama toured the animation studios, and was at one point rendered as an animated character.
DreamWorks Animation CEO Jeffrey Katzenberg was one of the president's most significant fundraisers in his two presidential campaigns, giving or raising $30 million toward the president's reelection. The White House said Monday Katzenberg's political activity had "no bearing on our decision to visit there."
Obama toured DreamWorks and they turned him into an animated monster.
And he also watched a lady dance around: