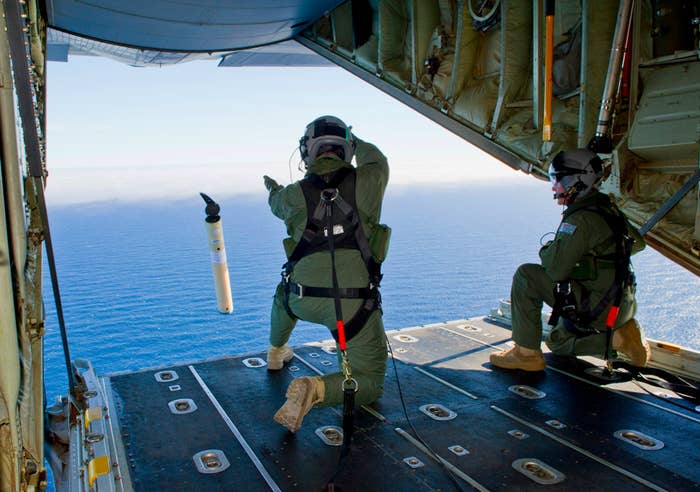 Updated — March 21, 12:15 p.m. ET
Australian officials announced that nothing has been found in a narrow strip of the Indian Ocean where satellite images had earlier indicated the possibility of debris from Malaysia Airlines Flight MH370.
"Something that was floating on the sea that long ago may no longer be floating — it may have slipped to the bottom," said Australia's acting Prime Minister Warren Truss. "It's also certain that any debris or other material would have moved a significant distance over that time, potentially hundreds of kilometers."
A 10-hour surveying mission early Friday morning came up empty-handed, but the more than two dozen countries involved in the search have pledged to continue hunting for the plane and the 239 people on board. The Boeing 777 disappeared on March 8 and has now been missing for nearly two weeks.
"This is going to be a long haul," said Malaysia's defense minister, Hishammuddin Hussein, in a news conference this morning.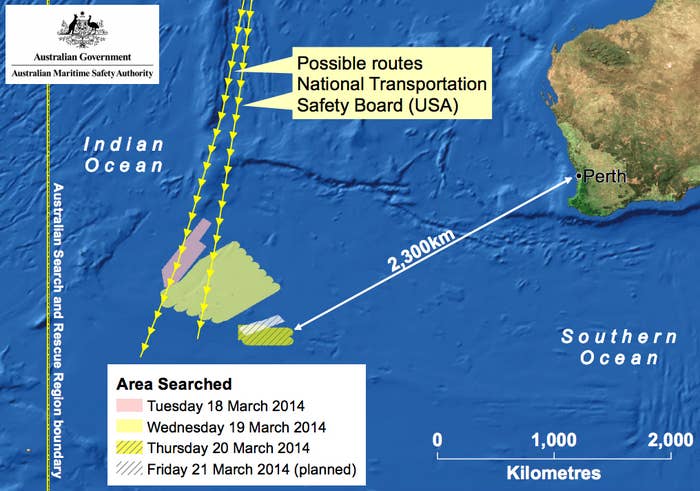 Updated — March 21, 1 a.m. ET
Australian authorities said Friday that after 18 hours of searching the southern Indian Ocean for possible debris from the missing Malaysia Airlines plane, nothing had been found so far.
The search continued Friday at daybreak as four military aircraft from Australia, one U.S. plane, and several ships began heading for a remote area of ocean about 1,500 miles off the southwestern coast of Australia to scour for any sign of Flight MH370.
China also said it was sending three warships and an icebreaker to the southern Indian Ocean to join the search, official state media said Friday.
The satellite images used to spot two objects floating in the ocean were provided by DigitalGlobe, a Colorado-based company. They were taken on March 16, but Australian Air Commodore John McGarry said it took time to analyze them.
"The task of analyzing imagery is quite difficult, it requires drawing down frames and going through frame by frame," McGarry said.
The Australian Maritime Safety Authority released a statement describing Friday's search for the plane, now missing for nearly two weeks.
Five aircraft will be involved in today's search for Malaysia Airlines flight MH370.

A Royal Australian Air Force (RAAF) P3 Orion departed for the search area at around 9.15am.

A civil Gulfstream jet and a second RAAF P3 Orion is due to depart for the search area at approximately 11am.

A third RAAF P3 Orion is due to depart for the search area at approximately 1pm.

The United States Navy P8 Poseidon aircraft is due to depart for the search area at approximately 4pm.

Due to the distance to and from the search area, the aircraft involved have an endurance of approximately 2 hours of search time.

One merchant vessel is currently in the search area. A second merchant vessel is due to arrive tonight.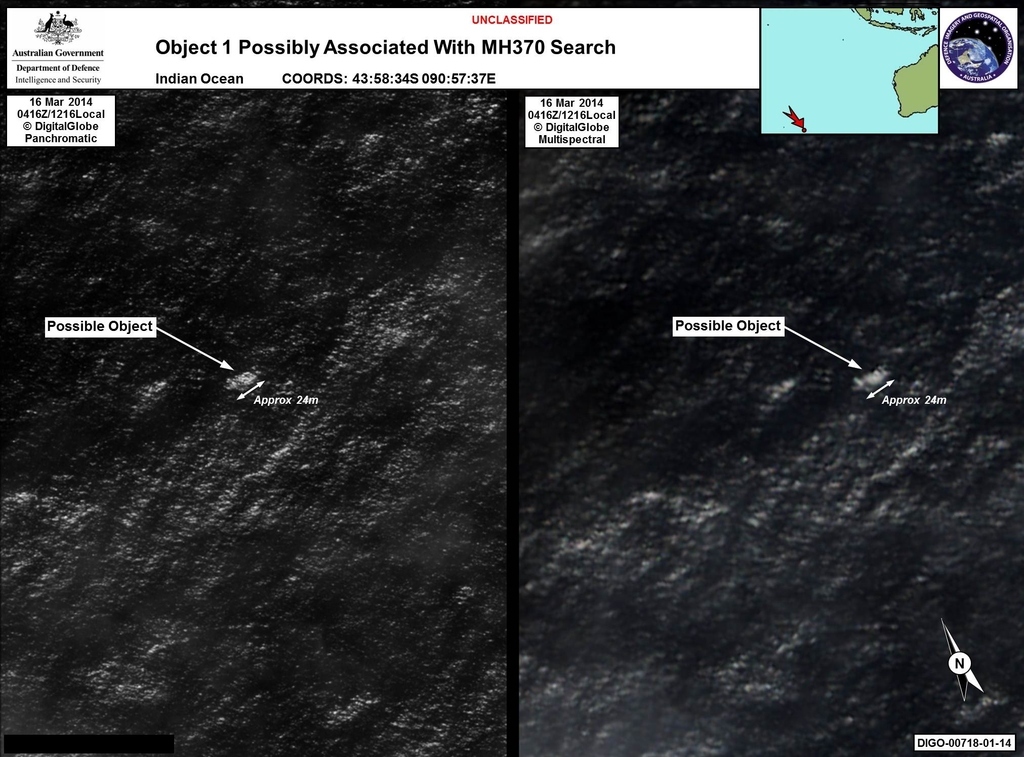 Updated — March 20, 4:30 a.m. ET
Australia has spotted two objects floating in the southern Indian Ocean possibly related to missing Malaysia Airlines Flight MH370, Australian Prime Minister Tony Abbott announced Thursday.
Four military search-and-rescue planes were deployed to a remote area about 1,550 miles southwest of Perth, Australia, Thursday afternoon in an attempt to locate the large bobbing objects, John Young of the Australian Maritime Safety Authority said.
The largest of the two objects spotted by satellite was estimated to be about 79 feet in size, Young told reporters, and appeared to be in an area of water several thousand feet deep.
Young said they "are relatively indistinct on the imagery ... but those who are experts indicate they are credible sightings. The indication to me is of objects that are a reasonable size and probably awash with water, moving up and down over the surface."
Poor visibility in the search was hampering the effort and Young added it could be days before authorities would know for sure what was spotted.
"It's probably the best lead we have right now but we have to get there, find them, see them, assess them, to know whether it's really meaningful or not," he said.
Video of Australia's prime minister telling parliament satellites may have found objects related to the missing flight.
An ABC News reporter aboard a U.S. P-8 plane, the Navy's most advanced antisubmarine and aerial reconnaissance aircraft searching the area for the missing flight, said the crew was "getting radar hits of significant size," but a Navy spokesperson later said the hits were considered "very typical." A merchant ship was also en route to the area.
The Chinese embassy in Australia activated emergency measures after being informed of the possible debris related to the missing plane, China's foreign ministry said.
Earlier, Australian Prime Minister Tony Abbott told parliament in Canberra, "new and credible information has come to light."
"The Australian Maritime Safety Authority has received information based on satellite information of objects possibly related to the search," he said. "Following specialist analysis of this satellite imagery, two possible objects related to the search have been identified."
Abbott said he had spoken with Malaysian Prime Minister Najib Razak and cautioned that the objects had yet to be identified.
"I should tell the House, and we must keep this in mind, the task of locating these objects will be extremely difficult and it may turn out that they are not related to the search for flight MH370," Abbott said.
"At this stage, Australian officials have yet to establish whether these objects are indeed related to the search for MH370," Malaysia's transport minister said in a statement.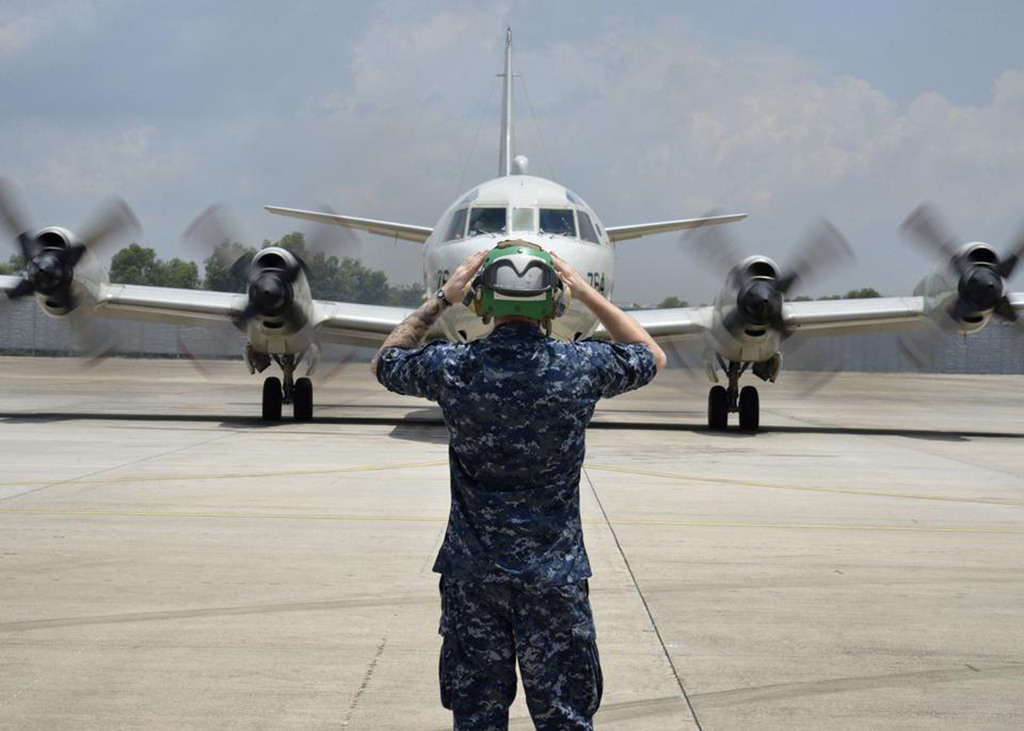 Updated — March 19, 9:20 p.m. ET
President Obama, in his first public comments on the missing Malaysia Airlines flight, said Wednesday the U.S. is deploying "every resource" to help in the search for the airliner.
"We have put every resource that we have available at the disposal of the search process," Obama told Dallas Fox affiliate KDFW-TV. "We're going to keep on working with the international community" to locate the plane.
"We want to send out our thoughts and prayers to all of the families that have been affected, but particularly our American families, who I can only imagine what they're going through with all of the uncertainty that's taken place," the president said. Three Americans were onboard the flight.
"It's a big piece of planet that we're searching and sometimes these things take time, but we hope and pray that we can get to the bottom of what happened," Obama said.
Meanwhile, the FBI joined forces Wednesday with Malaysian authorities after investigators found a flight simulator belonging to the pilot of Flight MH370 and detected that records of simulations were deleted on Feb. 3.
U.S. Attorney General Eric Holder said that the FBI was working with Malaysian authorities, but "at this point, I don't think we have any theories" on the fate of the missing plane.
An unnamed U.S. official told the Associated Press the FBI has been given electronic data to analyze.
"Local and international expertise has been recruited," said Malaysia Defense Minister Hishammuddin Hussein. "Some data had been deleted from the simulator and forensic work to retrieve this data is ongoing."
Updated — March 19, 10:40 a.m. ET
More than ten days after a Malaysia Airlines flight carrying 239 people disappeared, authorities continue to focus the investigation on the notion that the plane was diverted by the pilots or someone on board with considerable flying experience.
After concluding that the aircraft disappeared as a result of deliberate action, authorities searched the homes of pilot Zaharie Ahmad Shah, 53, and co-pilot, Fariq Ab Hamid, 27, on Saturday CNN reported. Investigators found a flight simulator in Shah's home and detected that records of simulations were deleted on Feb. 3, Malaysian police chief Khalid Abu said on Wednesday. The officials are attempting to restore the missing files to see if they can help explain the plane's disappearance, Malaysia's defense minister said.
Shah is considered innocent until proven guilty, and investigators have yet to determine whether it is unusual to delete files from the simulator. His family is cooperating in the investigation, the Associate Press reports.
On Tuesday, U.S. officials said that an initial search of the pilots' personal computers and e-mails found nothing to indicate any planned deviation in the aircraft's route. Investigators also reviewed cockpit conversations between the plane and air traffic controllers and said they found nothing that might help explain why the aircraft changed course.
The plane's co-pilot was the last to communicate with air traffic control before the flight vanished. The message was "All right, goodnight."
Twenty-six countries are now aiding in the search-and-rescue operation, Malaysia's transportation minister, Hishamuddin Hussein told reporters. Australia is now leading the search efforts in the southern Indian Ocean.
"At this point, I would like to stress that Malaysia has been co-operating with the FBI, Interpol and other relevant international law enforcement authorities since day one," Hussein said Monday.
The plane appears to have made a turn up the Strait of Malacca around the time it lost contact, suggesting someone was controlling the plane, a senior U.S. government official told ABC News.
"That indicates that somebody may be on the controls," said former director of the National Transportation Safety Board's Office of Aviation safety Tom Haueter. "Slight turns I can see, but if somebody is making a major heading change, that would appear to be an intentional input to the controls."
On Tuesday, Thailand's military said that its radar detected a plane that could have been the missing jet just minutes after the plane's communications went down. The Thai government did not previously share the information with Malaysia because it wasn't specifically asked for it, the Associated Press reported.
Relying only on its own radar, Malaysia took a week to confirm that Flight 370 had entered the Straight of Malacca, which was an important detail that significantly changed the country's search strategy. Thai radar detected a plane on a twisting flight path entering the Straight of Malacca on March 8, but the Thai military could not confirm it was the same plane.
Thailand's failure to share information may not drastically change how much Malyasian officials know, but it does raise questions regarding how much information countries are sharing.
When asked why it withheld information, Thai air force spokesman Air Vice Marshal Montol Suchookorn said, "Because we did not pay any attention to it."
"The Royal Thai Air Force only looks after any threats against our country, so anything that did not look like a threat to us, we simply look at it without taking actions," he said, noting that the plane never entered Thai airspace and that Malaysia's first request for information was "not specific."
According to a U.S. official, the search for the missing jetliner is centered on two widely staggered quadrants, hundreds of miles apart: one in the Malacca Straits off the west coast of Malaysia and the other in the northern Bay of Bengal.
Investigators are also examining the background of all 239 people on board, as well as the ground crew that serviced the plane, according to reports.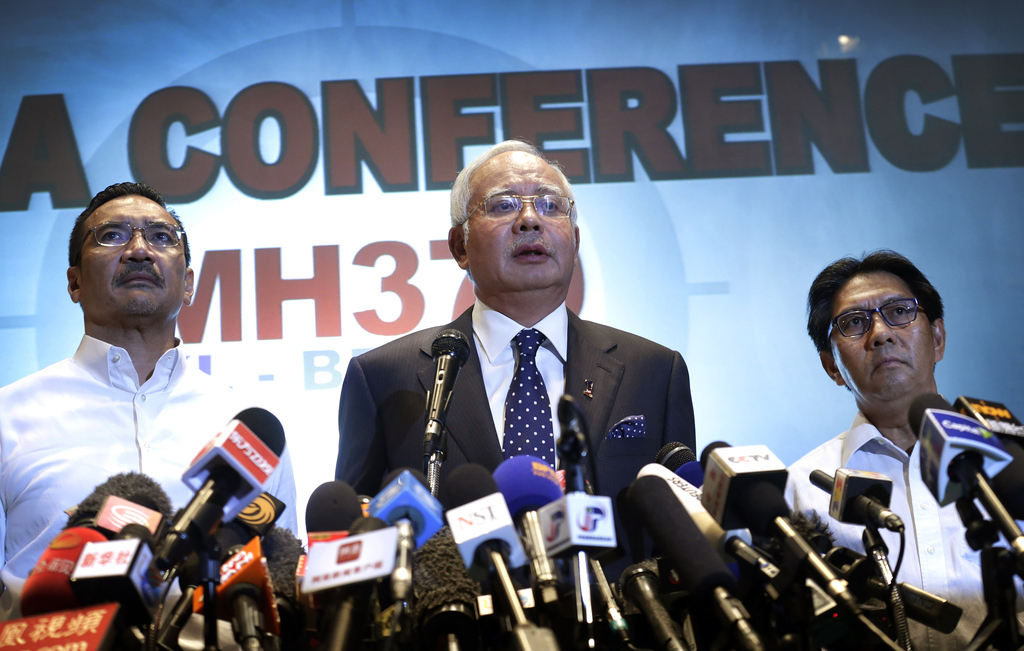 Updated — March 15, 4:30 a.m. ET
Investigators believe a Malaysian airliner's disappearance more than one week ago was the result of "deliberate action" by someone on the plane, the country's prime minister said Saturday, confirming speculation that the plane's disappearance may not have been accidental.
After departing Kuala Lumpur on March 8, the passenger jet lost all communication with the ground and made a return back over Malaysia before turning to the northwest, air force radar data confirmed.
"We can say with a high degree of certainty that the Aircraft Communications Addressing and Reporting System (ACARS) was disabled" just before the plane reached Malaysia's east coast, Prime Minister Najib Razak said at a news conference Saturday. The plane's transponder was switched off shortly afterward, he said.
About seven hours after Flight MH370 vanished from civilian radar screens over the Gulf of Thailand, the last confirmed signal from the plane to a satellite came at 8:11 a.m. local time.
The communication occurred in one of two possible "corridors" spanning a wide region, he said. A southern corridor stretching from Indonesia to the southern Indian Ocean, or a northern one stretching from the border of Kazakhstan and Turkmenistan to northern Thailand.
If Flight MH370 was airborne the entire time, it could have traveled more than 2,000 miles in any direction. Authorities have said the Boeing 777 had enough fuel to fly for close to eight hours.
"Despite media reports that the plane was hijacked, I wish to be very clear we are still investigating all possibilities as to what caused MH370 to deviate from its original flight path," Razak said. Investigators are working to further refine the location.
Given the new information, search and rescue operations in the South China Sea will be withdrawn and refocused on the new areas, and an investigation into the 239 passengers and crew on board the plane will be renewed.
"Clearly the search for MH370 has entered a new phase," Razak said. "For the families and friends of those involved, we hope this new information brings us one step closer to finding the plane."
Updated — March 14, 11:30 p.m. ET:
An analysis of satellite transmissions received from the missing Malaysia Airlines plane shows it could have flown thousands of miles over the Indian Ocean before it ran out of fuel and crashed, Reuters reported, citing an unnamed source familiar with the U.S. investigation.
The other, less likely scenario, the source claimed, was that Flight MH370 continued to fly on into Indian territory. The assessment was based on imprecise satellite pings believed to have been received after the plane vanished from civilian radar one week ago.
Another U.S. official, who spoke on condition of anonymity to the Associated Press, said investigators looking for the plane have effectively run out of clues except for the satellite data that has never been used before to find a missing plane.
Indian aircraft were combing the Andaman and Nicobar Islands, a group of mostly uninhabited islands, for any sign of the jetliner after reports suggested the plane may have headed for the area. So far the planes and helicopter searching the area have found nothing.
"This operation is like finding a needle in a haystack," Indian military spokesman Harmeet Singh said.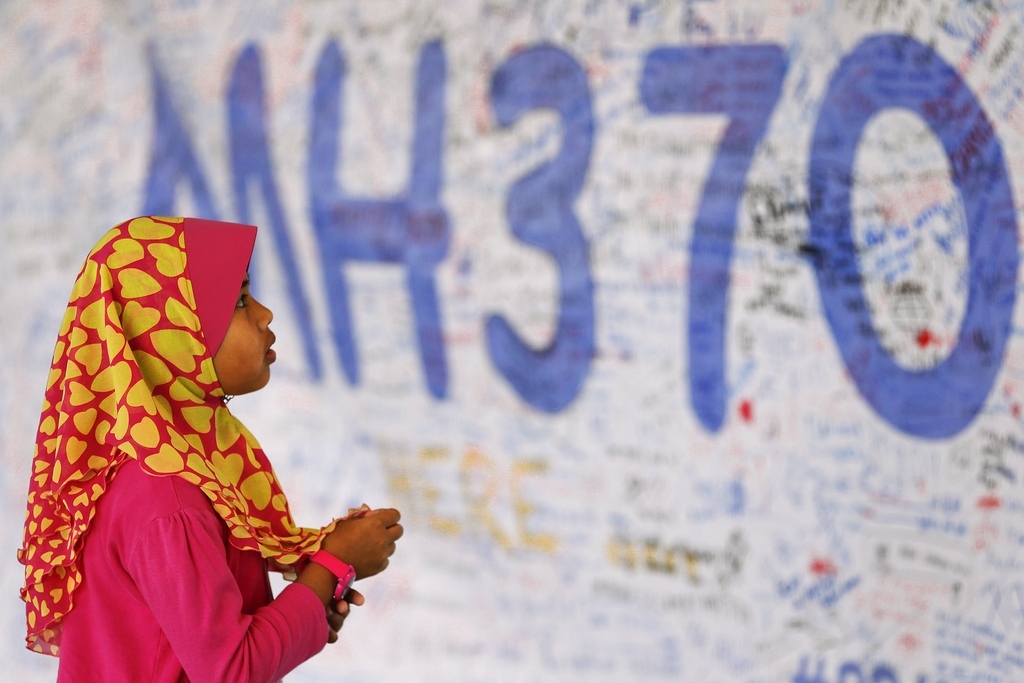 Updated — March 14, 8 p.m. ET:
The New York Times reports Malaysian military radar showed the missing plane climbed to 45,000 feet soon after it vanished over the Gulf of Thailand on Saturday morning, then made a sharp turn west.
According to the report, which cited unnamed American officials, Flight MH370 then flew toward the island of Penang at a low altitude before turning northwest and heading for the Indian Ocean.
A U.S. official told the Associated Press earlier that investigators are looking at the possibility of "human intervention" in the plane's disappearance, saying it may have been "an act of piracy." The unnamed source said two of the plane's communication systems were shut off about a dozen minutes apart during the first hour of flight.
Meanwhile, ABC News reported the search for the missing jetliner is now focused on two quadrants, one in the Malacca Strait and the other hundreds of miles away in the northern Bay of Bengal. The report cited an unnamed U.S. official.
Malaysian investigators believe the plane took a northerly route, NBC News reported, but U.S. authorities believe it's more likely to have gone on a southerly path.
The potential developments came Friday after a satellite communications company confirmed it received signals from the Malaysia Airlines jet that has now been missing for a week.
"Routine, automated signals were registered on the Inmarsat network from Malaysia Airlines flight MH370 during its flight from Kuala Lumpur," the company said in a statement. It did not confirm when the signals were received or if location data was supplied.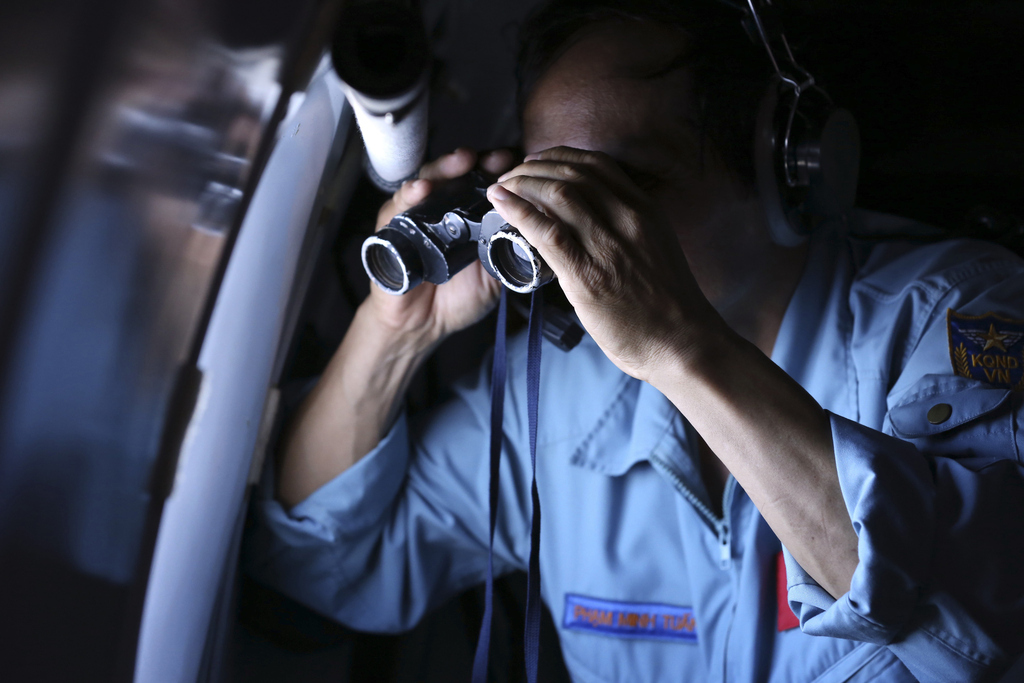 Update — March 14, 7 a.m. ET:
Malaysia Airlines Flight MH370 reportedly sent intermittent signals to a satellite for several hours after its last contact with the ground early Saturday morning, according to an unnamed official who spoke to the Associated Press, indicating the plane may have continued to remain airborne and wasn't immediately destroyed in a crash.
A satellite service operated by Boeing receives routine data known as ACARS messages from aircraft during flight that can provide information on whether the plane needs maintenance work. Although Malaysia Airlines does not subscribe to the service, Flight MH370 was still sending "pings" to a satellite suggesting the plane flew for four to five hours, the official said.
According to the Wall Street Journal, the "pings" provided the plane's location, speed, and altitude for at least five hours after it disappeared from civilian radar screens, an unnamed source said. The report said the final ping was sent from over water at cruising altitude.
If the plane remained in flight the entire time at cruising speed, it could have travelled more than 2,200 nautical miles after it last made contact while over the Gulf of Thailand.
"It's like when your cellphone is off but it still sends out a little 'I'm here' message to the cellphone network," the official told AP. "That's how sometimes they can triangulate your position even though you're not calling because the phone every so often sends out a little bleep. That's sort of what this thing was doing."
ABC and CBS News reported Thursday the plane's communications systems may have been shut down sequentially, suggesting they were intentionally turned off to avoid detection.
The reports, which could not immediately be corroborated, added to the growing mystery surrounding the plane that has now been missing for six days.
"Malaysia Airlines is fully aware of the on-going media speculations and we have nothing further to add to the information we have already provided," the airline said in a statement Friday morning.
Hishammuddin Hussein, minister of transport, said Friday that the hunt for the plane was spreading deeper into both the Indian Ocean and the South China Sea.
"A normal investigation becomes narrower with time, I understand, as new information focuses the search," said Hussein. "But this is not a normal investigation. In this case, the information we have forces us to look further and further afield."
The Boeing 777-200, which carried 239 people, disappeared shortly after takeoff on March 8, and had enough fuel to fly for four more hours after its last confirmed sighting on radar, the official told AP.
White House press secretary Jay Carney said Thursday a new search may be opened in the Indian Ocean as authorities try to determine what happened to the plane.
"Because of new information, we may be part of an effort to open a new search area in the Indian Ocean," Carney said at a briefing. According to defense officials, the USS Kidd, a destroyer, is heading into the Indian Ocean. The expanded search area now covers about 35,800 square miles.
"This situation is unprecedented. MH370 went completely silent over the open ocean," Hussein said. "This is a crisis situation. It is a very complex operation, and it is not obviously easy. We are devoting all our energies to the task at hand."
A video from the Wall Street Journal suggests the Malaysia plane could have traveled 2,200 miles from where it last made contact with the ground if the jetliner remained in flight.