Mayor Eric Garcetti Vows To Make Los Angeles More Business Friendly
"You shouldn't need a lobbyist to open a business in L.A.," he said. Garcetti also said DWP wouldn't be able to raise rates this year and announced new efforts to prepare the city for earthquakes.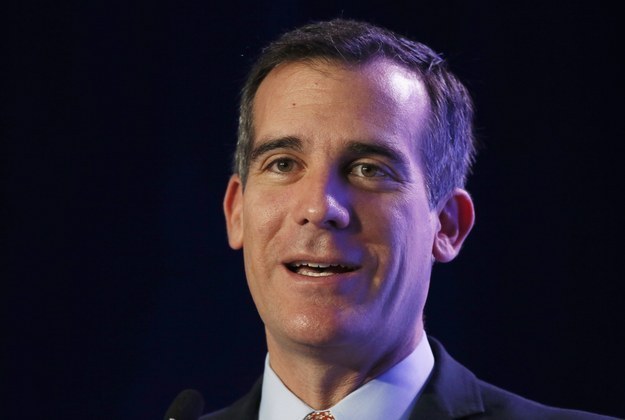 LOS ANGELES — Mayor Eric Garcetti said the state of Los Angeles was strong, but "in need of fundamental work" Thursday at his state of the city address where he made the case for spurring economic development through a more business friendly city hall.
"City hall has too often been where businesses go to die," he said. "Simply put, you shouldn't need a lobbyist to open a business in L.A."
Garcetti said he would introduce legislation next week to cut the top business tax rate over three years as part of his budget proposal.
"Unfortunately, our city is still home to the highest and most complicated business tax of any of the 88 cities in Los Angeles County," he said. "It's a tax that taxes you even when you lose money. This chases away new businesses away and pushes existing businesses to leave."
He touted businesses that moved or announced a move to Los Angeles since he took office, including Riot Games and IMAX, and Wilshire Grand, which will be the tallest building west of the Mississippi and is expected to open in 2017. He also announced DirecTV would begin filming two original series in the city, Navy Street and Things You Shouldn't Say Past Midnight, despite tax subsidy offers from Georgia and New Mexico.
Garcetti's remarks came a day after the Los Angeles 2020 Commission issued a scathing report recommending improvements to the city.
"Los Angeles is barely treading water, while the rest of the world is moving forward," the commission said in an earlier report in December. "We risk falling further behind in adapting to the realities of the 21st century and becoming a city in decline."
But Garcetti was optimistic.
"The challenges we face are not new," he said. "We don't need a new diagnosis."
Garcetti said the Department of Water and Power would not raise rates this year, after botching customer billing. "The department must earn back your trust," he said.
He also called for increased earthquake preparedness, announcing the city would develop a rating system for the seismic safety of buildings, the first in the U.S., and create plans to mandate older buildings to be retrofitted, which he admitted would be expensive.
"Some critics say the cost of those upgrades may be high, but as we saw with Hurricanes Sandy and Katrina, the cost of being unprepared is much, much higher," Garcetti said.