Los Angeles Mayor Wants "The Late Show" To Move West
Eric Garcetti asked the CEO of CBS to consider relocating The Late Show following news of David Letterman's retirement.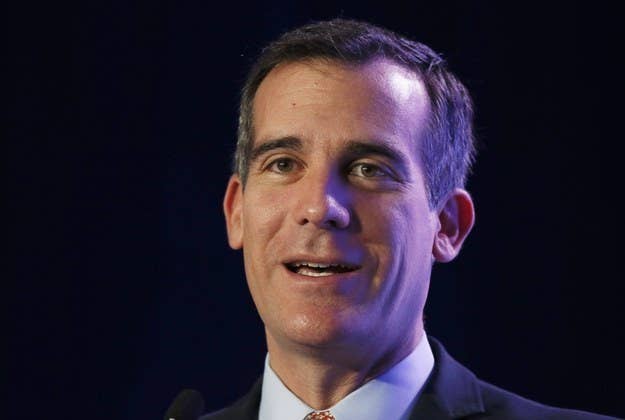 LOS ANGELES — Following David Letterman's announcement Thursday that he would retire from his role as host of The Late Show in 2015, Mayor Eric Garcetti wrote an open letter to CBS CEO Les Moonves asking the network to consider moving a late night show to the city.
Dear Mr. Moonves:

As a longtime fan, I was saddened to hear of David Letterman's retirement. But as Mayor of Los Angeles, I am excited for the opportunity to encourage you to bring CBS' next late night show to our city -- the entertainment capital of the world.

I have made the entertainment industry a key priority for my administration. It's a critical component to our city's economy and identity. I created the Mayor's Office of Motion Picture and Television Production, and under the leadership of Ken Ziffren, we are aggressively seeking to encourage more production here in Los Angeles by cutting red tape, lending proactive assistance, and by furthering public policy to compete with the financial incentives offered by other states.

I look forward to speaking with you about the possibility of bringing the successor to Mr. Letterman's show to Los Angeles.

Sincerely,

Eric Garcetti
MAYOR
Los Angeles lost The Tonight Show in February when it moved production from Burbank to New York City under new host Jimmy Fallon. Jimmy Kimmel Live! is currently filmed in Hollywood.