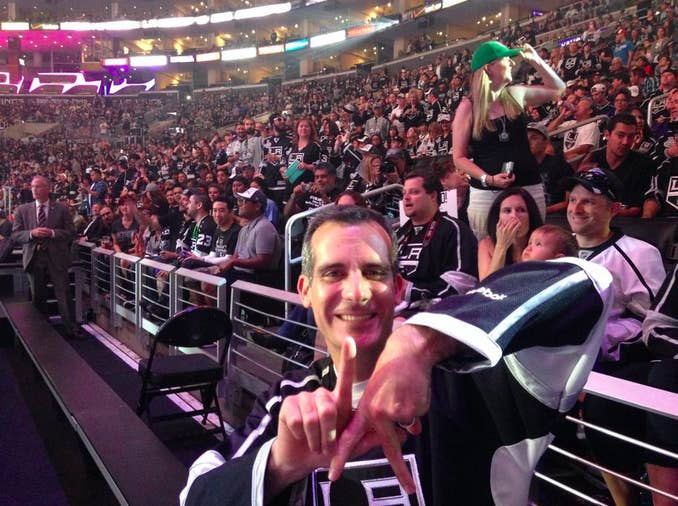 LOS ANGELES — Two weeks before his first anniversary as Los Angeles mayor, Eric Garcetti made national headlines when he dropped an f-bomb at a rally celebrating the Kings' Stanley Cup victory.
The media storm that followed Garcetti's Kings rally remarks —"They say never ever be pictured with a drink in your hand," he said, raising a beer bottle, "and never swear, but this is a big fucking day" — marked the first time many Americans had ever heard from the mayor of the country's second-largest city.
Garcetti is fairly unknown outside the Golden State, while his East Coast colleague New York Mayor Bill de Blasio has regularly grabbed the national spotlight, shoveling his own snow, going to lunch with President Obama, and being sworn into office by President Clinton.
In a way, the Kings' win over the New York Rangers fits Garcetti's narrative as Los Angeles as scrappy underdog — a city of 3 million perpetually having to prove itself against the Big Apple. Garcetti doesn't believe Los Angeles gets the respect it deserves and that the city's image is still haunted by events more than 20 years old: Rodney King riots, the 1994 earthquake, the O.J. Simpson case. And he wants to change that.
"We have not managed our narrative well," Garcetti said last month during an interview with BuzzFeed in his downtown office. "L.A.'s brand is so strong, we don't need a tagline. We're L.A. It evokes something."
Managing narratives is one of the mayor of Los Angeles' most important jobs. Like other cities west of the Mississippi, Los Angeles has an institutionally weak mayor — a product of the era in which the city was established and a backlash to the political machines in places like New York City and Chicago. Garcetti has a powerful 15-person city council he has to work with.
"These are like the lord and lady of the realm. You might be king, but they're very powerful," Raphael Sonenshein, executive director of the Pat Brown Institute of Public Policy, said.
But supporters say Garcetti may be better prepared to handle the city council than his predecessors. The native Angeleno and Columbia University grad majored in political science and urban planning there before studying at Oxford and the London School of Economics, and he served on the city council for 12 years, longer than any mayor in at least six decades. Still, much of the mayor's power can come from his role as a spokesperson-in-chief.
"Largely, a lot of the power can come from charisma and moving the needle," said Donna Bojarsky, a Democratic strategist. "There's no question [Garcetti] knows what he's doing."
So far, Garcetti's big public moments are tied to the city's professional sports franchises: his fervor for the Kings and his involvement in the controversy over the racist statements made by Clippers owner Donald Sterling. He's been characterized as an earnest mayor focused on his "back-to-basics" agenda over any singular big project, but some wish he would aim higher.
"The mayor is L.A.'s biggest cheerleader, and I don't know what I'm supposed to cheer for," said Michael Trujillo, a Democratic strategist who worked for former mayors Richard Riordan and Antonio Villaraigosa. "I think he really is trying to emulate a press or communications strategy that's about doing no harm."
Trujillo pointed to big items and challenges the previous three mayors faced early on in their time in office: Riordan, who was elected following the Rodney King riots and worked to strengthen the police force and improve schools; James Hahn, who was mayor during the San Fernando Valley's unsuccessful attempt to secede from the rest of the city; and Villaraigosa, who tried to take over the school board and planned to build the Westside subway. Their agendas might have angered some, but that's the mark of a bold leader, Trujillo said. "There's a reason people spend their political capital in year one," he said.
"I don't know that the Garcetti administration can point to an example where they pushed the status quo and angered people," Trujillo said. He said he was fine with Garcetti's "BFD" moment at the Kings rally, but said, "I would have preferred that was the 20th time he said 'BFD.'"
In January, the Los Angeles 2020 Commission published a report calling L.A. a city in decline, plagued by poverty, traffic, and poor schools. The commission began before Garcetti took office, and issued recommendations for solving Los Angeles' ills the day before the state of the city address in April.
"The challenges we face are not new. We don't need a new diagnosis," Garcetti said during his remarks the following day.
He's aware of the perception among some that "back-to-basics" isn't ambitious, but he disagrees. "It's not headline-grabbing stuff," he said.
The city has "every ingredient that it needs for success," but "it's putting the pieces together, which is different than some of my peers who are struggling with declining population, or nobody visiting or bad weather, or jobs that have fled," Garcetti said.
In May, The Guardian ranked Los Angeles the world's most powerful "brand city." Garcetti's office sent out an email blast: "FYI - The Guardian ranks LA #1 global brand," read the subject line. His office was "surprised by the outcome," Garcetti said, but he felt vindicated. The list cited L.A.'s weather, attractions, and improving crime rate for its ranking. "After years of languishing, the City of Angels has top spot in the brand firmament," it read.
"L.A.'s still a tentpole city, but it requires considerable work to reform how government works and to make sure our economy moves forward above and beyond the natural recovery, post-recession," Garcetti said. "I think we've assumed our sunshine would sell this place."