Court Weighs Whether A Fox Reporter Has To Reveal Her Sources Or Go To Jail
Jana Winter, a reporter for FoxNews.com, has been involved in a 16-month case for refusing to identify her source in a story about the Aurora, Colo., shooting suspect.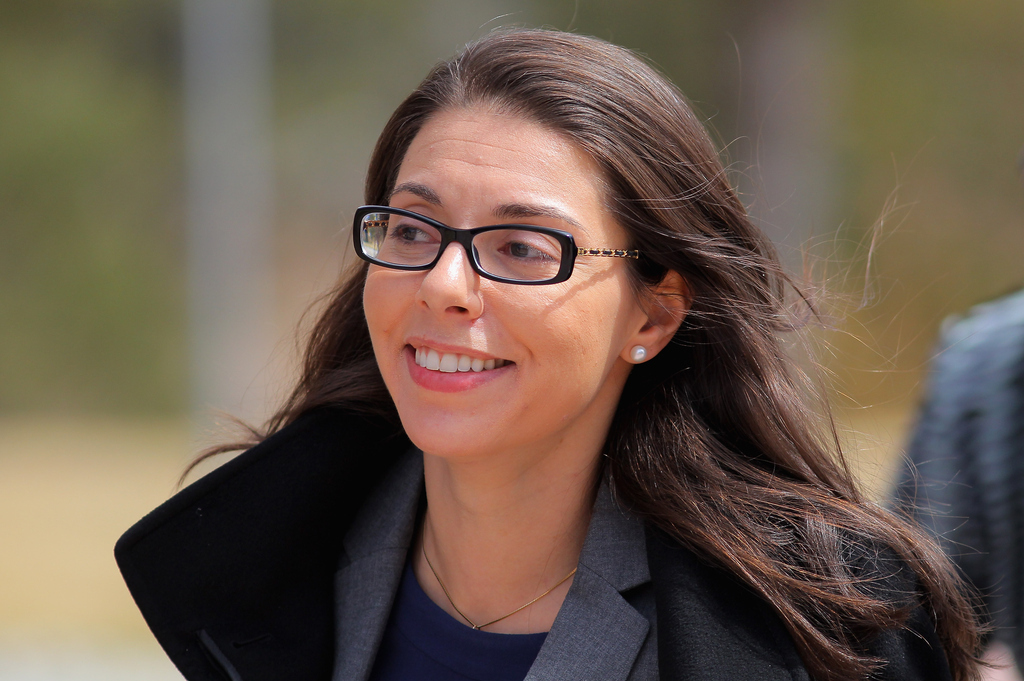 A New York court heard testimony Tuesday about a Fox reporter who could face possible jail time for refusing to name her source.
Jana Winter broke the news that James Holmes, the alleged gunman in the Aurora, Colo., shooting, sent a notebook to a psychiatrist in which he drew stick-figure drawings of a massacre and wrote details about how he planned to kill people in her July 25, 2012, story for FoxNews.com. Winter cited an unnamed "law enforcement official" who gave her the information.
Holmes' attorney said whoever gave Winter the information violated a gag order those participating in the investigation were under. Information about the notebook denied Holmes a fair trial, Holmes' attorney said.
The defense attempted to find out who gave Winter the information, but 14 law enforcement officials denied being her source. Under Colorado law, if the identity of an anonymous source is central to a case and cannot be obtained by other means, a reporter may be subpoenaed and forced to hand over his or her notes and testify about their source.
Because Winter lives in New York, Colorado was required to receive approval from New York judges to enforce its subpoena. A lower court in New York ruled in March in favor of Colorado, but its close 3-2 decision automatically sent the case to New York's highest court, the State Court of Appeals.
Judges for Winter argued Tuesday that forcing her to travel to Colorado to testify was an undue hardship that would harm her career. They also argued New York's lower court should have never approved Colorado's subpoena because it violates New York's shield law, which protects journalists from being jailed for refusing to reveal their sources.
"The judges were by and large very aware of the issues and cognizant of how important the shield laws were," said Dori Hanswirth, a lawyer for Winter, adding they "recognized New York as the news capital of the country."
Hanswirth said if the court decides to approve Colorado's subpeona, New York's shield law "could be gutted."
Lawyers for Winter said Tuesday if the state's shield law wasn't upheld, it could harm New York journalists' ability to gather news outside the state. "I think it would greatly diminish the effect of the shield law," Hanswirth said.
Winter has stated if she did testify before the Colorado court, she would not reveal her source, which could result in jail time. Hanswirth said even if Winter was to reveal her source, however, it would not be relevant to the case, which hinges on whether James Holmes was "criminally insane." "I don't see how Jana Winter's testimony would have any bearing in the case," she said.
The New York court is expected to make its decision before Jan. 3, 2014, when the Colorado court has said Winter must testify.
The notebook Winter wrote about in her exclusive was sent to a psychiatrist at the University of Colorado. It may have sat in a mailroom for up to a week before it was discovered and put in FBI possession. Holmes has been charged with 166 felony charges, including 24 counts of first-degree murder. Lawyers for Holmes have admitted he killed 12 people on July 20, 2012, but plead not guilty by reason of insanity.
Numerous media organizations have come out in public support for Winter, including ABC News, the Associated Press, Gannett, NBC Universal, The New York Times, The Newspaper Association of America, and Reuters America.
Judge Robert Smith, associate judge of the New York Court of Appeals, is the father of BuzzFeed Editor-in-Chief Ben Smith.