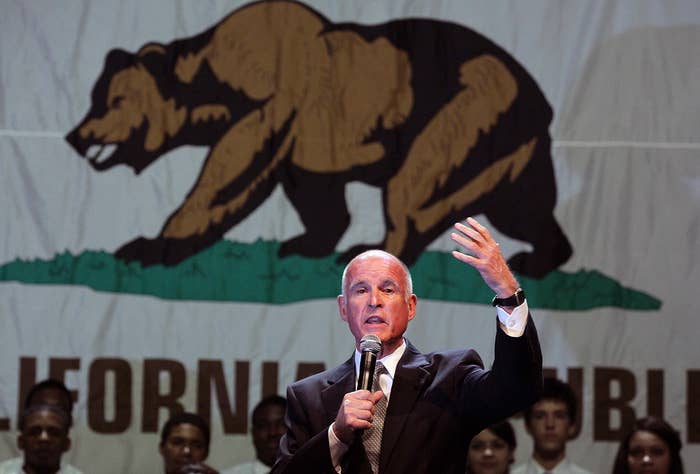 LOS ANGELES — During the 17 days the federal government was shut down in Washington, D.C., California Gov. Jerry Brown signed 363 bills into law. That's 273 more pieces of legislation than President Obama has signed in all of 2013.
"While Washington waffles on immigration, California's forging ahead. I'm not waiting, " Brown said when he signed legislation limiting how long detainees believed to be in the country illegally can be kept in jail for minor offenses.
It was one in a package of a dozen bills related to immigration policy that was passed. "I'd say in terms of a package, it was not like anything I've seen before," Reshma Shamasunder, executive director of California Immigrant Policy Center, said. The Los Angeles Times called it a "milestone."
California's long been known as a national leader, though not always for the right reasons. "Three years ago, California was called a failed state. Not once, many times," Brown said Thursday at the 10th anniversary conference for the Center for American Progress. "They were basically chortling." But today, no one's chortling.
While Washington, D.C., is characterized by gridlock and viewed by the public with near-record levels of mistrust and disapproval, Sacramento is in a period of productivity. It helps that California has some advantages the federal government doesn't: Gov. Brown is the longest serving governor in state history, with a Democratic supermajority in the legislature, opposed to President Obama, who had two years experience in the U.S. Senate before running for president. Obama also must work with a Congress flooded by freshmen Tea Party Republicans determined to thwart him at every turn.
Brown has served as governor for more than ten years cumulatively. He was first in office from 1975 to 1983, and reelected in 2011. In between, he ran for president and U.S. Senate, served as state Democratic chair, the mayor of Oakland, and California's attorney general.
"There's no question that Brown's previous experience in office, not just as governor, has served him very well," said Dan Schnur, director of the Jesse M. Unruh Institute of Politics at the University of Southern California. "A lot of the things that he was criticized [about] in his first term as governor, I think he's addressed. His time in local office has seemed to ground him."
In November 2012, state elections brought a new class into the legislature. Thirty-eight new members were elected to the State Assembly, the largest freshman class since 1934, and they're also overwhelmingly Democratic. A supermajority in both chambers allows Democrats the power to raise taxes, override vetoes and propose constitutional amendments to voters without consulting Republicans. It's a problematic precedent for those who say the two-party system is needed to keep parties in check.
"You don't need a single thing from the Republican caucus," said Democratic consultant Sean Clegg.
Brown's experience combined with the Democratic legislature has helped the governor tackle the state's problems, Clegg said. "He has been an extremely effective governor. I think probably the most effective California governor since his dad."
Clegg noted the Democrat's majority is "hanging by a very tenuous thread," but said, "Democrats have been very conscious of not committing overreach of their supermajority. ... The burden's on Democrats to show that government can be effective."
Ironically, Democrats have a Republican to thank in part for their gains.
Republican Gov. Arnold Schwarzenegger pushed for two election reforms late in his term that have benefited Democrats. In 2008, he supported a voter-approved proposition which took away politicians' power to draw their own electoral boundaries, and gave it to a citizens' commission. In 2010, a proposition he wrote which created open primaries, enabling voters to vote in both Democratic and Republican primaries regardless of party affiliation, was passed.
"These two reforms were passed near the end of his governorship," said Adam Mendelsohn, Schwarzenegger's former deputy chief of staff. "Gov. Schwarzenegger put all his capital and energy into these."
Mendelsohn said he sees the two reforms as some of Schwarzenegger's greatest legacies, and something he was especially qualified to accomplish because of his position as a moderate Republican willing to take on both party establishments.
"There is no institutional support for election reform," he said. "When you're disrupting the status quo, you're taking on the establishment."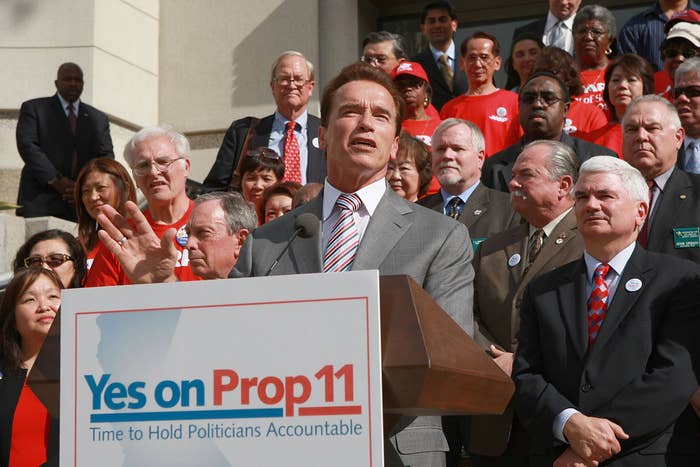 The redistricting effort was opposed by the state Democratic party, Sen. Barbara Boxer and House Speaker Nancy Pelosi, who feared it would give a disproportionate amount of power to Republicans. Supporters included eBay CEO and future Republican gubernatorial candidate Meg Whitman, who donated $200,000, and New York City Mayor Michael Bloomberg, who donated $250,000.
Ultimately, the proposition eked out a victory at the polls, with just over 50% of voters voting yes. The proposition for open primaries passed with a slightly higher percentage of voters voting yes, about 54%.
Mendelsohn said it's too early to know the full impact of the election reforms, but for now, they seem to have contributed to a more moderate California.
The changes make it harder for far-left or far-right politicians to be elected, said Dan Schnur, the USC Institute of Politics director, because candidates can no longer rely on pandering to their base to win primaries. And both Democrats and Republicans were able to work across party lines in the most recent legislative session without fear of retaliation from voters. "Neither group sacrificed their basic ideological principals," he said, but, "It gives them the opportunity to reach out across party lines and cooperate."
Schnur pointed to 39 bills identified by the California Chamber of Congress to be "job killers" as evidence. "Thirty-eight of the 39 job killer bills didn't pass, and that's not because Republicans stopped those bills — they can't — that's because of a bloc of moderate pro-business Democrats," he said.
California's redistricting and primary methods have attracted attention from other states. Activists in Ohio, Oregon, Utah and Virginia are working to enact similar measures, according to the Los Angeles Times.
"California's always been a political and policy laboratory for the country," Schnur said. "Given the sheer size of the state, it's no surprise that new policy that's implemented here will send a message to the rest of the country, for good or for bad."