The Angry Black Woman Must Die
From Sandra Bland to Nicki Minaj, the racist archetype is used to silence women, and worse. But for how much longer?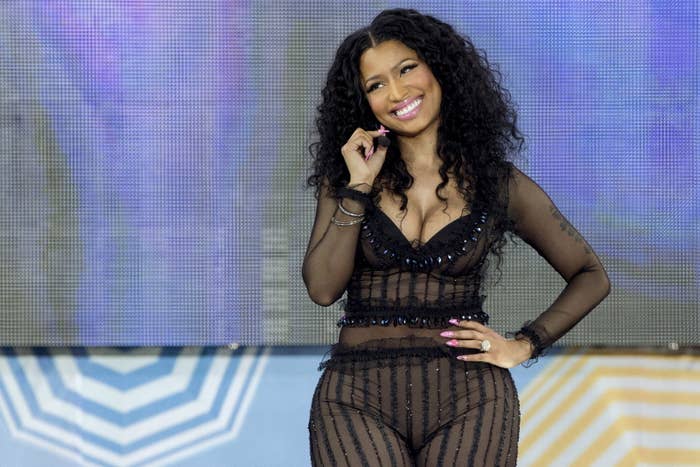 As a black woman in public, I'm hyperconscious of my actions, tone, and words out of fear that I might seem too angry. Whether I'm making a suggestion to a customer service representative or telling the waiter he forgot a part of my order, I ask myself: Am I being the Angry Black Woman?
If black women aren't characterized as hypersexual, man-stealing jezebels, or docile mammies with unlimited care to give our white employers, we're the choleric group known as the Angry Black Women. Finger-snapping, antagonistic, and assertive, the Angry Black Woman is one of entertainment's most reliable tropes: the short-tempered black girlfriend who emasculates her man for the audience's delight — with minimal consideration for how this archetype impacts actual, living black women.
But the Angry Black Woman shows up in the news as well. Two weeks ago, a 28-year-old black woman named Sandra Bland died in police custody after telling an officer she was "a little irritated" during a needless traffic stop. A week later, news outlets cast Nicki Minaj as the aggressor in Taylor Swift's one-sided Twitter argument with the rapper. Two trending news stories — one tragic, the other trivial — showed how the fictional trope of the Angry Black Woman colors white Americans' interactions with real black women. Bland's death is a chilling reminder that, all too often, the imagined predisposition of black women has deadly consequences. And in both stories, the Angry Black Woman narrative quickly unraveled, suggesting white authority can no longer count on the trope to explain away the systematic mistreatment of women of color. We see it, we're identifying it, and we're not having it any longer.
As far as unflattering archetypes go, the Angry Black Woman is a relatively young one. She's sometimes referred to as the Sapphire, after Sapphire Stevens on Amos 'n' Andy, a radio and television minstrel sitcom popular from the 1930s to 1950s. Set in black Harlem — and written by two white men — Amos 'n' Andy calcified many stereotypes about the African-American population, including the shrewish black wife. In an early episode, Sapphire's husband, Kingfish, discreetly applies for a job in her name. Sapphire receives the offer letter and — none the wiser — considers taking the position. But not before humiliating Kingfish for being "the kind of man" who would want his wife to be a second earner.
Imitations of Sapphire multiplied and evolved to reflect the modern black woman— self-sufficient and self-reliant to a fault. Today's Angry Black Woman is bitter and wrathful: Debra Wilson as a mouthier Samantha Stephens in MadTV's black spoof of Bewitched, Be-Bitched; the character Kenya in Something New; Angela in Why Did I Get Married; Taraji P. Henson's "Lauren" in Think Like a Man. Their one-note personalities are mapped onto unscripted women. As the first African-American family entered the White House, the first lady was characterized as angry over and over.
The ubiquitousness of the Angry Black Woman isn't a matter of coincidence or paranoia. Studies indicate that negative racial stereotypes reinforced through media exposure unconsciously influence one's interactions with the stereotyped group. That black woman may have been walking a non-black friend's child home, but all you see is Aunt Jemima. At the same time, studies show that being the subject of a racial stereotype leads to low self-esteem and psychological distress. The repeated imagery of the Angry Black Woman eats away at black women's mental well-being while simultaneously training the white population how to expand the trope's power.
And the fictions foisted upon black women always work to benefit white male supremacy. The jezebel stereotype explained why slave women were eligible for extramarital sex while white women must remain chaste. Mammy suggested that black women enjoyed being domestic servants, and didn't want lives of their own. What purpose, then, does the Angry Black Woman serve?
It seems to me that the Angry Black Woman serves to silence women, and in particular to erase our identification of racism and sexism. Although black women exist at the intersection of these two systems of oppression, black women couldn't possibly be righteously upset about either (or both). We are angry because it is in our nature. We are angry without cause. When 16-year-old Amandla Stenberg, a teenage actress known for her role in Hunger Games, explained how Kylie Jenner's braids exhibited the theft and commercialization of black culture, Twitter users told her she was too angry. The trope doubles as an accusation; our opinions are irrational because they're rooted in emotion.
In 2014, Minaj released "Anaconda" to record breaking views online, and collaborated with Beyonce on "Feeling Myself." Both music videos — and the feminist messages therein — impacted pop culture for months to follow, but neither video was nominated for MTV's Video Music Award for video of the year. Talking to her Twitter followers, Minaj called it like it is: Black women who contribute exponentially to popular culture are never properly credited. A white reporter ran the numbers and confirmed her claim — the work of women of color is consistently snubbed at the VMAs and various other award ceremonies. But Minaj's own analysis of industry racism was nearly drowned out as a flood of images depicting an angry Minaj appeared on social media, illustrating her "attack" on a sweet Taylor Swift.

If racial stereotypes and racial discrimination are mutually reinforcing, it will be important to dismantle the Angry Black Woman trope in popular culture. That's where the next generation will either learn to dehumanize black women by making anger their identity, or learn that anger is an emotion that, among others, all humans experience. To that end, it matters that Nicki Minaj refused to let media outlets write off her criticism as innate fury.
But worse than silencing women, images of the Angry Black Woman have colluded to engineer the perfect target for violence: too crazy to be believed, angry enough to justify physical retaliation. In the initial reports of Sandra Bland's arrest, Officer Brian Encinia deemed Bland "combative and uncooperative" during her arrest. The Angry Black Woman narrative was more believable before a dashboard camera video of the events was released.

In the footage, it's Encinia who seemed exceedingly on edge, because Bland was smoking a cigarette (legally). Bland was not silent or submissive — and that alone was enough to merit violence, and detention. This is what makes received wisdom about black womanhood so dangerous: It's already accepted without any substantiation. Wrongfully detained — and later found dead — Bland never had a chance to prove the stereotype incomplete. If the Angry Black Woman trope doesn't silence you, it'll kill you.
Huda Hassan is a writer and researcher based in Toronto. A second-generation Somali-Canadian, her work focuses on identity politics, diaspora, culture and community.

Contact Huda Hassan at hudamina@gmail.com.

Got a confidential tip? Submit it here.