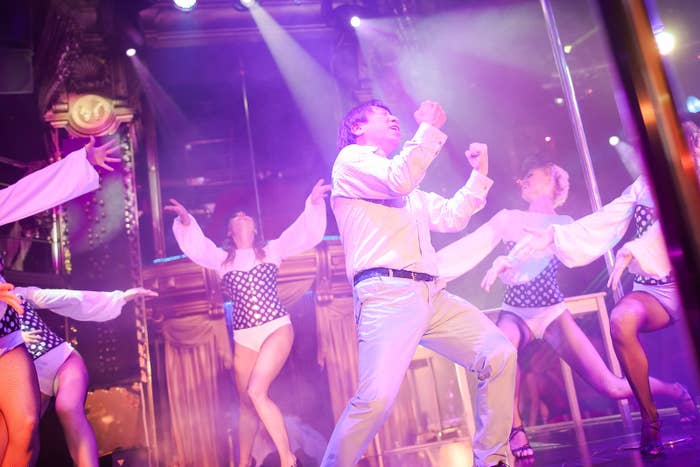 MOSCOW — Strip club owner Lucky Lee needed a plan. A plan that would in one fell swoop mend relations between the United States and Russia, head off the risk of a nuclear confrontation, and save his failing businesses.
"When I got the feeling I was the person who needed to tell the world the truth ... I began to think about how I could do it," Lee said.
But his business experience — first in banking and then running strip clubs — gave him few options. "The only thing I can do is put on erotic cabaret shows," he said.
So that's what he decided to do.
Lee says he is investing more than $1 million to stage a musical in New York called The Beast and the Beauties. The show, which will run for one night only, October 16, is based on the story of Lee's life. He will take the starring role and be accompanied by 15 strippers — some employees of his, some hired specially for this performance, he says. (Neither he, nor the women onstage with him, will bare all for the New York City audience, thanks to local ordinances.)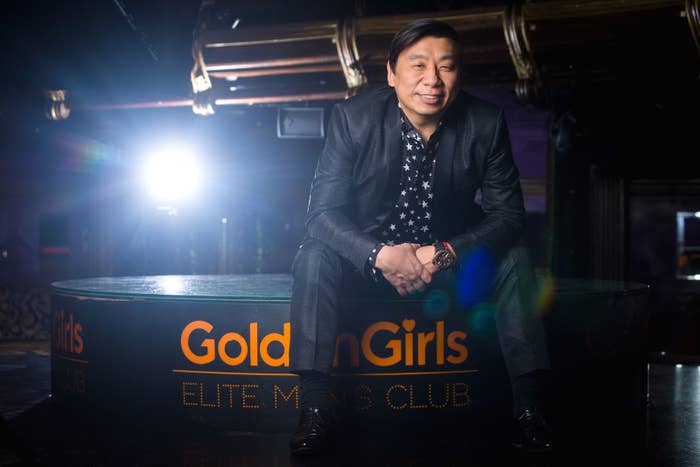 The point of the Sunday night performance: bring peace to the world by ending a political standoff between Moscow and Washington. Or at least that's what Lee says the point is.
"We want to show the audience that we, Russian people, are not monsters. We are not mutants. We don't want evil. We don't want to wage war," Lee said in an interview in Moscow. "Nobody speaks out for peace. I am the only one who can speak out. … I have an open, kind heart and I sincerely want to save the world."
Relations between the US and Russia collapsed during the 2014 Ukrainian crisis and reached new lows in recent weeks as cooperation over attempts to resolve the civil war in Syria fell apart. And Washington last week accused Moscow of using hackers and leaked emails in an attempt to influence the outcome of next month's presidential elections.
Lee sees his erotic musical as a peacemaking effort in line with stunts by ordinary people in the 1980s that helped end the Cold War. He compared himself with US swimmer Lynne Cox, who swam across the Bering Straits from the US to Russia in 1987, and Mathias Rust, a German pilot who landed a light aircraft on Red Square in the same year. Lee's team already sent a group of girls ahead to New York, where they dressed as tanks with flowers in the barrel to the probable confusion of several tourists.
During a recent rehearsal of The Beast and the Beauties in Moscow, performers mouthed along to a recording of their songs and lines. (That won't change during the show's actual run — the entire English production will be performed as a lip-sync.) Most numbers appeared to involve the strippers writhing around Lee, whose singing and onstage persona suffer in comparison with the professional dancers. It was hard to determine precisely where the theme of "world peace" comes through, aside from the insistence of Lee and his supporters.
"Why do people want to watch things about war and conflict? Why can't they watch things about peace and love? Why can't it be interesting? I think we've reached the hour and the time for change," said Yulia Riotova, a trained acrobat and Lee's fiancé, who will play herself in the New York show. She met Lee in Macau in 2014 while she was performing in Chinese nightclubs.
To rustle up interest, Lee said he had invited prominent US and Russian celebrities and politicians to attend the spectacle, without going into details about just how he'd reached out to them.
At the top of the list are presidential hopefuls Donald Trump and Hillary Clinton. Lee has differing assessments of whether they will turn up.
"Hillary Clinton and an erotic musical. Incompatible things. But for peace she could come. For peace!" he said. Trump's background apparently means it is more likely he will show up. "I hope that Donald Trump will come because from the first he has been involved in women and close to our format," Lee said.
Others Lee says invited to the show include last leader of the Soviet Union Mikhail Gorbachev, film director Oliver Stone, television hosts Larry King and Oprah Winfrey, actor Tom Cruise, and Playboy magazine publisher Hugh Hefner.
None of the celebrities have responded to the invitation, Lee said.
Before moving into Russia's strip club business, Lee worked in banking. His last finance job was as an adviser to the president of Russia's Probusinessbank, which last year was stripped of its license by the authorities because of huge losses.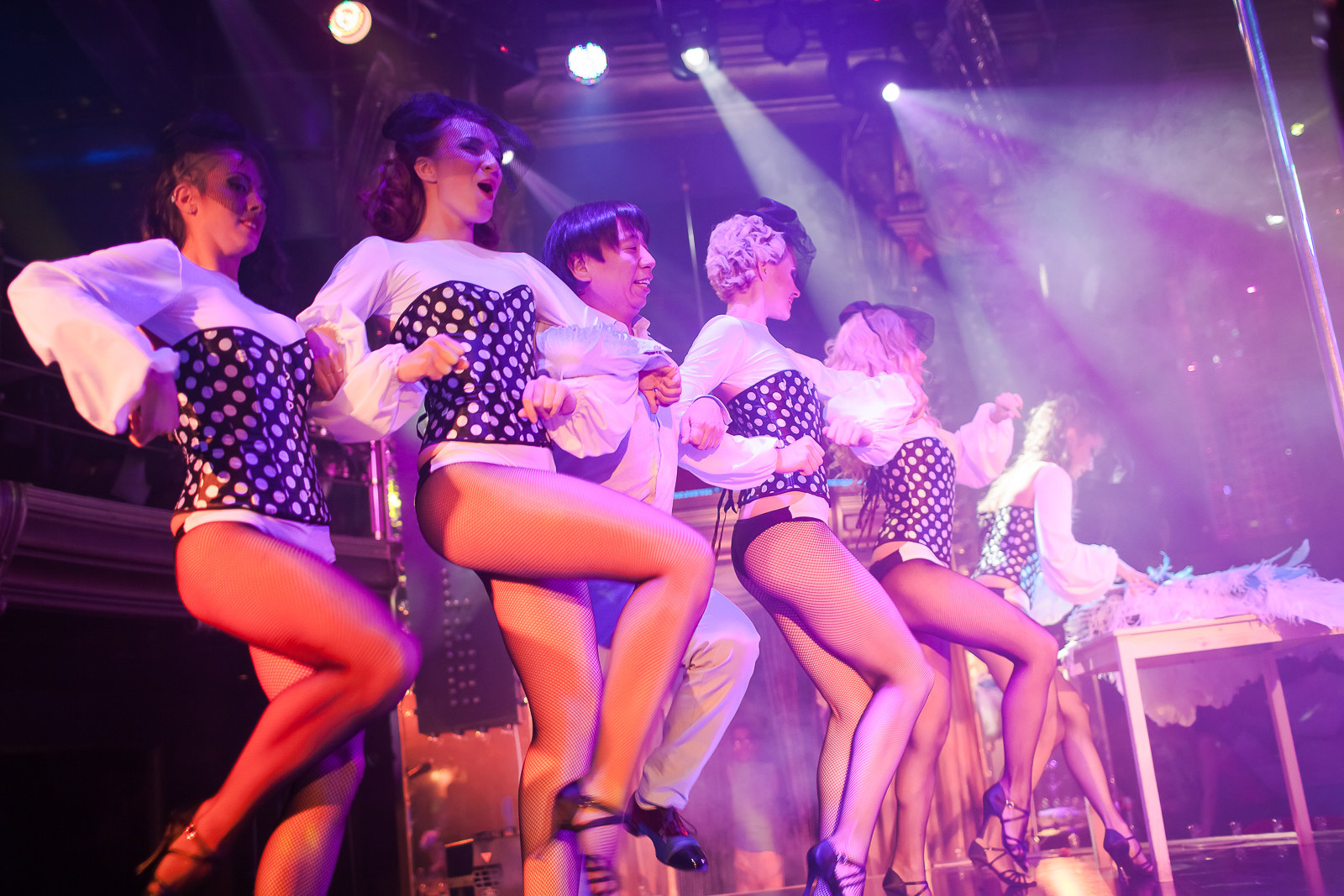 Lee changed his first name from Sergei to Lucky after he moved to Moscow in the 1970s. He opened his first strip club in 2005, a venture he insists isn't exploitative.
"Striptease is my self-realization," said Lee. "I don't use half-naked women. I don't exploit women. I don't have a bordello. I have the sort of show that allows women to open up. How? As mature girls. As sexually attractive. As a woman who can enchant a man, as a woman who can inspire him, lend him wings, and give him energy."
Lee said he also has a financial reason for investing over $1 million in The Beast and the Beauties. His striptease businesses are losing money and he will be forced to shut down if there is not an economic turnaround.
Under the weight of low oil prices and Western sanctions, the Russian economy is currently suffering its longest recession in two decades. "The whole country is in the same situation," said Lee. "Everywhere businesses are closing."
If he is successful and manages to mend US-Russian relations, Lee said, it will mean the Russian economy will recover — and the fortunes of his business will also revive. "Better to invest this million in something that can cardinally change the situation for everyone," he said. "Not just for my club."
But it is the broader goal of peace that Lee said is most important for him. The musical has actually caused some of Lee's friends to desert him, Lee said. Many were put off by the apparently political nature of the project.
He recently went to Russia's lower house of parliament, the State Duma, wearing T-shirts advertising his project, he said, but did not receive a warm welcome.
"Lots of people tell me that I am crazy," he said.