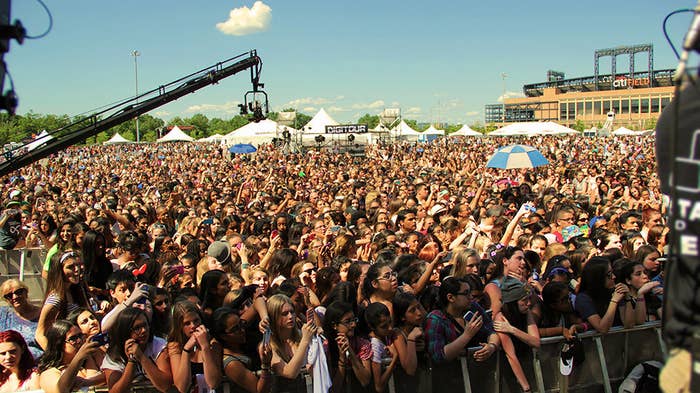 When young YouTube celebrities like Jenn McAllister and Ricky Dillon started posting videos online a few years ago, they didn't expect they'd end up touring the country. But that's just what they're doing.
There's something a little strange about web video stars, whose fame was made possible by the intimacy and immediacy of online media, going on pop-star-style, highly-produced live tours in cities around the world. But the tours are wildly successful, both in number of tickets sold and in volume of screaming fans.
So expect to see more of them.
For the past few years, social media stars have taken the stage at events like Playlist Live and Vidcon, large conventions that like Comic Con feature a mix of panels, Q&A's, and meet-and-greets, for a combined audience of fans and industry insiders. But more recently, tour producers and talent managers are focusing their efforts on concert-like events targeted specifically to fans.
In the next year, DigiTour, a company that produces live events featuring social media stars, will put a new tour on the road every other month, according to its CEO. This year, the company has sold 125,000 tickets, and expects to sell as many as 300,000 next year. Given those metrics, others are beginning to follow the lead: Fullscreen, the multi-channel YouTube network that announced its sale on Monday to AT&T, hosted its first concert-style event, called Intour, in Pasadena earlier this month and was able to nearly fill a 3,000-person convention center.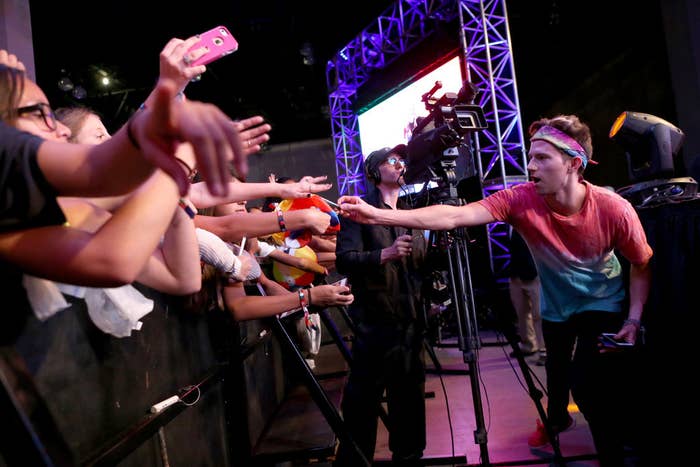 Four and a half years ago, DigiTour CEO Meridith Valiando Rojas had the idea to put YouTube personalities on tour when she was managing artists at Columbia Universal. Promoting new artists was a challenge — they needed both social media promotion and a physical tour.
That gave Valiando the idea to combine the two and take YouTubers on tour. YouTube was on board almost immediately, signing on as the title sponsor of the company's first tour in 2011. "They see us as a benefit to the ecosystem because we give their creators the opportunity to make more money," Valiando said.
For many YouTube creators, tours like these have become a key source of income. The companies, which are private, wouldn't say exactly how much stars are paid to perform at these events, but headliners on Digitour are able to negotiate deals where they become minority partners in the event. Valiando says, "It'd be hard for them to find a better deal."
The events are also important for brand-building. Although many YouTubers have built their relationships with fans largely from the comfort of their bedrooms, they say that the tours promote a similar intimacy.
"They're important for me to go to because I think it's a way to interact with my fans, it's a good way to get off the screen and break that wall," said Jenn McAllister, an 18-year-old whose JennxPenn YouTube channel has over 1.5 million subscribers. "When we go to an event like this it puts a face to the numbers we see online."
One challenge, though, has been figuring out what exactly to do at these events. Many of YouTube and Vine's most popular stars are not stage performers in the traditional sense. While some do sing and dance on professional level, many others are beloved for being relatable and funny and for sharing their day-to-day lives, which can be a challenge to translate to the stage.
As a result, tour organizers have brought in experts — from choreographers to improv experts — to create more sophisticated, entertaining shows. At the recent Intour event, for example, Dan Rosen, who manages talent at Fullscreen and produced Intour, helped set up talent to work with sketch comedy and improv experts from Second City to put together a lip-synch battle and a riff on musical chairs.
"We really wanted to build an event that was more than taking a selfie on the stage," Rosen said.
Or, as Ricky Dillon, a 22-year-old YouTuber who performed at Fullscreen's Intour and has spent timing touring with DigiTour, put it, "like a YouTube video in person."