Hi, Another mystery for me.

Do I have Twitter ? Should I have this account ? If so what is it for ? How do I set it up ?
Thanks Grandpa
That was the email I received on the afternoon of Sept. 14 from my grandfather. He was forwarding a message he'd gotten from Twitter, where he has an account that he doesn't often use. But he wasn't content to let the email sit there filed away. He demanded to understand and remember why and how he ended up with a Twitter account, and what he might use it for.
My grandfather, who will turn 98 next month, has taken this approach to computers and the internet since we got him a Mac at some not-agreed-upon date in the '90s: one of relentless curiosity and unabashed questioning.
As a result, he's actually really good at the internet.
In addition to Twitter, my grandfather, who now uses a Mac in my father's old bedroom in his house just north of New York City, has also had accounts on Facebook and Blogspot, where for a time he shared his thoughts on global oil prices. Together, we've used Google Maps to identify his grandmother's house in a tiny German village where he spent summers as a kid. On Ancestry.com, we dug up the passenger list of the ship that brought him to New York in April 1937, a flight manifest for a Pan-Am flight he took in the '50s, a copy of the form announcing his naturalization as a U.S. citizen.

When I tell friends that email is the way I most frequently communicate with my grandfather, a man who was born in the middle of World War I, they're often shocked. But his use of the internet is, at its core, not all that different from mine — he may use an extra-large keyboard while I type furiously on an iPhone, but his frustrations are often the same: forgotten passwords, buggy apps, trying to remember what you googled to find a specific article. We both resisted updating the latest Apple operating system for much longer than we should have.
And, like any good troubleshooter, he's glad when a bug is resolved. On Oct. 13, 2011, he wrote:
Hi, Happy to report that my "send" button on the computer is working again Love Dad Grandpa
Most emails aren't so short — they're often lengthy examinations of a topic I know he's genuinely and deeply intrigued by. Most recently, these have included the history of the Crusades, research into genetics, and occasional articles from the the New York Times (with instructions that the story can be found on page A5). A look through my archives has emails with the following subject lines: "Facebook," "Snow Storm," "My Life Story," "Your Email Dated 3/15," "Google," "My Printer," and "My Resume Dated 1982."
The emails are a way of keeping in touch, but not sharing what you had for breakfast or how a certain doctor's appointment went. Like an online native, he knows too much small talk always feels awkward on the internet.
This is all to say that the internet isn't a novelty to my grandfather — he's used it roughly as long as I have, and he doesn't shake his head or throw his hands in the air at the mention of a new app. Instead, he focuses his attention on different concerns: How do online publications make money? What's your website's audience demographic? He may forget exactly what Twitter does, but his questions about the various online publications for which I've worked are, for the most part, more incisive than those from people half or a quarter of his age.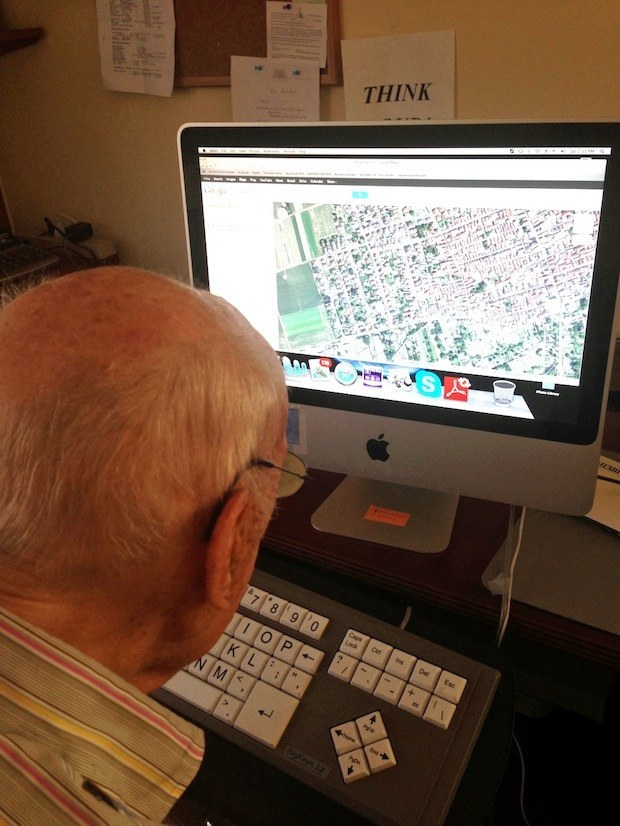 Though the internet has been confusing for him at times (hasn't it for all of us?), embracing it has paid some unexpected dividends. In 2010, my grandfather received a Facebook message from a woman who was currently a teacher at Kreuzgasse, the grade school he had attended as a boy in Cologne, Germany, in the 1920s and early '30s. With her students, the teacher explained, she was putting together an exhibit about what had happened to the school's Jewish students during the Nazi period. The list of Jewish students was very short, and when my cousin set up my grandfather's Facebook page, they had listed Kreuzgasse under the "Education" part of the profile. The teacher, Silke, found a "Kurt Reinsberg" on Facebook and sent a message — and was surprised when she received a reply. A few months later, we set up a Skype video call with Silke that lasted almost three hours.
My grandfather left that school in the mid-1930s, at his own insistence. As an only child fascinated with politics and geography, he read all the newspapers he could, and as the political situation in Germany shifted, he began attending rallies and meetings of all sorts — not as an activist, but as an observer. When the regional Nazi leader came to town, he asked a friend — who, as he tells it, only joined the party because of the free horseback-riding lessons it would afford him — if he could sneak him in to see the speech. When the regional leader spoke about the Nazis' impending plans and said there was no future for Jews in Europe, my grandfather went home and told his parents he wanted to move away.
When my great-grandmother went to the school principal, he told her it wasn't a bad idea. From there, he spent a few years on his own at school in Belgium, where he was born, and some time in Amsterdam, until finally securing a ticket to New York in 1937. He showed up with around $30 and a Leica camera.
Life didn't slow down from there: He spent almost a decade living in Mexico, traveled to China in the 1950s, and was at one point the subject of a brief FBI investigation, the details of which he learned about when he submitted a Freedom of Information Act Request for all files pertaining to himself decades later. More of the same relentless curiosity and unabashed questioning.
The internet, so often hailed as a place for the young and endlessly distracted, actually turns out to be a pretty good place for older people. For one, there's access to unlimited information (which pairs well with ample free time). And then there's the ability to keep up with the outside world as it gets harder to go out and see it, and the chance to keep exercising one's brain. But most importantly, it allows one to connect: in my grandfather's case, with schoolkids in Germany and old friends in Mexico and the eighth-grader from down the block whom he pays for computer lessons every few weeks. And of course, his six grandchildren, at least half of whom work in thoroughly internet-era careers. How many nearly 98-year-olds do you know who are aware of the mobile advertising industry?
For my part, I've realized that the internet is a pretty great place to leave a legacy. Photo albums are great, but emails can really tell you who someone one is. I think I'll also file away my grandfather's emails for the next generation.