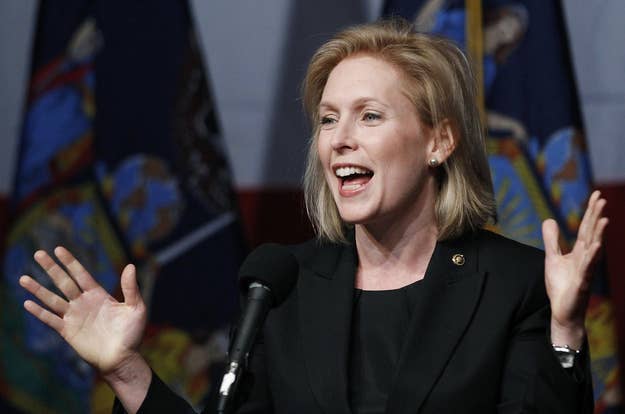 Senator Kirsten Gillibrand, Hillary Clinton's protegee and replacement in the Senate, says she'll ask the Secretary of State to run for President in 2016.
Gillibrand's comment, in an interview with BuzzFeed Shift, makes her the highest profile voice yet to speak out in support of a return to politics for the former First Lady and Senator. Clinton aides say the Secretary of State hasn't signaled a decision about her political future, but she has hinted that she will leave her current office after the upcoming November 2012 election. But Gillibrand's words suggest that the prospect of a second Clinton campaign are very real.
"I'm going to be one of the first to ask Hillary to run in 2016," Gillibrand told BuzzFeed, saying she "certainly hope[s]" Clinton will run for president.
"I think she would be incredibly well-poised to be our next Democratic president," Gilliband said. "I think she's extremely well prepared. I think her experience as Secretary of State has not only elevated her stature and experience, but she's proven she's someone who can get things done and I think she'd be an outstanding candidate."
Other Clinton advisers have suggested they expect a 2016 campaign.
"I always assume that if people run, they will run again," former Bill Clinton aide James Carville said recently.
Gillibrand is a member of the extended Clinton political family, and her comments are a signal of how seriously well-informed insiders are taking the prospect that Clinton is seriously considering another try at being the first woman president, a role for which Gillibrand's own name is occasionally floated. Gillibrand's words also a rebuke to her own governor, Andrew Cuomo, who also appears to be positioning himself for a future White House run.
In the interview, Gillibrand described Clinton as her political role model.
"When she was the first lady, she went to China and she made her famous speech about women's rights where she said women's rights are human rights and human rights are women's rights. It really inspired me to get more active in Democratic politics," she said. "I thought, if wanted to ever be on that stage with her, I'd have to get involved in politics."