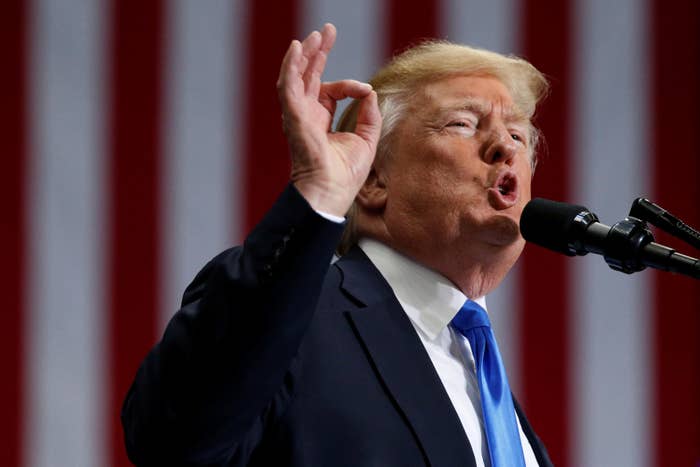 YOUNGSTOWN, Ohio — President Trump took his fight to a place that might appreciate it.
This is a city where boxers like "Boom Boom" Mancini became celebrities. One clothing company sells T-shirts with "City of Champions" and a pair of boxing gloves screened across the front. Another was launched on the mantra "Defend Youngstown." Even through bad times, locals have proudly boasted: "Ytown is my town."
And for a few hours here Tuesday, a Washington spectacle largely of Trump's own making — his very public flogging of Attorney General Jeff Sessions, combined with a crackdown threatened by his new communications director — was behind him.
Trump even had a bit of good news to share: Debate over a health care deal he has been unable to close would continue, thanks to Vice President Mike Pence's tie-breaking vote in the Senate.
"Finally," Trump told more than 7,000 fans packed inside the Covelli Centre, a downtown arena that this weekend will host the WWE SummerSlam Heatwave Tour.
"You think that's easy? That's not easy," Trump said of health care. "We're now one step closer to liberating our citizens from this Obamacare nightmare and delivering great health care to the American people. And now tonight, I'm back in the center of the American heartland, far away from the Washington swamp, to spend time with thousands of you American patriots."
There are worse places for him to fish for compliments than the Mahoning Valley. This shrunken steel-making metropolis that encompasses Youngstown and Warren is his kind of comfort zone — a region rich in frustrated blue-collar voters who helped carry him to victory in neighboring Pennsylvania and the industrial Midwest.
Even long-empowered Democratic leaders here agree Trump has forged a legitimate bond with Valley voters. He reminds many of the region's irreverent former congressman, the late Jim Traficant, a populist firebrand who by the end of his career was a Democrat-in-name-only and headed for federal prison on racketeering charges. But for years Traficant commanded folk-hero status by bringing home pork for projects that had the locals convinced better times were just a shiny new downtown building away. (It was Traficant, for example, who fought for and won the money to build the arena where Trump appeared Tuesday.)
Only criminal conviction and congressional expulsion could turn Valley voters against Traficant. Even then, in 2002, Traficant took 15% of the vote while running as an independent from his jail cell.
But there's a bit of a lesson in that. Political watchers on both sides say voters here will judge Trump similarly: by results.
On a conference call Monday hosted by the liberal Center for American Progress, Democratic Rep. Tim Ryan, a one-time Traficant intern who succeeded his former boss in Congress, acknowledged that he doesn't see Valley voters "fleeing from [Trump] just yet." But he believes they'll be skeptical.
"In our community, where President Trump has spent a lot of time over the last year," Ryan said, "we judge people on whether or not they have delivered on the promises they have made."
Rep. Jim Renacci, a Republican who represents a nearby district, agreed that Trump must produce. But the congressman, who is running for governor in a competitive primary and hopes to win the president's endorsement, put the blame on his colleagues in Washington.
"He ran on a platform of jobs," Renacci told BuzzFeed News while waiting for Trump to arrive at the rally. "He ran on a platform of tax reform. He ran on a platform to repeal and replace Obamacare. He ran on a platform of infrastructure. He's talked about all of those things. He wants to get all of those things done. He's got to get Congress to start working with him. To get Congress to work with him, he's got to get the people to start pushing them."
There's no guarantee, for instance, that the health care bill will ever reach Trump's desk. Two hours after Trump spoke, the Senate voted down one version of it — with nine Republican defections.
Later in his remarks, Trump issued a veiled threat to such Republicans who could prevent Congress from repealing former President Obama's health care law: "Any senator who votes against repeal and replace is telling America that they are fine with the Obamacare nightmare, and I predict they'll have a lot of problems."
Still, it was an ideal night for Trump in Ohio. Trump didn't win Youngstown, or even surrounding Mahoning County, last fall. But he came closer than anyone expected. Democrat Hillary Clinton squeaked by with 49.87% of the vote in a county that hasn't supported a Republican for president since incumbent Richard Nixon in 1972. And he won the once reliably blue Trumbull County, which includes Warren. People here still brag about his visit to last year's Canfield Fair, a cultural touchstone in the region.
"Everyone is excited there is a fighter in Washington," Mahoning County Republican Party Chairman Mark Munroe told BuzzFeed News in a telephone interview. Trump, he added, is "in a bar fight. And you know sometimes it's not pretty. It gets ugly sometimes. It's nasty. It's tough. But it is a fight. It's not just Trump against the Democrats — it's Trump against Washington."
These are the voters Trump must add to and keep in his coalition if he wants a second term — hence the supersize campaign stop barely six months into his first. Mixed in with Trump's repeal/replace sales pitch Tuesday were staples of his 2016 stump speech.
Those in the crowd — quite a few of them wearing Trump's red "Make America Great Again" ballcaps — rewarded the president with loud chants of "Drain the swamp!" and "Build that wall!"
Trump spoke of his young presidency in grand terms, musing that he could be, "with the exception of the late, great Abraham Lincoln ... more presidential than any president that's ever held this office." He wondered aloud if his likeness would ever grace Mount Rushmore, then quickly predicted the media would overblow what he passed off as a tongue-in-cheek comment. At times, when Trump complained about reporters, cries of "Fake news!" and "CNN sucks!" erupted.
At least two protesters were ejected, and Trump and his supporters reacted with glee.
"He's a young one," Trump said after security escorted a young male waving an old Soviet flag out of the stands. "He's going back home to mommy. I'll bet his mom voted for us, right?"
And the crowd went wild.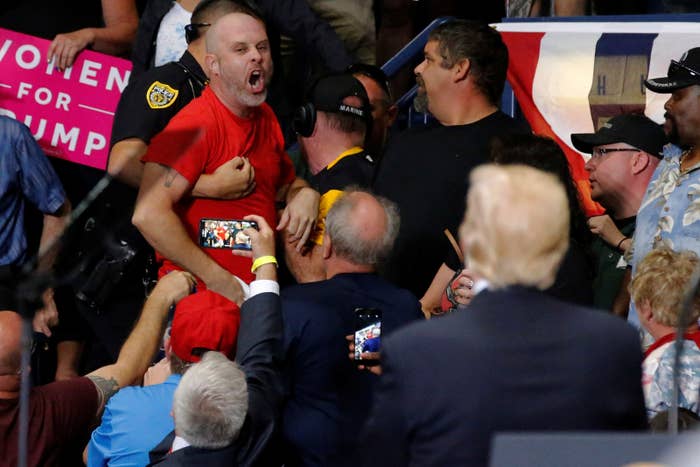 At another point, Trump, whose cable news-watching habits have been well-documented, invited on stage a supporter he said he had seen on Fox News.
"This is Youngstown, Mr. President," said the supporter, whom Trump identified as Geno DeFabio. "But this is also the Steel Valley. Every one of these people love you, sir."
The area has tried to move on from steel. The mill jobs that once made Youngstown hum have been mourned for decades, with many hopeful they will one day return. Trump, who during his campaign vowed to lead a resurgence of America's steel industry, had the city on his mind last month when he announced the US would withdraw from the Paris climate accord.
"It is time to put Youngstown, Ohio, Detroit, Michigan, and Pittsburgh, Pennsylvania — along with many, many other locations within our great country — before Paris, France," Trump said then.
The shout-out pleased plenty of Valley residents. But the suggestion that environmental standards were holding back Youngstown annoyed Ryan and other civic cheerleaders. In 2013, Obama gave State of the Union kudos to the city for helping to foster the emergence of 3D printing technology. ("These coal mines aren't opening back up; these steel mills aren't opening back up," Ryan said Monday.) And Trump hasn't been as vocal about a shift cut at the area's dominant employer, a General Motors plant that straddles Mahoning and Trumbull counties.
"He's coming back to Youngstown because he's really good at the marketing piece, and he's not good at the delivering piece," Ryan said on Monday's conference call.
For now, though, the marketing matters. Tuesday was proof that many here are still enjoying the show.