Alabama Republicans Will Pick Between Roy Moore And Luther Strange In Senate Runoff
A political marriage of convenience between President Donald Trump and Senate Majority Leader Mitch McConnell helped Luther Strange make it to the next round.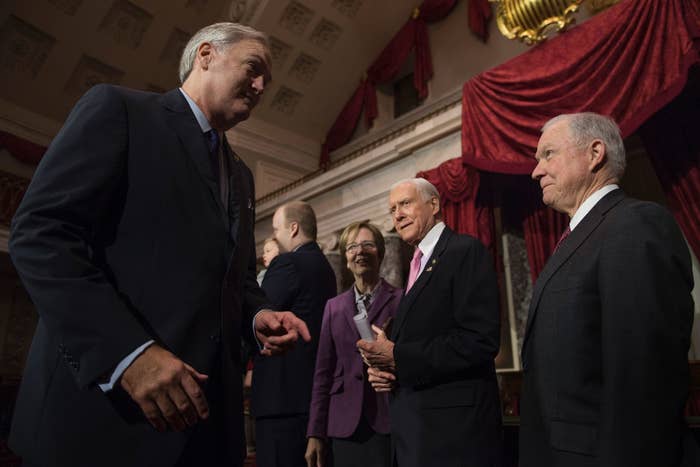 President Donald Trump and Senate Majority Leader Mitch McConnell, who have feuded over the failure to pass a health care bill, were a united front in Tuesday's special election in Alabama.
Both want appointed incumbent Luther Strange to keep Attorney General Jeff Sessions' old Senate seat. And their efforts helped Strange secure second place and emerge from a nine-candidate primary.
But Roy Moore, the former chief justice of the Alabama Supreme Court, was poised to finish first — short of the 50% threshold he would have needed to head straight to the December general election. Moore and Strange now will compete one-on-one in a September runoff.
Going into Tuesday, the suspense centered on whether Strange could clinch the second spot — polls showed Moore in the lead, but below 50% — despite the presence of a third prominent candidate: Rep. Mo Brooks.
On the Democratic side, former US attorney Doug Jones won his party's nomination outright after leading a seven-candidate field.
For all the talk this year of House races in Kansas, Montana, and Georgia being referendums on Trump — Trump-backed candidates won all three — the Alabama race is a test of something different: Can a political marriage of convenience between Trump's anti-establishment brand and McConnell's insider brand ultimately produce a winner?

A super PAC aligned with McConnell has spent about $4 million to boost Strange. Trump joined the fray in the closing days, tweeting out his surprise endorsement of Strange last week — some expected he would stay neutral — and taping a Monday robocall. A Trump-approved super PAC also has chipped in with a $200,000 digital advertising push.
"Senator Strange has already proven himself to be the best possible candidate in this race to stand beside our President and make America great again," Erin Montgomery, a spokesperson for America First Action, said in an email announcing the pro-Trump group's support.
Moore and others discounted the significance of Trump's endorsement. "I think the people are not voting for President Trump," Moore said last week while campaigning in Montgomery, according to AL.com. "They're voting for his agenda, which I firmly believe in."
Moore has a controversial history nationally: He was suspended from Alabama's state Supreme Court after he issued guidance to probate judges in the state to ignore federal court rulings on same-sex couples' marriage rights. That was actually the second time he was relieved of duty on the state Supreme Court; about a decade before, he was removed after a federal standoff over a monument to the Ten Commandments. His defiance in both cases has earned him admiration on the right. He recently announced endorsements from more than 50 religious leaders.
Alabama is one of the minority of states in which Trump's approval rating is above 50% — and he remains immensely popular among Republican voters who will decide the Senate race.
Strange's allies, laser-focused on Brooks, attempted to paint the congressman as anti-Trump and pro-Nancy Pelosi, despite Brooks's embrace of the president's agenda. The McConnell forces dredged up remarks Brooks made during last year's primaries, in which he referred to Trump as a "serial adulterer."
Brooks also was criticized for airing a TV ad that featured audio of gunshots fired at a baseball practice for congressional Republicans in June. Brooks was on the field at the time of the shooting, which critically injured Rep. Steve Scalise, a Louisiana Republican. The ad reaffirmed Brooks's support for the Second Amendment, even after the attack.
"This makes my stomach turn," Scalise's chief of staff tweeted after seeing the spot.
Strange, Alabama's former attorney general, eventually could pay for his ties to Robert Bentley, the former governor chased from office by scandal and threats of impeachment earlier this year. Critics have questioned Strange's handling of an investigation into Bentley's conduct, and linked it to Bentley's eventual appointment of Strange to the Senate seat Sessions vacated when Trump tapped him to lead the Justice Department.
"I asked the team I put together to follow the truth wherever it led," Strange told the Associated Press this month. "They did. So the governor resigned."
Other Republicans who competed in the Tuesday primary include state Sen. Trip Pittman; Randy Brinson, head of the Christian Coalition of Alabama; and lesser-known candidates James Beretta, Joseph Breault, Bryan Peeples, and Mary Maxwell.
The GOP runoff will be Sept. 26, with a general election between the Republican nominee and Jones scheduled for Dec. 12. Given Alabama's deep-red Republican status, the GOP nominee will be heavily favored.

In another special election contest Tuesday, John Curtis won the Republican nomination to fill the seat vacated by retired Utah Rep. Jason Chaffetz.
Curtis, the current mayor of Provo and a former Democrat, faced an onslaught of attacks from his two GOP rivals, who attempted to cast him as insufficiently conservative, but managed to maintain an early lead in a race that has largely stayed off the national radar. The result makes him the overwhelming favorite to replace Chaffetz, in a district where Republicans outnumber Democrats 5-to-1.
He now goes on to face Democratic nominee Kathryn Allen, as well as several third-party candidates, in November's special election.
Jim Dalrymple II contributed reporting to this story