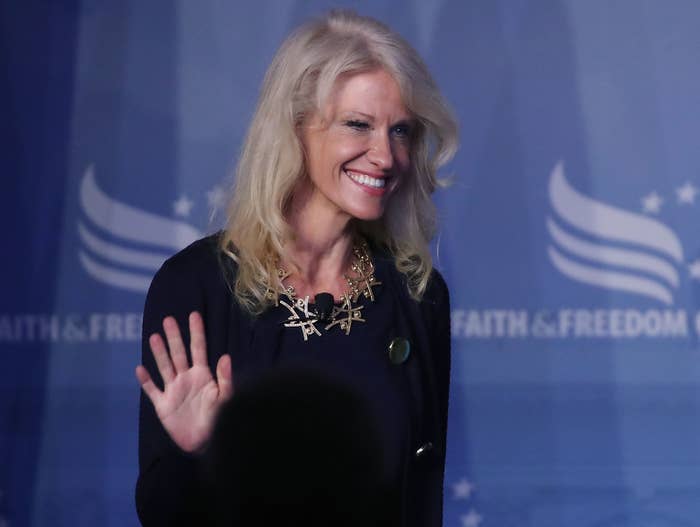 A Wednesday morning shooting at a baseball practice for Republican members of Congress brought an early swirl of confusion — including a well-intentioned but misleading message from White House counselor Kellyanne Conway.
With it came a reminder of the anything-goes social media culture fostered by President Trump, and and of how rapidly the dynamic around information that comes from White House officials (even political ones) is shifting.
"Cong. Scalise and Cong. Williams and our brave wounded Capitol Police are covered in prayer," Conway posted from her Twitter account at 9:05 a.m. ET on Tuesday, about two hours after a gunman opened fire at a park in Alexandria, Va.
Many read her tweet as implying that both congressmen had been hit. Steve Scalise, the House majority whip from Louisiana, had been. But Roger Williams, a Texas lawmaker, only suffered injuries from diving for cover. Soon after Conway's tweet, his office issued a statement clarifying that while Williams was not shot, one of his aides was.
Conway wasn't the only one who got it wrong. At least one media outlet, Fox News, initially reported that Williams was hit. (A reporter for the network tweeted the incorrect information about a half hour before Conway did.) Conway later amended her tweet to include "congressional aides" and noted the reality of "developing stories."
This kind of thing happens a fair amount on Twitter: A prominent person tweets information from a developing story, other people on Twitter caution or debate about initial reports, and then the details sort themselves out as more reports come in. What's different now is that Conway — and others in the Trump orbit — are tweeting independently from the White House, a practice viewed skeptically by former Bush and Obama aides who spoke to BuzzFeed News.
"We would have echoed the sensible comments the president or vice president would have made, and all of those would have been done with the most information available," a Democratic veteran of the Obama administration said. "There is not room for speculation for someone who has a White House [Twitter] handle or for someone who works for the White House."
The former aide observed that Valerie Jarrett, the senior Obama adviser whose office now belongs to Conway, wouldn't likely have tweeted during a news event of this nature. Indeed, Jarrett's tweets from her White House days, now archived, often had a carefully manicured quality to them that sounded formal and planned.
A White House spokesperson declined to talk on the record for this story.

Unlike other Trump aides, and unlike Jarrett, Conway does not appear to have a separate White House account with a disclaimer that "tweets may be archived." Her handle — @kellyannepolls — references her past private sector work as a polling consultant. She is not the only Trump aide who operates this way.
Sebastian Gorka, for example, tweets regularly from an account he set up in 2014 and now uses to defend Trump and promote his own media appearances. Gorka, who advises Trump on national security issues, has come under scrutiny for his reported links to a far-right Hungarian group with Nazi ties. (He has denied being a member.)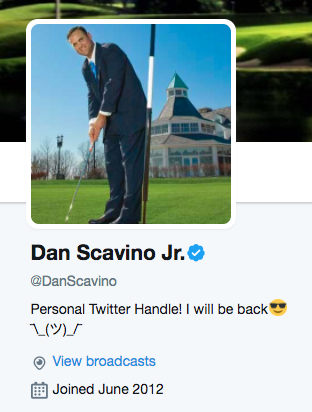 Then there's Dan Scavino, the White House social media director. Scavino recently received a warning letter that he violated the Hatch Act, which prohibits federal employees from using their positions to influence politics, when he used his personal Twitter account to call for a primary challenge to Republican Rep. Justin Amash of Michigan. At the time, Scavino's personal account identified him as a White House official. (The profile now emphasizes that it's a personal account and reads: "I will be back.") Scavino also maintains an official account, @Scavino45.
These high-profile aides are in a sense following Trump's lead. The unconventional president likes to communicate to the public via Twitter, where his posting habits are fast, loose, and quickly covered by the media. He also keeps both a personal and an official Twitter account, although he prefers using the personal one, @realDonaldTrump.
Twitter is relatively new to the political discourse — it went live in 2006, during the latter half of George W. Bush's second term — so there's no fair basis for comparison with, say, the Bush years or even the early Obama years. But experienced White House hands say the fundamentals of communicating accurately and clearly should apply across all formats.
"I think that the Bush team was very, very disciplined about being on message," a veteran of that Republican White House told BuzzFeed News. "There was brand — the brand of W."
The Trump administration, the Bush veteran added, has "their own kind of characters," including Conway and chief strategist Steve Bannon, formerly of Breitbart News. "They are their own brands. They will be their own brands later. Yes, everyone is going to have a next job, but you have to pretend that you don't. It's telling that they maintain their own profiles."
Another official who worked in a past Republican administration thinks Conway deserves a pass.
"Eh, probably making too big a deal out of it," the former White House aide said. "Although I would say that when you are one of the highest-ranking officials in the US government it is better to tweet based on 100% confirmed information than not. In this case, I think there was just a rush to get out a message expressing the sentiment" — prayers and good thoughts — "everyone has."