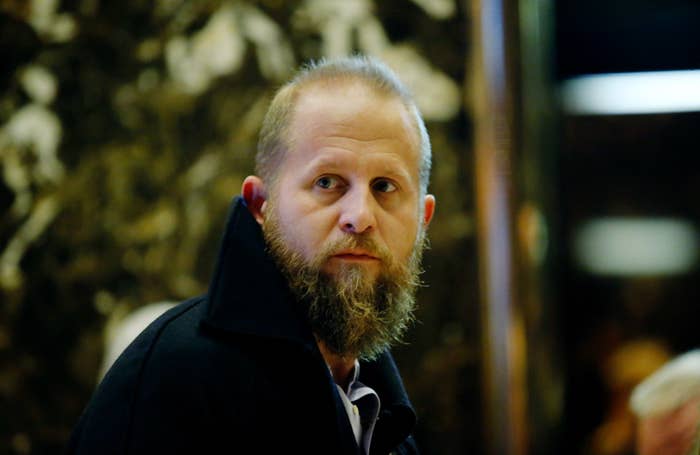 President Donald Trump's campaign manager is fanning the flames for a 2020 primary, publicly raising suspicions that Trump and his allies are concerned about the possibility.
In a Sunday afternoon tweet, Brad Parscale, recently picked to lead Trump's reelection bid, took aim at Ohio Gov. John Kasich, who could challenge Trump for the Republican nomination.
"Is it really hard to figure out who @JohnKasich is really with?" Parscale tweeted, along with a photo of a tuxedo-clad Kasich alongside House Democratic Leader Nancy Pelosi and others at Saturday's White House Correspondents Dinner. "He is very chummy with @NancyPelosi. They want to control every part of your life. They want a political class that chooses the winners and losers. Our success should not come from politicians but our own effort."
The tweet came not long after Kasich, a persistent Trump critic, expressed fresh frustration with the direction of the Republican Party during an appearance on CNN's State of the Union.

"I didn't leave the Republican Party. The Republican Party left me," Kasich said on the program.
He added: "I can bring that party back. That's what I'm going to do in one way or another."
Kasich refused to support Trump in 2016 after losing the Republican nomination to him. He has been open about his interest in challenging Trump in 2020, either as a Republican or independent. Recent polling in New Hampshire showed Trump with only a single-digit lead on Kasich in the important first primary state, which Kasich has visited several times since the last election.
John Weaver, Kasich's chief strategist, responded on Twitter that Parscale must be sweating and "anxious" over the thought of a primary. "See you on the playground," Weaver added.
In a separate text message to BuzzFeed News, Weaver addressed the photo Parscale used: "How many photos are there of Trump meeting with Nancy? So juvenile."

Bill Kristol, the Weekly Standard editor-at-large and a prominent voice in the anti-Trump Republican movement, also seized on the Parscale tweet. "This confirms what I've picked up elsewhere: Team Trump … is worried about a 2020 primary challenge — as they should be."
Parscale, who has become one of Trump's most visible advisers since ascending to campaign manager in February, then attempted to distance his tweet from Trump's campaign.

"Haha. Good try," he tweeted in response to Kristol. "I just can't stand @JohnKasich l. [sic] This is my personal account. Calling him out for the fake he is."
Parscale did not respond to BuzzFeed News' requests for additional comment.