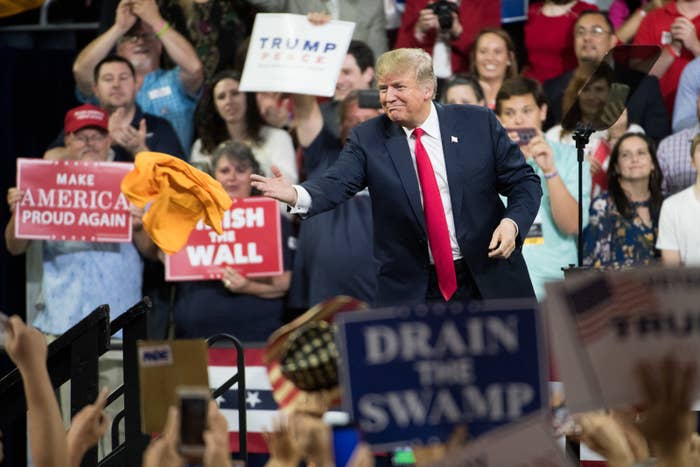 Two minutes into his warm-up act last week at President Donald Trump's rally in Erie, Pennsylvania, Republican gubernatorial candidate Scott Wagner had to introduce himself.
"We all worked together to put President Trump in office," he told the audience. "We pulled off the most unbelievable upset victory in 2016, and we can't afford to turn back. So, if you don't know me, I'm Scott Wagner, and I'm determined to be the next governor of Pennsylvania."
Wagner's bid to unseat Democratic Gov. Tom Wolf looks like a lost cause. Recent polls show Wagner trailing by 12 to 17 points, with one finding that 43% of voters don't know enough about the former state senator to have an opinion of him. (That number should improve for Wagner, for better or worse, after he went viral last week for threatening, figuratively, to stomp on Wolf's face with golf spikes.)
The race is emblematic of a broader problem once unthinkable for Republicans. Two years after Trump piled up victories and raised expectations of a rising red tide in Pennsylvania and the industrial Midwest, Republicans could be shut out entirely in gubernatorial contests there.
House and Senate campaigns, given the consequences they could have for Trump's agenda and the possibility of his impeachment, have commanded more attention in the run-up to the midterms than campaigns for governor. But gubernatorial races will have huge policy and political implications in each state, ranging from education and infrastructure spending to how congressional districts are redrawn after the 2020 census.
"The road to stopping Republican gerrymandering runs through the historic Big 10 states," said Democratic Governors Association communications director Jared Leopold, referencing the college athletic conference that spans the region. "Winning governorships in the Midwest in 2018 could bring a fundamental shift in the congressional map for the next decade."
The map started with four states where Republicans governors have ruled for the last eight years — Iowa, Ohio, Michigan, and Wisconsin — and two attractive pickup opportunities in Minnesota and Pennsylvania. Trump won all but Minnesota in 2016, and he came close enough there to convince Republicans their prospects were improving. All six states have shifted in Democrats' favor in the last four months, according to the Cook Political Report.
National party leaders have essentially written off Pennsylvania and Minnesota. The Republican Governors Association, which has raised record-setting money this cycle, has no investments in those states, a spokesperson told BuzzFeed News. Party operatives are increasingly pessimistic about Michigan. And Iowa, Ohio, and Wisconsin are now very tight races in a region that once inspired such confidence.
"After being shut out of control of government in Washington, DC, and having minimal representation with governors and state legislatures, Democrats are fired up, hoping to capture back some of that control," said RGA communications director Jon Thompson. "It's not surprising that there have been numerous close races, but we are confident that we will hold a majority of Midwestern states that we currently control."
The reasons why Republicans are finding a heavier lift vary by state, depending on which local issues energize voters. But there are also nationalized elements at play: a bad overall political climate for incumbents and the party in power in Washington; the potential loss of health care coverage for preexisting conditions; the polarizing Senate confirmation of Supreme Court Justice Brett Kavanaugh. And, of course, Trump.
Many Republicans, including endangered Wisconsin Gov. Scott Walker, fear their Trump-loyal base is complacent and skeptical of polls that show trouble for their party. There's also concern that widespread disapproval of the president's job performance and behavior — even in states where he won in 2016 — will motivate Democrats and independents to vote against all Republicans on the ballot next month.
"Sometimes," Walker told Republican activists during a recent party event in Burlington, Wisconsin, "I think we are victims of our success."
The reversals of fortune have been most pronounced in Iowa and Minnesota.
Iowa went from safe to shaky in just a year. After Trump's nine-point win in 2016, many national Republicans believed the state had tilted decisively to the right. They expected Kim Reynolds — the former lieutenant governor who inherited gubernatorial incumbency when Trump tapped longtime Republican fixture Terry Branstad to be the US ambassador to China — to cruise in her bid for a full term. But Democratic businessperson Fred Hubbell has pulled ahead in recent polls.
Jeff Kaufmann, chair of the Iowa Republican Party, told BuzzFeed News that he believes his state is "deep purple" and will always be a swing state. He also acknowledged that appealing to higher-educated voters in the suburbs and college towns to vote for their candidates is a challenge.
"We have work to do in the suburbs. There's no doubt about that," Kaufmann said. "We are never going to take the vote of suburban women and millennials for granted."
Several Iowa Republicans see the Kavanaugh confirmation over Democratic opposition and accusations of sexual misconduct as a turnout boost. The state's senior senator, Chuck Grassley, chaired the Kavanaugh hearings. Grassley joked at a recent dinner that, at 85, he wouldn't want Hubbell choosing his successor "if there's a vacancy in [his] seat," the Waterloo–Cedar Falls Courier reported.
Minnesota, meanwhile, went from promising to problematic because of Tim Pawlenty's weak run for governor. Despite being the state's former governor, and being viewed as the candidate best positioned to capitalize on Trump's gains in the state, Pawlenty struggled to win over the base of a party that had changed profoundly since his last two terms in the aughts.
Jeff Johnson, a county commissioner who lost a 2014 bid for governor, presented himself as a more trusted steward of Trumpism and beat Pawlenty in the primary. A recent poll from NBC News and Marist College underscored concerns about Johnson's crossover appeal in a general election and found him trailing Democratic Rep. Tim Walz by 15 points. RGA officials who had been high on Pawlenty have canceled the $2.3 million worth of airtime they had reserved for the fall.
"Frankly, I'd have been surprised if the other thing happened, and they said, 'Hey we're going in guns blazing for you,'" Johnson campaign manager Justin Arnold told BuzzFeed News. "They were involved for a different person. We certainly were not counting on any of that money."
National Republicans haven't totally bailed on Johnson. Florida Sen. Marco Rubio will campaign for him next week, and Johnson spoke at Trump's rally this month in Minnesota.
"If it was there it'd be great," Arnold said of the RGA money. "But I don't think it's needed to win."
In neighboring Wisconsin, two Marquette Law School polls in the last month showed Walker improving from five points down to a dead heat with Democrat Tony Evers. In between, an NBC/Marist poll found Walker trailing by eight points. Either way, Walker is running scared, warning of a Democratic blue wave.
And in Ohio, the other Midwest battleground where Republicans remain hopeful, Democrat Richard Cordray, the country's former top consumer affairs watchdog, has turned a race that once leaned in Republicans' favor into a toss-up. Republican nominee Mike DeWine, the state's attorney general and a former US senator, can no longer coast on his high name recognition. DeWine has walked carefully between Trump and term-limited Gov. John Kasich's dueling factions in his state — a tactic that could cost him base support in November — while Cordray has made overtures to independents and moderates who supported Kasich.
Then there's Michigan, where Gretchen Whitmer, the former Democratic leader in the state Senate, has enjoyed a consistent polling lead over Republican Bill Schuette, the state's attorney general. There also have been reports in local press of tension between Schuette's campaign and the RGA, which last month redirected advertising money from big Michigan TV markets such as Detroit to smaller ones.
Sarah Anderson, a spokesperson for the Michigan Republican Party, acknowledged the challenge in asking voters to stick with the party in the midst of a Republican presidency and after eight years of Republican Gov. Rick Snyder.
"Because of those headwinds at the state and federal level, we started our voter contact earlier than ever before and have contacted more than 2.5 million Michigan voters this cycle," Anderson said. "It is going to be a tough lift, but that is the stuff the Michigan GOP is made of and we aren't backing down."
Lowered expectations in Pennsylvania and the Midwest have been offset somewhat by brighter prospects in Democratic states such as Connecticut and Rhode Island. There's an outside chance — pending results in those two states, swingy Maine, and others that appear solid Republican holds — that come January the party could occupy all of the governor's mansions in New England. And in the crunchy Pacific Northwest, Cook now labels Oregon a toss-up.
There also are some unconventional states in play for Democrats: Georgia, Kansas, Oklahoma, and South Dakota. New Mexico is expected to flip back to Democrats, and Illinois (another Midwest state, but one Trump lost) likely will, too. Two traditional battlegrounds beyond the Midwest, Florida and Nevada, might be the most competitive races this fall.
"We are defending 26 of the 36 gubernatorial elections this year — the highest number of governorships Republicans have had to defend in a single election year in history," the RGA's Thompson said. "We are victims of our own success, but our financial strength and focused candidate recruitment has allowed us to be competitive in numerous states where analysts or pundits thought we wouldn't be."