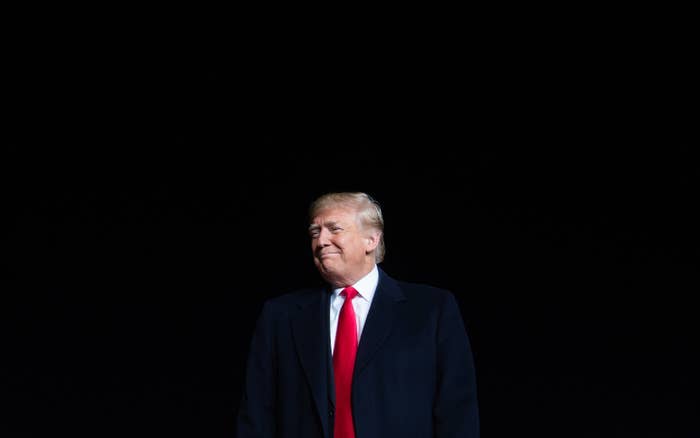 John James entered Michigan's Republican Senate primary as a political newcomer trying to fend off a self-funding venture capitalist. But James had something his rival didn't: a ubiquitous presence on Fox News.
The right-leaning cable network took an early interest in James' campaign, featuring the 37-year-old Iraq War veteran in live interviews or produced segments nearly a dozen times before the August primary. And during a July 19 primetime appearance, James turned a tricky question from guest host Jason Chaffetz about Vladimir Putin — on Laura Ingraham's show, a favorite of President Donald Trump's — into an opportunity to flatter the president.
Eight days later, with polls trending in his favor, Fox News' most influential — and influenced — viewer made his endorsement. "Rarely," Trump tweeted, "have I seen a candidate with such great potential. West Point graduate, successful businessman and a African American leader..."
James won the primary by nearly 10 points.
It's not certain James' Fox News performance clinched Trump's support; James' campaign and White House officials did not respond to requests for comment. But it's undeniable that the network is one of the best ways to get the president's attention in a midterm election season with so many competitive races that it can be hard for any single candidate to break through.
Over the past six weeks, Fox News' airwaves have been chock-full of Republican candidates and incumbents running for reelection — nearly 150 interviews in total, according to Media Matters, a liberal watchdog group that tracks conservative media.
In corners of Republican politics, a new strategy has emerged — call it the Trump–Fox playbook. If you're a candidate who can surge to national prominence thanks to the president and a network anchored by high-profile morning and evening hosts who often champion and defend him, it's the sort of thing that can give you a boost.
"Fox News is the most watched cable news channel in the country, with millions of viewers tuning in — including a lot of voters right here in Ohio," said Leslie Shedd, a top communications adviser to Rep. Jim Renacci, a Trump-backed Senate candidate in that state. "So of course we do what we can to get the congressman on their channel as often as possible. And it's an added bonus that the president often watches Fox as well, but our primary reason for pitching the congressman to appear on Fox News is to get him in front of voters that are tuning in."
Fox News, in a statement to BuzzFeed News, reiterated its top cable news status and said that people on both sides of the aisle vie for exposure on the network's programs.
Other Republicans in top races have, unsurprisingly, made multiple appearances on Fox News in the last six weeks, according to the Media Matters research. Texas Sen. Ted Cruz has appeared twice in primetime. Josh Hawley, the Missouri attorney general seeking a Senate seat, has made five appearances, twice on Hannity. Two other Senate hopefuls, Arizona Rep. Martha McSally and Florida Gov. Rick Scott, each has nabbed four Fox News hits apiece.
It's not surprising that candidates would want to get in front of Fox's massive audience, particularly in primetime, where the network commands about 3 million total viewers, according to Nielsen.
But the benefits of the Trump–Fox playbook are crystallized in Florida's gubernatorial race.
Republican Ron DeSantis famously scored an encouraging tweet from Trump last December, soon after the Air Force One television reportedly was tuned to a Fox News segment with DeSantis, a US House member at the time. A full Trump endorsement followed, and DeSantis went from underdog to landslide winner in a primary against Adam Putnam, Florida's agriculture commissioner. Putnam, who had been on record criticizing Trump in 2016 and couldn't compete with DeSantis' national media exposure, tried to paint DeSantis as a creature of Washington's swamp (and TV studios) who has little use for Florida.
DeSantis made more than 100 appearances on Fox News and Fox Business between Trump's endorsement and his primary victory over Putnam — free airtime that, according to DeSantis campaign calculations shared with Politico, was worth $9.3 million.
His Fox airtime has dipped in recent weeks, however, as his race against Tallahassee Mayor Andrew Gillum became one of the most competitive in the country. DeSantis, who last month resigned his congressional seat to focus on his bid for governor, has made just two appearances in the last six weeks, according to Media Matters — one on Fox & Friends and the other in the evening on Martha MacCallum's show.
But DeSantis used the Fox News appearances to his advantage, "especially during the primary and certainly to get the base fired up about the types of policies Andrew Gillum would like to impose on everyday Floridians," Florida Republican Party Chair Blaise Ingoglia told BuzzFeed News.
Fox News' outsized impact on Republican politics is not new. Past presidential primaries included candidates who once had their own shows or contributor contracts with the network — and the late former Fox News CEO Roger Ailes acted as a political gatekeeper until he was ousted from the network in the summer of 2016. But Trump, a candidate who thrived on his own television brand, took that impact to another level, given his well-documented TV watching habits in the White House and his random call-ins to programs such as Fox & Friends.
Some Republicans believe the notion that candidates use the network to impress Trump is overblown.
"I know the Democrats like to think this factors into it but it doesn't," Ingoglia said. "What matters is being able to get the message across to the voters and being able to do so in a forum where on-air talent is not antagonistic."
"Fox News sets the bar when it comes to posing tough but fair questions to candidates from both political parties. As for grilling Republicans during this election cycle, check out the treatment that Bret Baier and Martha MacCallum gave GOP candidates in Florida and West Virginia debates," said Bill Sammon, senior vice president and managing editor of the Fox News Washington bureau. "Need more evidence? Go back to the 2016 election cycle, which began in Cleveland with Fox unflinchingly questioning Donald Trump and 16 other Republicans, and ended in Las Vegas, with Chris Wallace setting the gold standard with his probing, evenhanded questioning of the Republican and Democratic nominees."
Renacci, for his part, would have received the president's endorsement with or without his Fox News appearances — more than 15 between Fox News and Fox Business over the last year, according to Nexis and Fox archives. He was one of Trump's most prominent Ohio surrogates during the 2016 general election, and Trump encouraged him to ditch plans to run for governor and launch a Senate campaign after the top Republican prospect withdrew from the race.
"The president and Rep. Renacci already have a good relationship and our team works with his team on an almost daily basis," said Shedd, the Renacci adviser.
The Fox appearances for James, the Senate candidate from Michigan, have been more frequent since Trump's endorsement — more than 20 appearances, including time on Fox & Friends and Outnumbered, and with primetime stars such as Ingraham, Tucker Carlson, and Sean Hannity. In the last six weeks, he has appeared on the network at least five times, according to Media Matters.
It's the kind of attention that can grant any Republican some national bona fides. On Tuesday night, Ingraham fawned over James during a softball interview. "Any guesses," she asked James, "as to why you're not the subject of these glowing media profiles? Because a lot of people out there I've talked to do think you are a rock star, by the way."