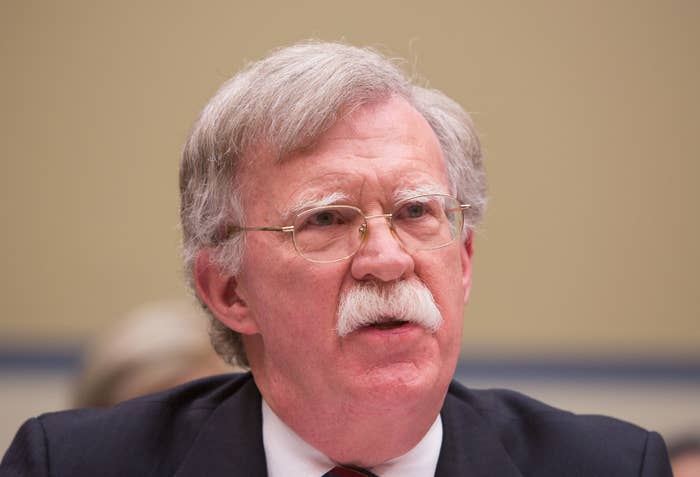 The Republican officials who brought you the Iraq War — and whom Donald Trump campaigned against in 2016 — are celebrating the revival of the early Bush administration in a trio of key foreign policy appointments.
The elevation of CIA Director–designate Gina Haspel, National Security Adviser John Bolton, and Secretary of State–designate Mike Pompeo represents a return to a point of view not seen since the early 2000s: eagerness to use American armed force, comfort with torturing terror suspects, and a central focus on counterterror policy.
It is, one prominent neoconservative told BuzzFeed News, "Christmas for neocons."
There is no indication that Trump was thinking deeply about history, ideology, or even policy when he made these moves. He has an unusual level of personal comfort with Pompeo; he liked how Bolton sounded on TV; and he was simply hard up for candidates to lead the CIA, one top Republican foreign policy official noted.
But the upshot of his decision is striking: Bolton, the former United Nations ambassador, represented the bleeding edge of Bush-era unilateralism; Haspel destroyed evidence in a torture investigation. And Pompeo, who served in the first Gulf War, is newer to Washington but has fought hard against the Iran nuclear deal, the central focus of neocon ire, as well as that of other Republican hawks. Their appointments represents the revival of a school of foreign policy that seemed to have vanished even from Republican politics during the Obama years, and which lost further relevance when Trump ran claiming (falsely) to have opposed the Iraq invasion.
Scott Jennings, who served as a political aide in the Bush White House, said Trump's team is "learning what it's like to operate in this world as the president" after a campaign that was hardly hawkish.
"I'm glad the president has people there with clear eyes about who we're dealing with," Jennings said. "I think it's exactly the right message: That we're serious. And when you appoint people like Bolton, they know you're serious."
A decade ago, there was a bitter divide between neoconservatives, who spoke idealistically of exporting democracy, and more nationalistic Republican hawks like Bolton, whose attention ran more straightforwardly toward oil and power. But those differences have largely been elided inside actual Republican politics — and Trump's appointments revive in particular the ideology of the key figures of the early Bush years, Vice President Dick Cheney and Defense Secretary Donald Rumsfeld.
"Rumsfeld's a huge Bolton fan," said one former Bush administration official, who said the former secretary (who didn't respond to an email inquiry) sees Bolton as "steely-eyed."
Rumsfeld's old internal rivals among the neocons feel the same way.
"Maybe he's not for democracy promotion, but what's the difference? He's our boy, he loves us, we love him; the difference has evaporated," said the prominent neoconservative. "Even if Marco Rubio was president, would we have had these people in these national security positions? I sort of doubt it."
Haspel has also drawn lavish praise from a wing of the party that seemed, until fairly recently, to be on the margins.
"Gina Haspel has spent her career defending the American people and homeland," Wyoming Rep. Liz Cheney, the former vice president's daughter and political successor, wrote recently, amid a string of tweets furiously attacking Haspel's critics. "The Enhanced Interrogation Program saved lives, prevented attacks, & produced intel that led to Osama bin Laden."
Former Bush aides aren't entirely sure what to make of Trump's new team. After all, the president used the Iraq legacy to tear down the former president's brother, Jeb. "I don't think Trump has put that much thought into any of this," one noted.
(Bolton declined to comment on his views of the Cheney-Rumsfeld era. "I recommend you read the Axios piece from last night," Bolton spokesperson Garrett Marquis told BuzzFeed News in response to an inquiry, sending on the party line that Bolton intends to be an "honest broker.")
Bush's old critics, though, are intensely alert to the revival of ideologies they thought Trump had finally killed off.
"We are repeating the mistakes of the past by allowing the failed foreign policies of Neocons to infiltrate our government," libertarian-minded Kentucky Sen. Rand Paul said Monday in an emailed statement. "These are the same people who eagerly await the next opportunity for war. Undoubtedly, it will result in a world with far more enemies than stability or peace."