Tim Pawlenty's Political Comeback Did Not Work
National Republicans were counting on Pawlenty to win them back the governor's office in Minnesota for the first time in eight years and to help lift down-ballot House and Senate candidates this fall.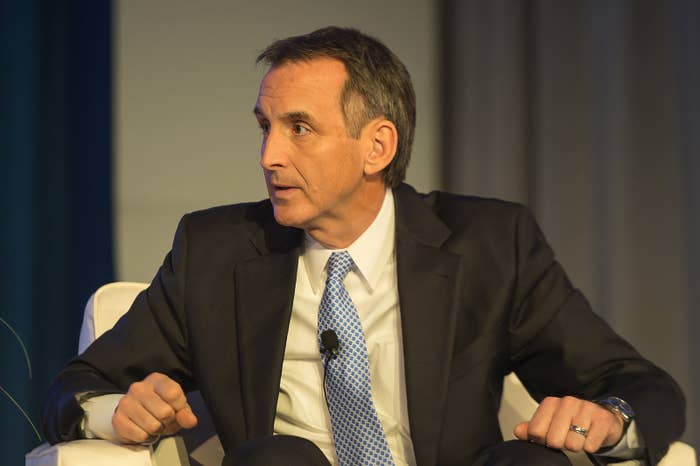 Tim Pawlenty, the former two-term of Minnesota governor, seeking a return to his old job, lost a Republican primary Tuesday and may have spoiled his party's plans for a big fall in a key midterm state.
Republicans not only were counting on Pawlenty to win them back the governor's office for the first time in eight years, they saw him as a valuable standard-bearer atop the ticket — someone who could boost turnout in competitive House and Senate races. The Republican Governors Association, with Pawlenty firmly in mind, had reserved $2.3 million in fall airtime in Minnesota.
That investment is in doubt now that Hennepin County Commissioner Jeff Johnson, who bested Pawlenty according to unofficial results, is facing Democratic Rep. Tim Walz in November. One national Republican experienced in gubernatorial campaigns told BuzzFeed News in June that it was likely the RGA would cancel the advertising buy if Pawlenty wasn't the nominee.
"Jeff Johnson is the only candidate for governor that will cut taxes, grow jobs, and lead Minnesota forward," Tennessee Gov. Bill Haslam, the RGA chair, said in a statement emailed once Johnson's victory became clear. "Minnesota needs a new direction, and Johnson has the experience to tackle the big challenges that the state faces. The Republican Governors Association is proud to support Jeff Johnson to be the next governor of Minnesota."
Some Republicans still believe the race can be a national draw, given Minnesota's increasing importance in presidential politics: Donald Trump nearly won the state in 2016.
Pawlenty got off to a late — and bumpy — start. He bypassed the Minnesota Republican Party's convention and endorsement process, saying he would take his case directly to voters while also acknowledging that Johnson had an advantage with the party insiders.
Jennifer Carnahan, the Minnesota Republican Party chair who initially had welcomed Pawlenty's candidacy only to be disappointed that he skipped the convention, told BuzzFeed News in a telephone interview Tuesday night that Johnson's win is validation for the state party's process and grassroots activists.
"When Pawlenty did jump into this race, we certainly encouraged him to participate in the endorsement process," Carnahan said. "What I will say is anyone out there that doubts the power and strength of the Republican Party of Minnesota should really take another look."
Carnahan praised Johnson's effort, despite being viewed widely as the underdog.
"He is a great candidate and he's continuing to build his name ID," she said when asked if she worried Johnson is a weaker fall candidate than Pawlenty would have been. "People are understanding what he stands for and he's connecting with people in an authentic way."
Trump also was a factor in Tuesday's primary. In a debate this month, according to the Minneapolis Star-Tribune, Johnson reminded voters that Pawlenty, after Trump's vulgar Access Hollywood recording surfaced in October 2016, had called Trump "unhinged" and withdrew his support. Johnson once referred to Trump — somewhat supportively — as a "jackass."