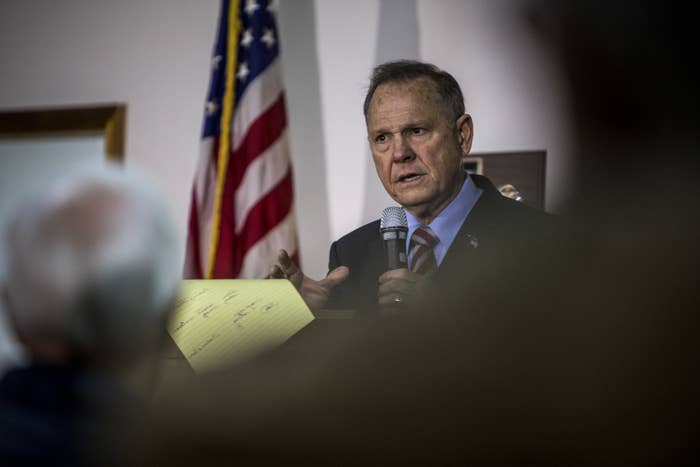 The Republican National Committee's renewed support for Roy Moore comes with a peculiar caveat: No one at the RNC is actually defending the decision publicly.

The news broke late Monday, via Breitbart, the far-right website that never wavered in its support for Moore, even after accusations that the Alabama Senate candidate dated teenage girls as an adult and made sexual advances on a minor. Moore denies the allegations.
RNC officials subsequently confirmed the move to BuzzFeed News and others on the condition that they not be identified in the stories. On Tuesday — as the national party took a beating for the decision — including from many fellow Republicans, the RNC remained silent. Several RNC committee members acknowledged frustrations but would not speak on the record. Senior party leaders punted questions to spokespersons who declined to comment.
"Oh man," said a source close to the RNC. "It's embarrassing."
The silence, several GOP sources speculated, is reflective of tensions between the RNC and the White House, and of staffers being uncomfortable attaching their names to a man accused of improper behavior with teens. Chairwoman Ronna Romney McDaniel cut off Moore from the party's fundraising and field operations last month. She did so after consulting with President Donald Trump and after the National Republican Senatorial Committee dumped Moore. But Trump offered an unequivocal endorsement of Moore on Monday. The RNC, which acts as the political arm of the White House, is essentially following Trump's lead.
"I think it's further proof that Trump is remaking the party in his own image," one Senate staffer told BuzzFeed News. "Which is exactly what I predicted would happen when he got elected. Elected Republicans in Congress have little (if any) leverage over him and principled conservatives have very little (if any) left of the party we once belonged to."
A former RNC official called the decision "disappointing, frustrating, and gutless."
"My immediate reaction was, are you kidding me?" the former official said. "I just think it makes them look foolish and indecisive. I think it's ridiculous. It's just bad for credibility. It's a bad move. You have to make decisions and stick with them. The fact is, nothing has changed. If there had been a development that exonerates Moore, that'd be one thing, but there hasn't been."
The first on-the-record acknowledgement of the RNC's involvement came Tuesday afternoon, in a statement emailed on behalf of Alabama Republican Party Chairwoman Terry Lathan: "The chairwoman of the Republican National Committee, Ronna McDaniel, has contacted us and confirmed that the RNC is transferring funds to the Alabama Republican Party for the Roy Moore campaign for the December 12 US Senate election. We are grateful for the RNC's partnership with the ALGOP in this race."
Some Republicans see the overall decision as a frank admission of reality: Moore's poll numbers have rebounded, and he seems likely to win the Dec. 12 special election against Democrat Doug Jones. If he wins, Republicans who have spent the past weeks attacking him will have to deal with him in their ranks, like it or not. On Sunday, Senate Majority Leader Mitch McConnell, who initially called on Moore to step aside and threatened expulsion hearings should he win and be seated, took a milder approach, acknowledging that the decision was in the hands of voters.
"It's Moore's race to lose," Alabama Sen. Richard Shelby, a Republican who does not support Moore, told reporters Tuesday at the Capitol. "I've always thought he would win the race."
As for Trump, "the president's interested in keeping 52 votes up here," Shelby said. "I'd like to, too. But a lot of us have different views on it, you know."
Colorado Sen. Cory Gardner, who chairs the National Republican Senatorial Committee, said Tuesday that the organization has no plans to follow the RNC's lead and resume support for Moore. Chris Pack, a spokesperson for the McConnell-aligned Senate Leadership Fund, told BuzzFeed News that operatives there would follow the NRSC's lead in Alabama.
Among other issues, Washington Republicans also worry about the political toll a Moore victory could take on GOP lawmakers up for reelection next year. "Fast forward eight to ten months, when every House and Senate Republican accepting help from the RNC will have to answer questions from their opponent on why they're taking funding from the organization that carried Roy Moore over the finish line in Alabama," said Jeff Sadosky, a Republican strategist who has worked for George W. Bush, John McCain, Rob Portman, and others.
An Alabama Republican on Capitol Hill agreed: "Every Senate Republican up [in the 2018 midterms] is going to get attacked with ads featuring Roy Moore in a cowboy hat waving a gun. The RNC just made it that much harder for Senators to distance themselves from him."
Others wondered about the hypocrisy in the RNC reinvesting in Moore shortly after pushing Democrats to return donations from movie mogul Harvey Weinstein, whom many women have recently accused of sexual assault or harassment. But Tim Miller, a former RNC spokesperson who was involved in anti-Trump efforts during last year's election, noted that Trump faced accusations of repeated sexual misconduct and nonetheless enjoyed the RNC's support.
"They made their bed with Trump," Miller said. "Now they have to lie in it."