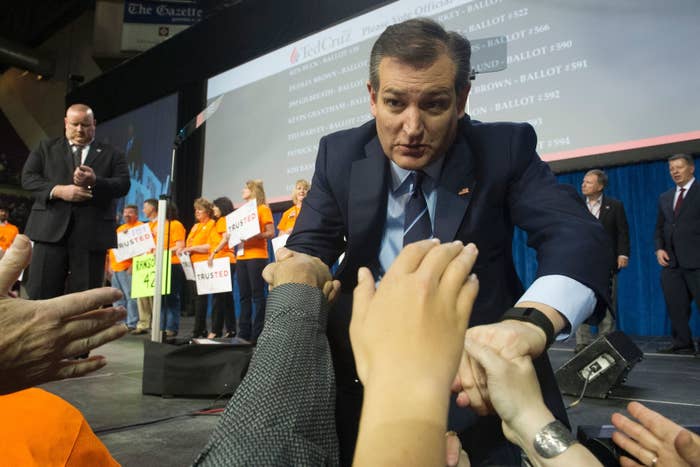 Ted Cruz's microlevel attention to delegate math in 2016 kept him alive longer in the race for the Republican presidential nomination and prompted eventual winner Donald Trump to stew over what he called a "crooked deal" and "rigged system."

The kind of insider politicking that Cruz mastered at state caucuses and conventions now appears to be the target of a rule change the Republican National Committee is exploring.
Under a proposal discussed this week during the party's winter meetings, states that hold primaries for rank-and-file voters — rather than those less-accessible contests — could receive extra delegates to the national convention.
It's not certain that the incentive will be placed before the full RNC later this year. RNC officials downplayed the idea as one of many tossed around Thursday during the Presidential Nominating Process Committee's closed-door session.
The panel is consulting with the Trump White House on rule changes for 2020 and will issue recommendations in the coming months. Addressing members Friday, RNC cochair Bob Paduchik, who is leading the panel, described the gathering as "very productive."
Members who spoke to BuzzFeed News said the extra delegate proposal was pitched as a way to encourage primaries, which are far more inclusive, and not as a way to block a Cruz-like strategy from a Trump challenger in two years. The Iowa caucuses, which traditionally kick off presidential nominating season, are known for low turnout among registered voters.
Participating in a caucus can involve spending hours at a caucus site rather than minutes in a voting booth. Candidates who invest heavily in organizing and mobilizing caucus voters often reap the benefits: Cruz won Iowa in 2016, as well as caucuses in Kansas, Maine, and Utah.
State conventions are even more exclusive, reserved for hardcore party insiders. Cruz's aggressive approach to this format two years ago prolonged a nomination fight with the frontrunning Trump and raised the prospects of a contested convention that never materialized. In Wyoming, for example, Cruz won all 14 of the state's delegates up for grabs at a state convention. The Texas senator swept similar contests in Colorado.
Voters are "going absolutely crazy because they weren't given a vote," Trump said on Fox & Friends after Cruz's Colorado triumph. "It's a crooked deal ... It's a rigged system."
A few days later, Trump tweeted, "Biggest story in politics is now happening in the great State of Colorado where over one million people have been precluded from voting!"
Nevada — which, along with Iowa, New Hampshire, and South Carolina, has been one of the first four "carve-out" states on the primary calendar — held caucuses (won by Trump) in 2016. There has been speculation among RNC members at recent meetings that Nevada could lose its status. But Michael McDonald, the state's GOP chair and a member of the nominating process committee, told BuzzFeed News that no such change is on the table.
"I don't ever take anything for granted," McDonald said. "I feel good about it. But, respectfully, I want to remain there. I'm fighting for everything we can, along with the other carve-out states."
McDonald, like his counterparts in those early states, said he hasn't heard from any Republicans interested in challenging Trump. He also doesn't believe incentivizing primaries over caucuses and state conventions would change the playing field in 2020.
"Either way it goes," McDonald said, "caucus or primary, what this president is doing — it's not going to matter."